Blue Devil of the Week: Overseeing the Birth of 6,000 Infants
Matthew Barber is chair of the Department of Obstetrics & Gynecology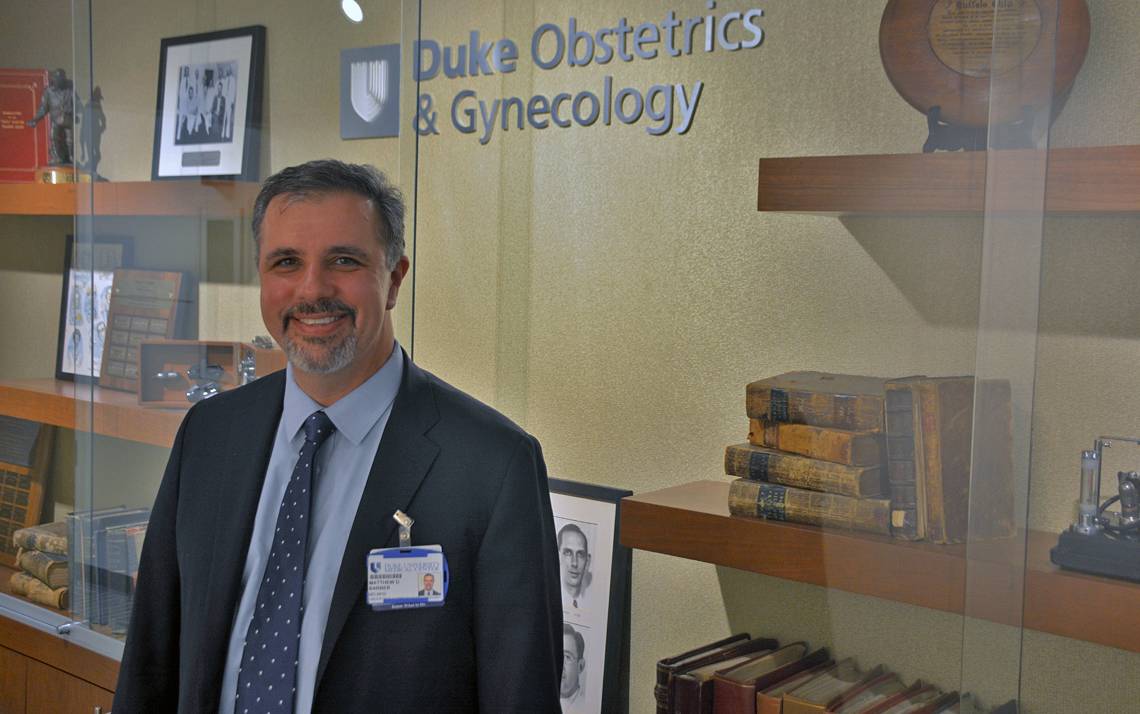 Name: Matthew D. Barber, MD, MHS
Position: Chair of the Department of Obstetrics & Gynecology and E.C. Hamblen Professor of Obstetrics and Gynecology and Chair
Time at Duke: One year as chair, seven years as a resident and fellow at Duke University Medical Center
What he does: Barber views his job as threefold.
With a specialization in urogynecology, Barber cares for patients with pelvic floor disorders and performs pelvic reconstructive surgery. He also studies surgical treatment for gynecological conditions, such as decreased bladder control.
The rest of Barber's time is spent leading the Department of Obstetrics & Gynecology (OB-GYN), which has 202 staff and 84 faculty members in 11 clinics plus Duke University Hospital, Duke Regional Hospital and Duke Raleigh Hospital. The department delivers about 6,000 babies a year in total at Duke University Hospital and Duke Regional Hospital. In August, the department began delivering babies at WakeMed North Hospital in Raleigh.
Barber worked at the Cleveland Clinic Lerner College of Medicine at Case Western Reserve University from 2001 to 2017. He served as vice chair for research for OB-GYN and Women's Health Institute at the Cleveland Clinic.
"When this position came open I knew I would kick myself if I didn't go for it," Barber said. "Duke signifies excellence and a commitment to providing outstanding patient care and research."
Since there are many offices within the Department of OB-GYN, Barber has made communication and teambuilding a priority. He sends out both a weekly chairman's message and newsletter. The department also holds Wednesday morning grand rounds, a weekly education session for the department at Duke South Amphitheater.
He also encourages his team to organize community-focused events like the North Carolina Yam Jam. Duke OB-GYN employees and families helped harvest sweet potatoes for the Society of St. Andrew, a hunger relief nonprofit.
"We want to make sure people are enjoying themselves," Barber said. "I want to continue the tradition of people coming to this department and staying a very long time."
What he loves about Duke: Barber enjoys the connection between the Health System and the University. Barber often walks across Abele Quad and enjoys lunch at the Brodhead Center.
"It's really nice to be connected to the academic mission," Barber said. "The intellectual interchange between the Health System and University is really obvious here. It's part of the culture to see people from both sides of Duke all around campus."
A memorable day at work: The Department of OB-GYN hosts the annual Charles B. Hammond, MD, Research Day every May. The day is named for Hammond, chairman emeritus and third chairman of the department.
During the day, a selection of the department's residents and fellows present their research to colleagues, friends and family members.
"It's a fantastic day of science," Barber said. "The quality of research makes me very proud to be part of the department."
Important object in his workplace: Sitting on a pedestal in Barber's office is a skeleton model of a pelvic area that was given to him by his grandfather. Barber's grandfather, Leland Stretser, was an obstetrician and gynecologist in New Jersey.
"When my grandfather was in medical school you purchased your own skeleton to study anatomy," Barber said. "When I took this job, I decided it was apt, since I am a pelvic surgeon, to have the pelvic area done as a display."
First ever job: Barber spent his summer mornings as teenager mowing lawns around his neighborhood in Orange, Tx.
"A real estate agent hired me to mow the homes that were empty," Barber said. "I'd get it done by 10 a.m. so I could spend the afternoon at the pool."
Best advice received: You have permission to say 'no.'
"Pick the one, two or three things you are passionate about and give them your energy," Barber said. "You should feel encouraged to decline other things because you'll be spread too thin."
Fun fact: Barber met his wife while working as a resident at the Duke University School of Medicine in 1997. Heather Barber was a nurse in labor and delivery and the two met while working the night shift. They married at Duke University Chapel in 1999.
"I have Duke to thank for my marriage," Matthew Barber said.
Nominate a colleague to be the next Blue Devil of the Week.