A Thought-Provoking Soundtrack
Whether enjoying time outdoors or on a road trip, Duke podcasts are worth a listen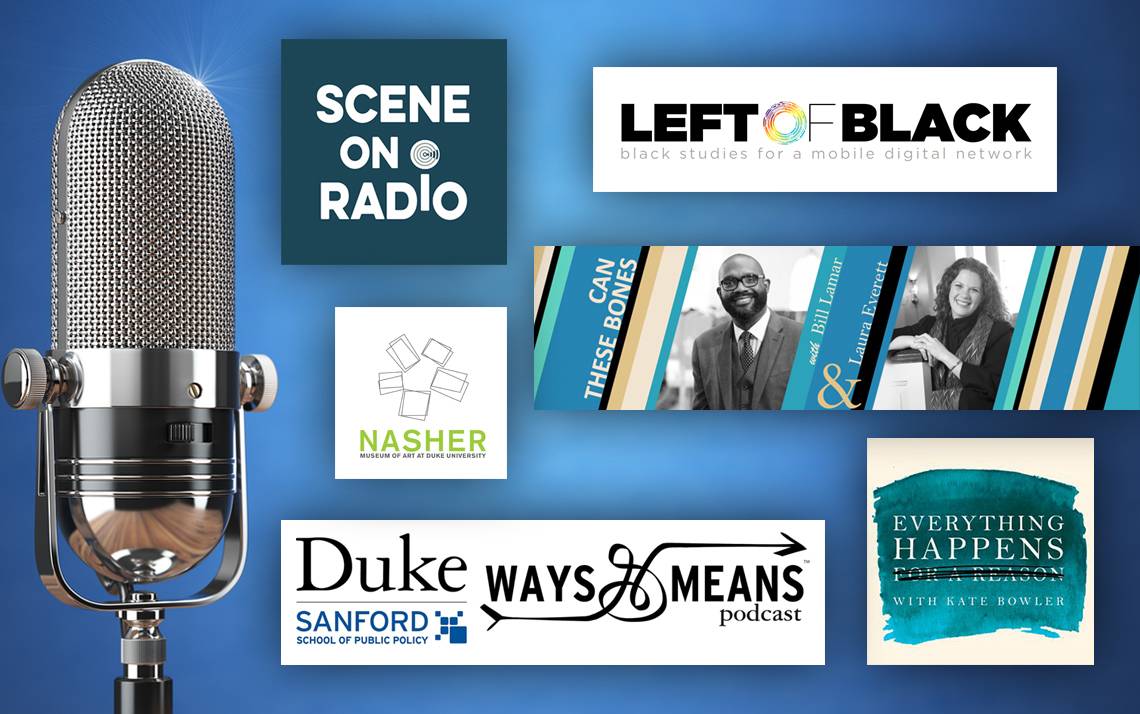 For Alison Jones, a senior writer with Duke's Office of News & Communications, part of her job is devoted to producing podcasts featuring the work and thoughts of Duke faculty members. Often, her challenge is to distill complicated research topics into compelling and approachable pieces of audio storytelling.
When she's away from work, she likes to relax by getting outside and taking walks. On those walks, she'll often plug in her earbuds and dive into podcasts on less-academic subjects such as true crime.
"You can do something else while you're listening," Jones said. "I think in our incredibly busy lives, there's a niche for podcasts."
With around a dozen active podcasts featuring faculty and staff and several student-produced programs, the medium is a good fit for listeners, including the Duke community.
"The more specific you can be in envisioning who a podcast's audience is, and why they would want to listen, the better," Jones said. "A lot of Duke podcast producers do a good job with that."
Whether you're on a road trip, taking a walk around campus or going about your day, here are some Duke-produced podcasts that are worth a listen.
Scene on Radio
With three decades as a radio journalist and documentarian, John Biewen has taught audio storytelling at Duke's Center for Documentary Studies since 2001. In 2015, Biewen launched Scene on Radio, the center's flagship podcast.
The format of the series, which has around 1.4 million downloads, has evolved from an eclectic showcase of the work of Biewen and his students in the first season to a collection of stories centered around a single subject.
Scene on Radio's third season, which received distribution help from Public Radio Exchange and is titled "Men," debuts on July 11.
"This looks at sexism, patriarchy and misogyny, starting with some deep history on how we got here," Biewen said. "Then we get into more contemporary issues such as women's experience in the workplace. We also get fairly intersectional to see how sexism and misogyny connects with racism and other kind of oppression."
Everything Happens with Kate Bowler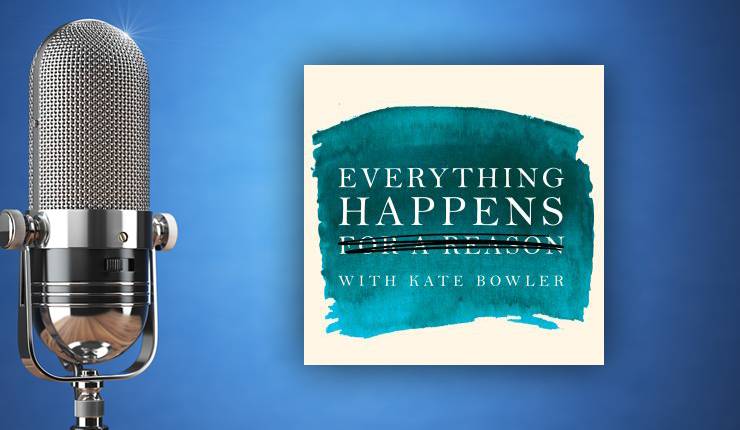 In 2015 at age 35, Kate Bowler, assistant professor of the history of Christianity in North America at Duke Divinity School, was diagnosed with Stage IV cancer. She channeled her emotions into her 2018 New York Times Bestselling memoir "Everything Happens for a Reason: And Other Lies I've Loved."
In her podcast, "Everything Happens with Kate Bowler," Bowler interviews authors, academics and actors about what they learned during dark times. The first of the seven episodes of the podcast was released in February. With more than 350,000 downloads, the podcast has become one of the most popular produced at Duke.
"We're all so good at pretending," Bowler told Duke Today. "This is a peek inside the life so many of us are leading."
Jones helps produce the podcast.
"Audio is very immediate; you're in direct communication with your listeners," she said. "For someone like Kate who is such a warm, wise and emotionally present person and who is dealing with a very emotional topic, the intimacy of audio is ideal."
Ways & Means
Since it started in 2015, the Ways & Means podcast has showcased the research of the Sanford School of Public Policy through personal stories.
The podcast, of which there are 21 episodes, tackles topics such as human trafficking, gun laws, end-of-life care and gerrymandering. The show's lead producer is Sanford School's Digital Communications Strategist Carol Jackson; co-producers are Assistant Dean for Communications Karen Kemp and Jones.
Can These Bones
Produced by Faith & Leadership, the online publication of Leadership Education at Duke Divinity School, Can These Bones explores the future of the church with conversations with faith leaders, journalists, authors and business leaders.
Hosted by Duke Divinity School graduate Rev. Bill Lamar IV of Washington D.C.'s Metropolitan AME Church and Rev. Laura Everett, executive director of the Massachusetts Council of Churches, the show asks the question of how leaders can nurture their faith, and the faith of others, when circumstances make it challenging.
Left of Black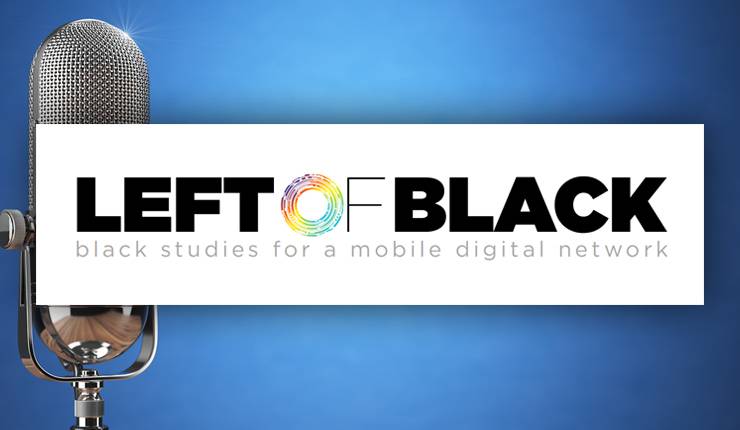 Each week, Mark Anthony Neal, chair of Duke's Department of African & African American Studies sits down with artists, political figures and academics for conversations about studying the African-American experience in the long-running "Left of Black" interview series.
"It's really a deep dig into what's going on in black studies, particularly around issues of culture, gender, sexuality and the arts," Neal said.
The series is produced by Catherine Angst of the John Hope Franklin Center of International and Interdisciplinary Studies and the Center for Arts, Digital Culture and Entrepreneurship, where Neal is the founding director. In a departure from traditional audio-only podcasts, the series is presented as videos that can be viewed on YouTube. Early episodes are available on iTunes.
"I call it a video podcast," Neal said. "It's something that has to be watched. You get archival photographs and information that goes along with the conversation. For us, it was important to do something visual in addition to what you are hearing."
Nasher Museum of Art
For art fans, the Nasher Museum series offers audio pieces that complement the museum's exhibitions. Recent examples include reminisences about artist Barkley Hendricks, a series of conversations with Southern artists and an audio postcard from New Orleans.