Take a Walking Tour of Statues
Wired! Lab's audio project shares history and meaning of campus statues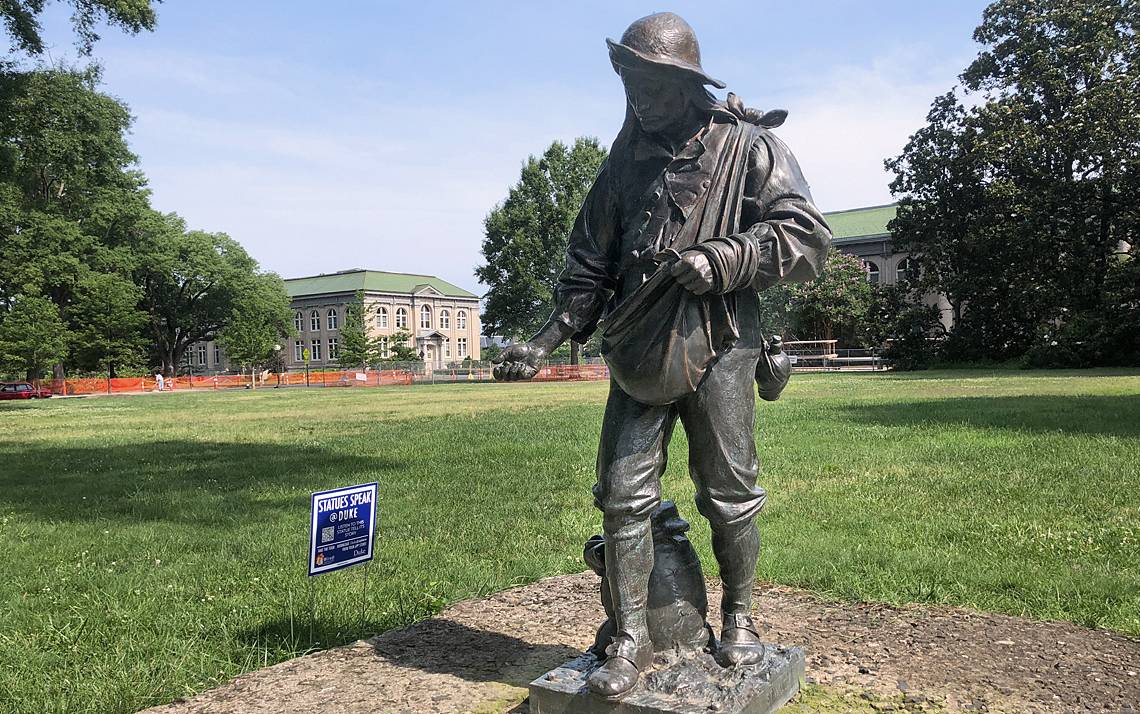 Night and day through rain and shine, The Sower statue steadfastly looks over the southeast corner of East Campus with a knapsack in hand.
The Sower, like many of the statues at Duke, has a well-traveled history.
James Buchanan Duke purchased The Sower in Leipzig, Germany, before the statue arrived at East Campus in 1914. The Sower played matchmaker for students when East Campus was the home to the Women's College of Duke University. Couples placed pennies in the statue's outstretched hand, and if the coins were gone when the couple returned, the two people would kiss.
Elizabeth Baltes picked up these facts while researching campus statues for "Statues Speak," a project organized by Duke's Wired! Lab for Digital Art History & Visual Culture. The project, which launched in April, tells the stories behind campus statues.
Community members and visitors can go on a location-based walking tour of campus using the "Duke Explore" app to see and hear the history of each statue.
"Every statue tells a story that is an interpretation of history," said Baltes, a former Ph.D. student at Duke and now assistant professor of art history at Coastal Carolina University. "I want people to walk by and ask, 'Why is this statue is here? What is the story behind its creation and placement?'"
The six statues that are part of the walking tour include The Scientist and Nature, James B. Duke, 65th Commemorative Statue Group, Benjamin Duke, The Sower and Washington Duke. The empty location of the former Robert E. Lee statue at Duke University Chapel and a segment on making a bronze statue are included on the virtual tour.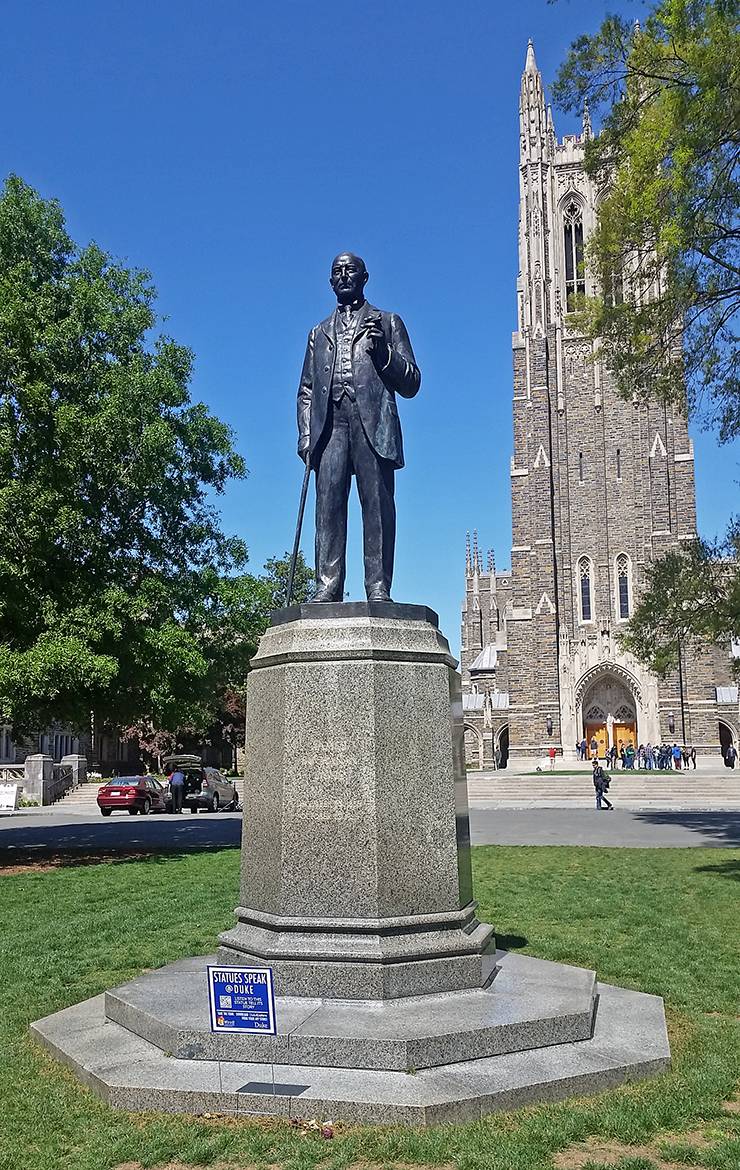 Statues are marked with a QR code. Scanning the code with a smartphone will lead you to the "Statues Speak" website to listen to audio recordings about the works of art. Users of "Duke Explore" can also use the app to read more about each statue and listen to the audio recordings.
President Vincent E. Price, Provost Sally Kornbluth, former Duke President Richard H. Brodhead and other Duke and Durham community members narrate each audio recording about the statue.
"Having Duke leaders share these stories makes for an instant connection to anyone listening," Baltes said. "It's vibrant storytelling."
Kristin Huffman, lecturing fellow of art, art history & visual studies and member of the Wired! Lab, said "Statues Speak" offers community members an opportunity to learn and engage with the people who formed Duke.
"We oftentimes recognize the value of a monument by its presence without knowing its meaning," she said. "The tour has tremendous value in that the community has an opportunity to learn about aspects of its history through the public statuary scattered throughout the campus."