Price Visits TIP Program, Learns With Students About Bioelectrical Activity
Neuroscience students in the Talent Indentification Program used Duke President Vincent Price to help explore muscle physiology this week.
The students, all in the 8th to 10th grades, attached non-invasive electrodes to Price's forearm to measure bioelectrical activity. The electrodes send electro-physiological output to a special SpikerBox which, in turns, translates the signals into real time visual and audio output that can be monitored on a smartphone, iPad, or computer.
This was part of a visit Price took to the TIP program to learn more about the intensive summer academic experience. Duke TIP has been sponsoring accelerated summer learning programs for gifted students since 1981, when the first courses debuted on the Duke campus. Today, TIP programs take place at 24 different campus locations across the U.S. and attract seventh through eleventh grade students from almost all fifty states as well as a number of foreign countries.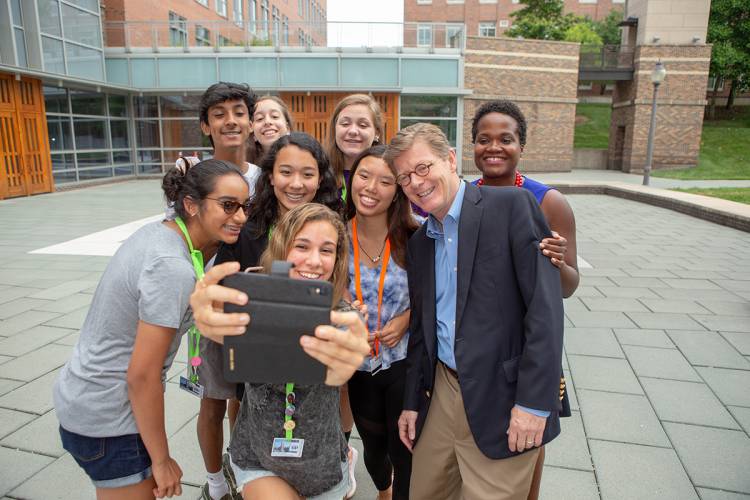 Although a mixture of STEM and humanities courses are offered each summer, Neuroscience remains among the most popular offerings. This year, TIP is offering two sessions of Neuroscience at both Duke and Georgia Tech.
The class provides students hands-on study to examining evolving theories and contemporary methodologies in science and philosophy. Among the topics students are covering are the basic structural and organizational aspects of neuroanatomy and physiology, sleeping/dreaming, consciousness, behavioral disorders, neuropathology, memory and artificial intelligence.
For more information about TIP offerings, and for information about summer employment opportunities, visit the TIP website.