PUBLISHED
Picturing A Rich Culture of Black Cowboys and Cowgirls in Louisiana
Jeremiah Ariaz's photos, now on exhibit at CDS, upend traditional views of cowboy culture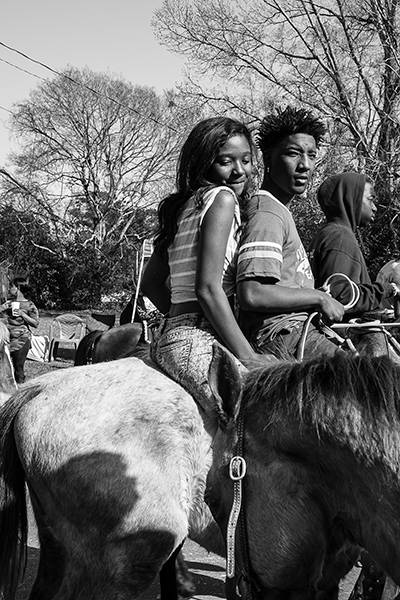 Since 2014, Jeremiah Ariaz has been photographing various southwest Louisiana clubs' weekend trail rides—the Crescent City Cowboys, Desperados, Buffalo Soldiers, and The Stepping In Style Riding Club, among other groups. A new exhibit at the Center for Documentary Studies, Louisiana Trail Riders features selections from this body of work about the distinctive, little-known subculture that upends not only historic and pop-culture representations of cowboys as "gruff, serious, white, and situated in the West," but also the media's "prevailing contemporary images of difference and despair in black America."
The African American trail riding clubs have their roots in the Creole culture formed "in the unique region of prairie grasslands divided by water in southwest Louisiana," Ariaz writes, when "a population of Frenchmen, Native Americans, and free people of color took root. . . . Horsemanship became a common way of life. According to folklorist Connie Castille, 'for many of Louisiana's black men, the horse is still associated with freedom, independence, work and respect.'"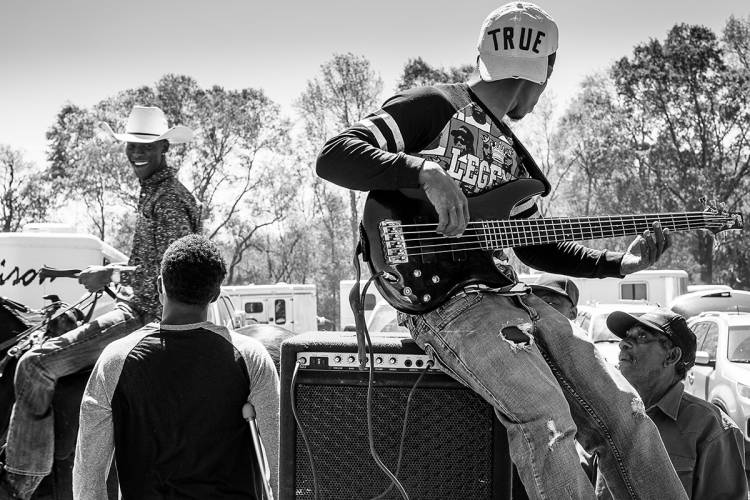 The exhibit is now showing through Sept. 22 in the Lyndhurst Gallery. Below, CDS exhibition director Courtney Reid-Eaton discusses what attracted her to Ariaz's photographs:
There are so many stereotypes about who we—people of the African Diaspora in America—are and are not.
Like many people of my generation (b. 1958), I grew up watching Westerns: Bonanza, Gunsmoke, The Big Valley, The Virginian, The Magnificent Seven, The Good, The Bad and The Ugly, True Grit, One Eyed Jacks, I could go on. No black cowboys there.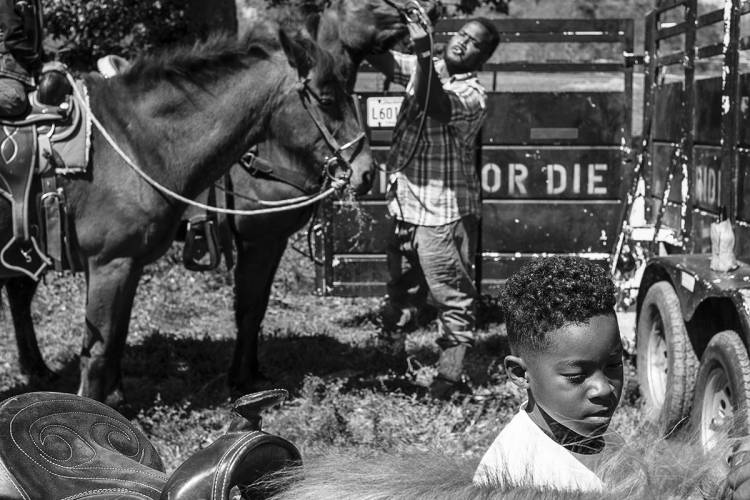 Fleeting hints at the possibility that such people existed were unsatisfactory. My first elementary school, on the Upper West Side of Manhattan, was across the street from the Claremont Riding Academy, where my mom mentioned having taken lessons as a girl, though I never saw her ride. New York City has had mounted police since the mid-nineteenth century, and I've seen a few black mounted officers in my day, but none held the mythical, magical power of a "black cowboy" (or girl). I had a passing knowledge of the Buffalo Soldiers, but they were historic. And opening shots of Half Past Autumn, with Gordon Parks cantering through Kansas grasses, only reinforced his "specialness" rather than illustrated a living culture of black people on horseback.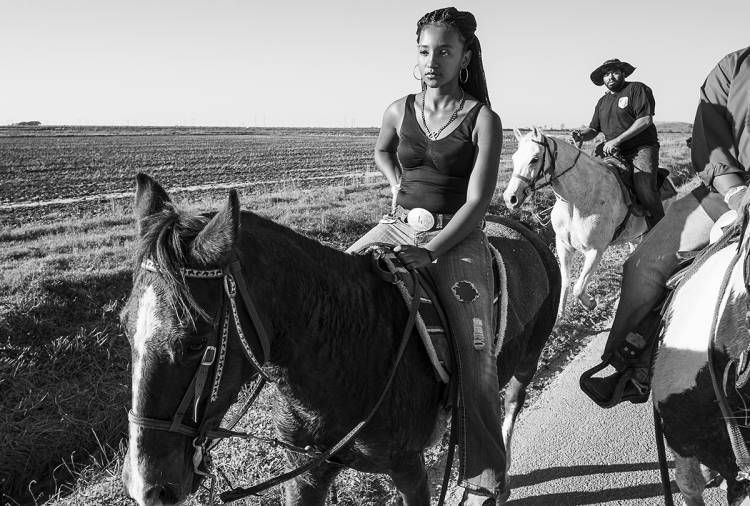 But that culture did, and does still, exist.
Louisiana Trail Riders crossed my desk as an entrant to the 2016 Center for Documentary Studies Documentary Essay Prize in Photography. I was moved by how comfortable the folks in these images seem—with their horses, in their bodies, and with the camera. Several generations of black men, women, and children celebrating a part of their rich culture. A beautiful unfolding of story and witness, Jeremiah Ariaz has frozen intimate details of mastery and the bonds of relationship—human to human to horse to landscape. Fathers and sons sit in one saddle, teaching and learning a legacy; a young couple rides their single mount bareback—her with a shy/sly downward glance, him with a strong, direct gaze. There are horseshoes and cell phones; cowboy hats and baseball caps; big silver buckles and sagging jeans; boots and flip-flops; guitars and a turntable. Beautiful men and badass women—and horses. This isn't about working or rodeo riding, this is about tradition, a slice of life, of deep culture. This isn't nostalgia, it's real and now. It's the mixture of romance and real that makes this work sing to me.

That Ariaz is able to hold so many tensions in these evocative black-and-white images, though he is not part of this culture, is a testament to his gifts as an artist and a human being.
Jeremiah Ariaz will present an artist's talk about the exhibit Sept. 13 at the Center for Documentary Studies. The reception will start at 6 p.m. and the talk at 7 p.m.