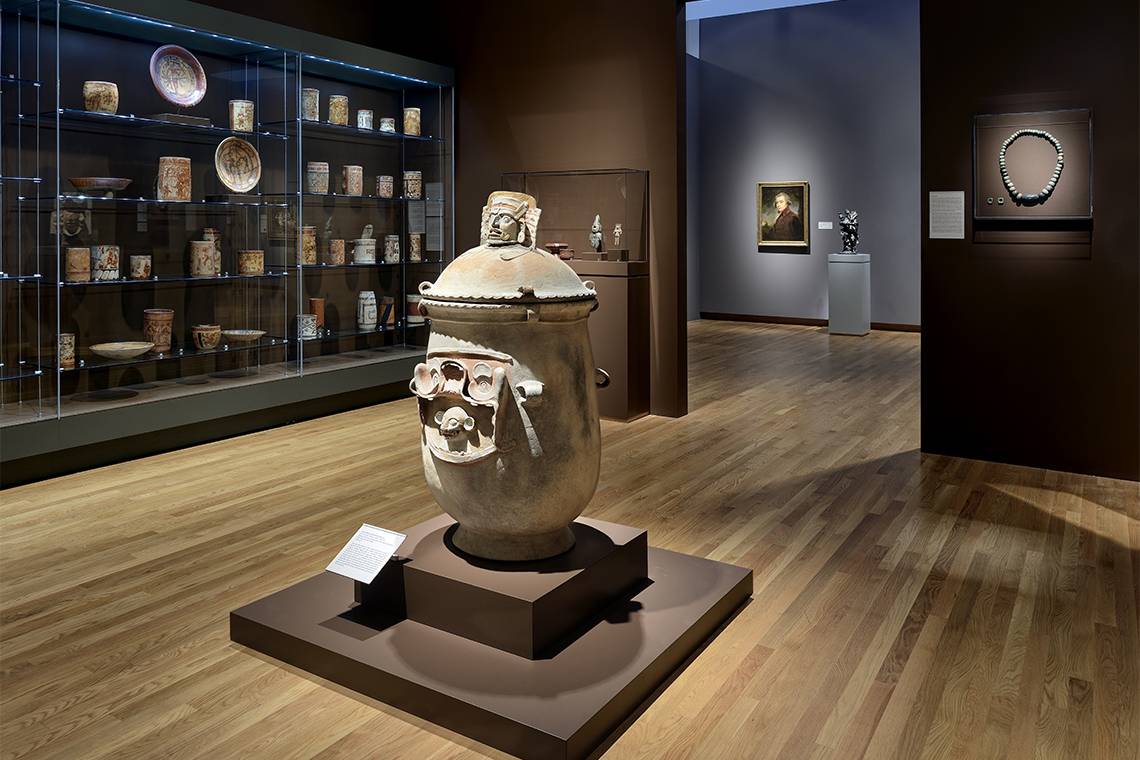 More than 500 years ago, artisans in the Inca Empire mastered the production of cumbi, a finely woven tapestry cloth made from the highest quality alpaca fibers. Textiles were the earliest art forms in Peruvian culture, well before the Spanish Conquest of 1532.
This story is the subject of a book in preparation by Julia McHugh, "Dressing Andean Spaces: Textiles, Painting, and Architecture in the Colonial Imagination," also the subject of her doctoral dissertation in 2017 at the University of California, Los Angeles.
The Nasher Museum's rich collection of Peruvian textiles was a big draw for McHugh, who was appointed Trent A. Carmichael Curator of Academic Initiatives and will start the position Aug. 1. McHugh brings expertise in ancient American art to Duke for the first time in 25 years.
"Julia is a rising star and we're very lucky that she is coming to Duke," said Sarah Schroth, Mary D.B.T. and James H. Semans Director of the Nasher Museum. "Her expertise in the ancient and colonial Americas means she will make extensive use of our rich collection of Central and South American objects, including thousand-year-old Mayan cylinder vases, Nazca pottery and Peruvian textiles. With a thorough grounding in many areas of art and museum studies, she will be able to bridge all of our museum collections with a wide range of teaching disciplines. With Julia's guidance, faculty and students will make unexpected and thrilling connections to art."
McHugh's professional career in art museums has informed her approach to making art accessible for scholarly and public visitor communities alike, she said.
"I'm thrilled to be joining the talented staff at the Nasher Museum at a moment when the arts are becoming an increasingly important part of Duke's curricula," McHugh said. "I look forward to collaborating with students, faculty and staff across campus to develop relevant and innovative programs emerging from the museum's holdings. I'm particularly excited to work with the Nasher's Ancient American collection to facilitate better access to and understanding of these artworks."
McHugh came to the museum from the Metropolitan Museum of Art in New York, where she was the Douglass Foundation Fellow in American Art for two years. Previously, at the Getty Research Institute, Los Angeles, she helped organize the major international loan exhibition "Golden Kingdoms: Luxury and Legacy in the Ancient Americas."
At the Los Angeles County Museum of Art, she researched little-known works of art, negotiated loans and wrote texts for exhibitions. She taught art history at the University of California, Los Angeles.Before that, she worked in the education department at the Fine Arts Museums of San Francisco.