New Cages to Bring Lemurs Even More Fun
Duke is replacing 140 aging cages with sturdier replacements that hold tree branches
When the weather turns warm, many residents of the Duke Lemur Center leave their indoor enclosures and spend their days in the fenced-in sections of forest that surround the center's cluster of buildings.
This summer, that temporary freedom is coming in especially handy as work continues on replacing the caging of the enclosures the lemurs so happily left.
"If you talk to somebody about replacing cages, it's probably not going to sound very exciting," said Greg Dye, Duke Lemur Center director of operations and administration. "But for anybody that works here, we know this is critical."
The enclosures, which have indoor and outdoor sections, are in two buildings on the grounds of the 52-year old research facility in Duke Forest that is home to around 250 of the endangered primates native to Madagascar.
In all, around 140 cages will be replaced. The first batch of them is already under construction and should be home to about 20 lemurs by late July.
The project, which is being completed by Corners Limited, will take place over four summers. The work can only be done when the weather is warm enough for some lemurs to be moved into the forest, thus opening up empty cages to house the lemurs whose cages are being torn down and rebuilt.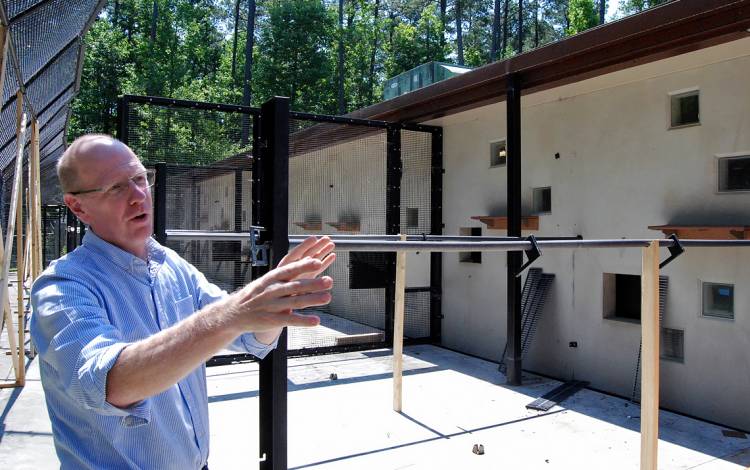 The old enclosures were constructed in 2010 and 2011 of vinyl-coated 14-gauge wire mesh, but they're nearing the end of their lifespan. The new ones will be made of thicker 12.5-gauge anodized aluminum and will be expected to last twice as long.
"We're getting a much more stable and much more robust caging material," Dye said.
In addition to being more durable, the new cages will be sturdy enough to hold tree branches fastened to the mesh, thus giving the lemurs plenty of tree-like spaces to play inside their habitats. The old caging material was too flimsy, meaning branches could only be affixed to walls or support beams.
"Our technicians are incredibly talented when it comes to branching these cages, I mean, they're artists," Dye said. "But this gives them more options and allows us to fasten branches directly to the mesh."
While the first cages won't be ready until late July, the center's staff has already started collecting tree branches that will become part of the lemurs' new homes.
"It'll be a lot easier because we used to have to get creative with limited options," said primate technician Matthew Cuskelly. "Now we can get creative with unlimited options."