Duke Stone: From Quarry to Campus
A special stone serves as Duke's common thread
Off a quiet road near Hillsborough, a gated driveway disappears into thick piney woods. The driveway snakes through forest, past another gate, and ends in a clearing.
On one side is a cliff face obscured by young, stubborn loblolly pines pushing up through the sprawling pile of stones below. The stones at the foot of the cliff are a jumble of earthy colors: Deep blues, rich browns, dusty grays and fiery ochres.
Duke's campus sits roughly 14 miles to the east in Durham. But it's also right here.
This is Duke stone.
This quiet quarry in a far-flung corner of Duke Forest is the only place you'll find the building stone seen in roughly 100 buildings and campus walls across Duke University and Health System.
"There aren't a lot of campuses where this kind of tradition has been maintained," Tallman Trask, Duke's executive vice president, said of the stone. "We can't always maintain it, but we can always honor it. That matters."
The story of Duke stone is that of a young university's ambition to stake its claim among the nation's elite in the 1920s. Its journey from quarry to campus is also the story of the ingenuity and passion of those who continue to build the institution today.
And it all begins at the quarry, where stone that's blasted from the side of a hill waits to become part of Duke.
Finding the perfect stone
"We don't get a lot of this anymore," said Paul Manning, director of Project Management for Duke's Facilities Management Department, as he holds a mottled brown stone at the quarry.
In more than 90 years of digging, certain quarry areas have been exhausted, and new pits have opened. Started in the 1920s, Pit No. 1 yielded the perfect mix of blues, grays and browns for Duke University Chapel, Page Auditorium and other buildings at the core of West Campus.
As West Campus came together in the 1930s, the best stones were saved for Duke University Chapel. The selection of stones in the building features 17 shades of color, from rust orange to slate gray. The stones are of varying sizes, but much longer than they are tall, giving the walls graceful horizontal lines.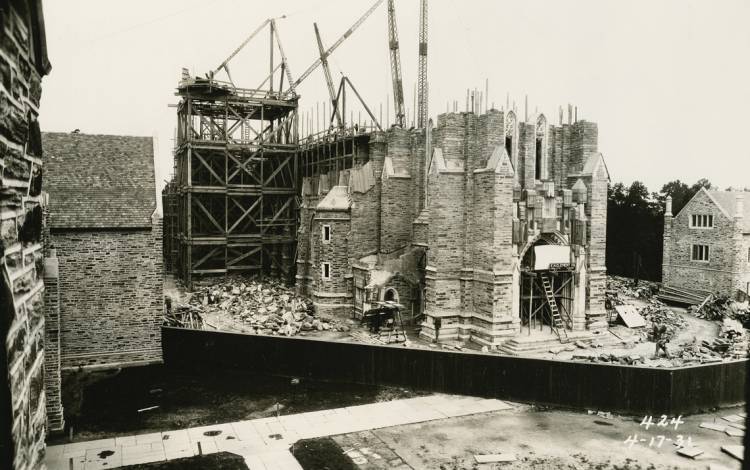 "To me, every stone represents a human hand," said Luke Powery, Dean of Duke University Chapel. "It represents people. A human being had something to do with every single piece of stone."
In the 1970s and 1980s, the Bryan Center and Sands Building were constructed with mostly brown and tan stones from Pit No. 2.  The still-active Pit No. 3, which opened before Duke's recent flurry of construction, has produced largely blue and gray stone now going into the Karsh Alumni and Visitors Center and Hollows Residence Hall.
"We want everything to look like it's been there since the 20s," Manning said.
Honoring the original color palette of Duke stone makes sense, especially given the lengths Duke's early leadership took to find the stone.
In 1924, after a $6 million gift from James B. Duke and his family to then Trinity College created a need for more space, plans were made to construct another campus on a hilly, forested tract to the west of Trinity's original footprint, what is now East Campus.
With ambitions of becoming one of the nation's elite institutions, the newly formed Duke University was designed to echo the older, more well-known Northeast universities that featured gothic buildings of earthy, multi-hued stone.
"They wanted to find stone that made it look like the university was growing out of the ground, like it had been here forever," Manning said.
Transporting stone from quarries several states away was expensive, so James B. Duke tasked university leaders with finding a more reasonable alternative.
That job belonged to Frank Brown, an English professor and university official in charge of construction at Duke. Brown scoured the area looking for stone that had the appearance and availability that would work for Duke's new campus.
He sent a sample to Jasper Stuckey, North Carolina's state geologist. Stuckey recognized it as the same kind of stone he'd seen in a footpath at a friend's Chapel Hill home. That stone had been quarried on a 72-acre farm near Hillsborough. It didn't take long to find the farm, and Brown began the process to buy it.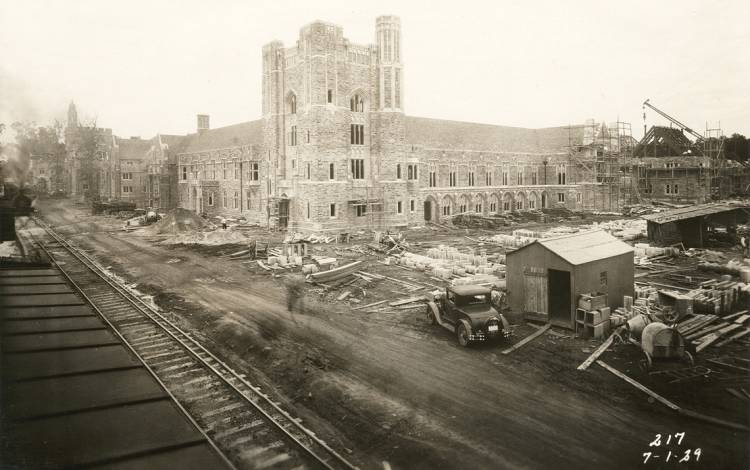 In a March 1925 letter to Horace Trumbauer, the architect whose firm was designing Duke's campus, Brown's excitement is undeniable. He writes that the stone will be "very much more attractive" than the stone used by Princeton University and that the quarry of its origins could be bought "for a song."
James B. Duke was thrilled with the appearance of the stone, its proximity to campus and the price of obtaining it – around $3.50 a ton, roughly a fifth of the cost of the stone at Princeton.
The decision was made to buy the quarry, meaning the stone from the Orange County woods would soon become Duke's architectural common thread.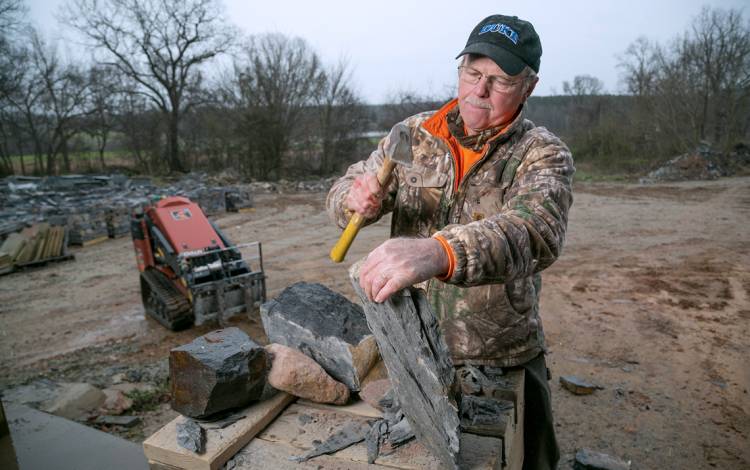 A beautiful but tricky stone
From bike racks at the Bryan Center to additions to Cameron Indoor Stadium, the chisel marks of stone mason Cleve Wagstaff and his team can be found in stone across campus.
Nearly every piece of Duke stone used on campus today passes through Wagstaff's shop outside of Roxboro, where it's transformed by hand from jagged quarry rocks to boxy slabs ready to be incorporated into a wall.
Wagstaff's shop, which allows for a sweeping view of his 125 acres of rolling farmland, is surrounded by pallets holding carefully stacked blocks of shaped and ready Duke stone.
"It's not a very friendly stone to work with," said Wagstaff, who has worked with the stone for roughly four decades. "Most stone masons shy away from it. But with the shades of blues and browns, it's just a beautiful stone. It's not like much of anything else you'll see in North Carolina."
Duke's quarry sits on the eastern edge of the Carolina Slate Belt, which runs North-to-South through the North Carolina piedmont. The quarry's stone was formed by the flows of ancient volcanic activity. Over time, consolidation and metamorphism led to the rock taking on characteristics of slate, leaving it streaked with irregular seams. This means the stone has the combination of being both strong and unpredictably brittle.
While Duke stone is tricky to work with, the payoff is worth it.
Lining his chisel up where he senses a seam, Tim Williams, one of Wagstaff's veteran masons, grabs a hammer and whacks at a dull gray stone. When the rock gives way and splits, the interior is a vibrant auburn.
"You never know what you're going to get," Williams said.
Evoking lasting memories
When the Karsh Alumni and Visitors Center was in the planning stages, university leaders asked Sterly Wilder what she'd like to see in the building at Chapel Drive and Duke University Road. Among the first things she mentioned was Duke stone.
"You could put that stone anywhere and, when you walk up to it, you know it's Duke," said Wilder, associate vice president for Alumni Affairs. "No matter when you graduated from Duke, that stone really evokes memories."
If you want stone for your own memories, it's worth mentioning that the stone isn't for sale. It's only used on Duke's campus.
Over at the Karsh Alumni and Visitors Center construction site, masons have been working to ensure the modern building with sleek glass walls and smooth wooden arches has a dose of that timeless Duke stone when it opens in the summer of 2019.
"Every one of these masons is sort of an artist at this point," Wagstaff said. "They don't just pick one brick up after another and go with it. They know what they need in order to get the right look."
Once masons place a corner piece, they work sideways, selecting stones that create the mix of size and color, while keeping the horizontal mortar joints crisp and straight.
"The allure of the Duke stone when it's laid up properly is that it looks so linear, so horizontal," said Ray Walker, staff architect with Duke Facilities Management Department. "It doesn't have to be perfect. But it has to be straight enough to where your eye picks up this long look."
Walker, who has worked at Duke for 44 years, is still struck by the magic of Duke stone.
That magic is in how Duke's stone walls can look both strong and soaring, both colorful and clean. It's in the way uniform masonry lines dance with the irregular geometry of unique, hand-cut stones. It's in the way a building made of stones blasted from the earth can change with the sky.
"When the sun hits the Chapel tower in the late afternoon, at certain times of the year, the stone turns gold," Walker said. "Sometimes you forget how beautiful this place is."
Watch this short video about Duke stone: