Duke Citizens Police Academy: A Personal Safety Story
Duke Employee April Dudash shares takeaways after completing seven-week academy
It wasn't real. It was just a simulation. But my heart leapt to my throat.
"Somebody help me!" the role players shouted in the dark in the Devil's Den on Central Campus.
My team and I, pretending to be police officers as part of the exercise, rounded each unknown corner, looking for the person playing the part of a shooter. As we searched the building, clutching fake guns, my laborious breathing echoed in my plastic face mask.
The exercise lasted a few minutes, but it felt like an eternity.
I received an intense glimpse that day of the crucial role police officers play during an emergency. The experience was just one activity during the Citizens Police Academy hosted by the Duke University Police Department.
For six consecutive Wednesday evenings after work over the past few months, I bonded with 20 other Duke employees during the academy, a free program open to Duke University and Duke Health employees. The sessions offer an inside look at law enforcement operations and community policing and taught me how to be a safety advocate.
Offered twice each year, the program recently expanded to include an academy for Duke students. To date, 209 employees have graduated from the program; the next police academy is in September. Applications are accepted all year.
"There's nothing more complex than the policing of a major college campus," John Dailey, chief of the Duke University Police Department, said during the academy's graduation ceremony in April. "Our officers handle the highs and the lows that occur here with dignity and professionalism, and so I hope that you see that. … It really takes all of us working together to have a safe community, and that really includes you."

As a member of the 11th academy, I responded to simulated felony traffic stops. I tried to solve a fake breaking and entering and felony larceny case. I toured the launch pad of Duke Life Flight and drove a golf cart while wearing "beer goggles."
During one of the sessions, I even learned how to quickly get into a "run, hide, fight" mindset during a pretend incident. A small group of us huddled in a classroom, turned off the lights, closed the blinds, barricaded the door and silenced our cell phones. We were practicing how to remain undetected.
"Have you taken a few minutes to look at a few things around your environment to determine how you would react and respond?" Eric Hester, a Duke Police crime prevention specialist and lead organizer of the Citizens Police Academy, asked us during the session. "It's a muscle-memory type of thing, that if this happens, this is what I'm going to do."
Here are three easy safety tips I learned during the police academy:
Download LiveSafe
Have the free LiveSafe app accessible on your phone. LiveSafe instantly connects us with the Duke University Police Department through calling, texting or sending multimedia such as photos at the touch of a button.
Reach out to Duke Police
Start establishing a good safety relationship with the Duke University Police Department by inviting crime prevention officers to your school, department or unit. Throughout the year, the department offers many crime prevention programs at no cost to departments, such as safety presentations and security surveys of buildings.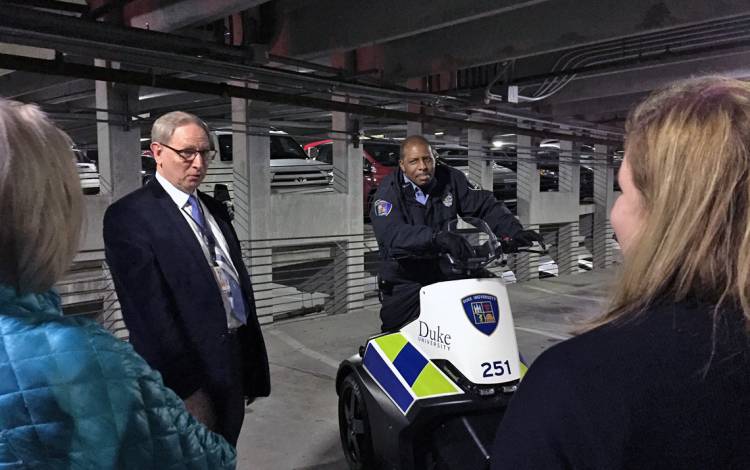 Protect your personal property
If you have a laptop, phone or bicycle that you want to protect, Duke Police can engrave it with your driver's license number or Duke Unique ID number for free. If an item is stolen, the engraving can help law enforcement recover your property.
Since graduating from the Citizens' Police Academy, I am even more aware that keeping Duke safe requires all of us to be proactive in looking out for our Duke neighbors. Policing at Duke is like policing a small city. There are about 38,000 employees and about 15,000 students here, and last year alone, the Duke University Police Department responded to about 54,000 calls for service across the university and medical campuses.
In just seven weeks, the Duke police officers who served as instructors for the Citizens' Police Academy gifted me with new crime prevention and awareness skills. But most importantly, the instructors renewed my self-confidence. Now I know what to do if an emergency ever comes calling.
2017: DUPD Responses By the Numbers
1,534 - Check Person / Suspicious Condition
626 - Vehicle Collisions
1,713 - Fire / Fire Alarms
763 - Burglar / Panic Alarms
817 - Assist a Student or Visitor
2,097 - Assist a Motorist
1,407 - Medical / Mental Health
120 - Vehicle Stops
25,522 - Propped Doors
Did You Know?
There are about 175 employees at the Duke University Police Department, to include uniformed police and security officers as well as civilian staff. About 50 percent of the police department are individuals of color, and about 30 percent are women.