Department Spotlight: Creating Room to Breathe
Part of a growing field, Interventional Pulmonology Program provides diagnosis and treatment of lung problems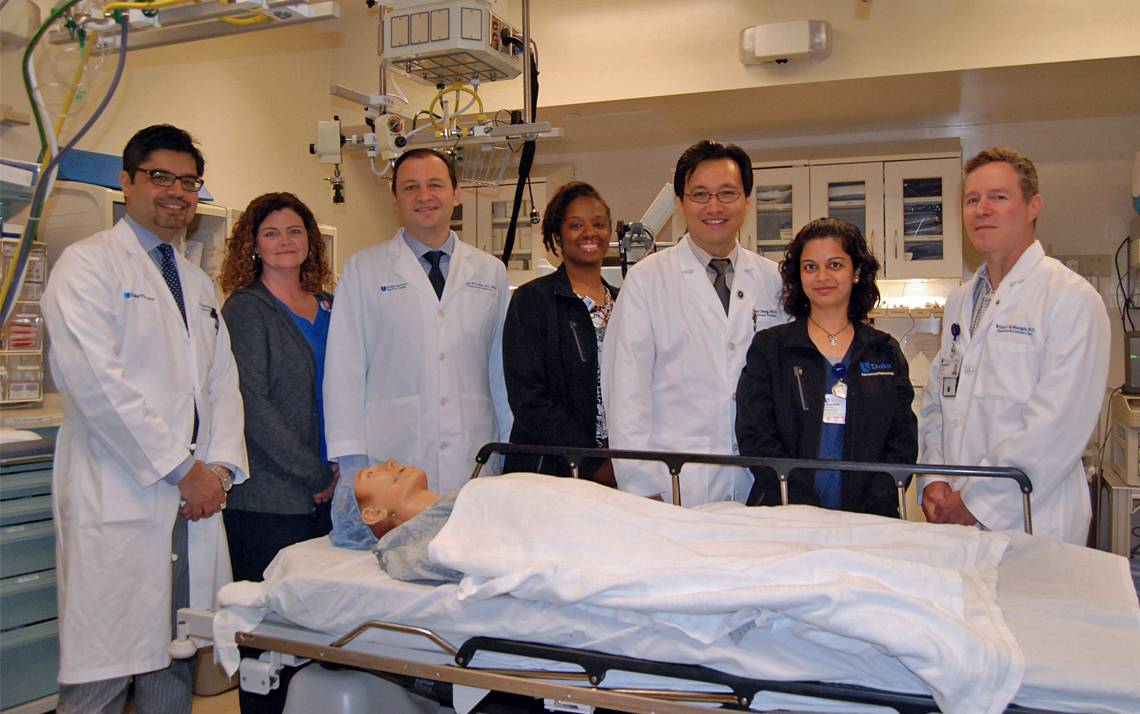 Department: Interventional Pulmonology Program, part of Duke Department of Medicine's Pulmonary, Allergy and Critical Care Medicine Division
Number of Employees: 10. The unit consists of four physicians, one fellow, three respiratory therapists and two research study coordinators. There are also around 10 nurses who assist with procedures for Interventional Pulmonology as well as other units.
What they do: Using an array of novel technologies to explore the respiratory system, the Interventional Pulmonology team performs around 2,000 procedures a year for patients dealing with a variety of lung-related ailments such as lung nodules and masses, lung cancer, asthma, and chronic obstructive pulmonary disease (COPD).
"Interventional pulmonology is a cross between medicine and surgery, offering minimally invasive procedures to help patients with airway issues breathe better" said Dr. Momen Wahidi, the program's director.
The technology ranges from familiar devices such as bronchoscopes, which are small fiber-optic tools that can be threaded down a patient's windpipe in order to see inside the lungs, to more exotic instruments such as a miniaturized ultrasound probe or an electromagnetic navigation system that, when combined with a CT scan, can produce intricately detailed maps of the lungs and show the locations of lung nodules and masses.
Interventional pulmonologists also perform therapeutic bronchoscopy procedures to unblock airways invaded by tumor. Numerous technology and devices are used including heat therapy (laser and electrocautery) and freezing therapy (cryotherapy).
"Some of these endoscopic interventions sound like science-fiction, but they are all available today," said Dr. George Cheng, assistant professor of medicine.
History: The program was started in 2003, when there were only three places in the country with similarly focused units. Now, Wahidi estimates that there are about 50 such programs nationwide.
"With new technologies and new skills, this field has become stronger and can offer more advanced procedures to patients," Wahidi said.
How the program makes a difference: The program prides itself on being a part of a multi-disciplinary approach Duke physicians use to help in the diagnosis and management of lung cancer patients. Wahidi said he and his team regularly collaborate with radiologists, oncologists, radiation oncologists, and thoracic surgeons, trying to find the best plan for each patient.
"We work together to give the patient the best path from diagnosis to treatment," Wahidi said.
Significant achievement: Interventional Pulmonology was a relatively new field when Duke started its program. Fifteen years later, the awareness of the field has expanded, and Duke has been at the forefront.
Members of Duke's Interventional Pulmonology team routinely educate physicians around the country, and as far as China, on the latest knowledge and skills in interventional pulmonology. Closer to home, Dr. Coral Giovacchini, who recently completed a fellowship with the program, is preparing to start a similar unit at Duke Raleigh Hospital.
Hidden fact: The physicians and the cutting-edge technology get plenty of attention, but respiratory therapists Wendy Curry, Hope Johnson and Deepika Malhotra play a major role in the unit's success.
"They are an integral part of the team and contribute significantly to our program by assisting with our procedures, mastering our equipment and providing education to our patients" Wahidi said.
Nearly as important to the unit's function is the respiratory therapist's ability to provide empathy and ease patients' sometimes jangled nerves.
"We just comfort the patients and make sure they know we'll be there for them during and after the intervention," Curry said.
Got an idea for a school, department or unit spotlight? Write us.