Confused by Investment Options? Talk with a Fidelity Representative
Retirement planners are available for one-on-one consultation at worksites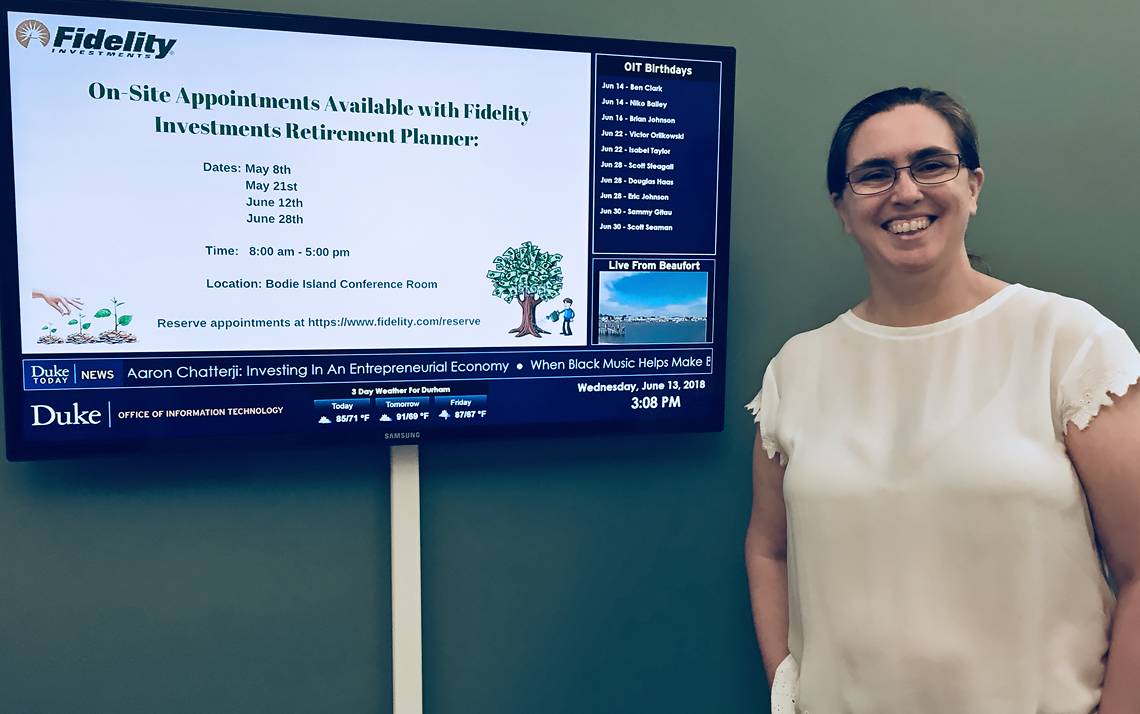 Bryn Smith knew she needed some help.
Her retirement savings were invested with TIAA, and she knew Fidelity would become Duke's primary retirement service provider in 2019.
So, Smith scheduled an appointment with Julie Cornell, a Fidelity representative dedicated to meeting with Duke faculty and staff as they consider options for moving funds and future contributions to the new investment platform as part of Duke's retirement plan redesign.
"I walked in completely unprepared," said Smith, a systems administrator in the Office of Information Technology. "Julie talked me through everything and helped me figure out what to do. She even provided me with all the forms I needed to sign and picked them up afterward."
Fidelity has added new on-site locations and retirement planners to meet one-on-one with faculty and staff at no cost during the transition. The redesign, which takes effect in January 2019, includes designation of Fidelity as Duke's primary recordkeeper for the Faculty and Staff Retirement Plan and a new investment lineup.
If eligible participants take no action, current balances will be moved to the new investment lineup on Fidelity's platform based on a mapping strategy, and future contributions will automatically default to an appropriate age-based Vanguard Target Retirement Date Fund through Fidelity in January 2019.
Faculty and staff are encouraged to review their options, meet with a Fidelity representative, and make elections that best meet investment needs and savings goals.
Smith, who works at the American Tobacco Campus in downtown Durham, said the convenience of meeting with a representative at her worksite was a major advantage.
"All I had to do was walk across the courtyard at ATC," she said. "I don't know if I would have gone if I had travel to campus and deal with parking."
Duke faculty and staff can visit Fidelity's website or call 1-800-823-0172 to schedule an appointment at a convenient on-site location, including the following:
710 West Main St.
American Tobacco Campus (ATC)
Bryan Center
Duke Clinical Research Institute (DC)
Duke Clinics-South
Duke Medical Pavilion (DMP)
Duke Raleigh Human Resources
Duke Regional Hospital - Roxboro St
Fidelity Durham Investor Center
Flowers Building
JB Duke Hotel
Michael W. Krzyzewski Center
Pratt School of Engineering
The North Pavilion
For more information, visit the Retirement Redesign website on the Duke Human Resources website.