Chesterfield Building Welcomes First Wave of Duke Researchers
A renovated cigarette factory is the latest Duke innovation hub, where creativity and collaboration will be nurtured
Ask the Duke employees who work in The Chesterfield what they like about the cigarette-factory-turned-research-hub, and they'll likely mention the natural light that streams in from massive windows, or the elbow room the 286,000-square foot building allows, or the cool factor of the downtown location.
And what's got people at Duke most excited about the collaborative research hub is its potential.
"I think we're going to see many exciting new discoveries and ventures come from the interactions in this really vibrant and exciting place," said Duke University Provost Sally Kornbluth.
Built in 1948, the building was a cigarette factory for the Liggett & Myers Tobacco Company. Shuttered in 1999, it was given a second life when it was renovated by Wexford Science + Technology, which works exclusively with universities, academic medical centers and major research institutions to create workspaces ideal for innovation and partnership.
Duke leases about 100,000 square feet to use for collaboration-friendly lab, office and conference spaces for parts of Duke University School of Medicine and the Pratt School of Engineering. With around 350 students, faculty and staff beginning to use the new spaces, the sense of possibility at The Chesterfield is thick.
"When people visit, there is a difference in their perception of what kind of investment Duke is making in our labs," said Will Thompson, assistant director of the Proteomics and Metabolomics Shared Resource lab, which is located on Chesterfield's third floor. "It sets a great tone."
Here's a look inside The Chesterfield as it begins life as Duke's latest downtown hub of innovation.
Founded in 2014, the Duke Center for Genomic and Computational Biology (GCB) – a joint effort between the Duke University School of Medicine and the Office of the Provost – brings researchers together from several areas to explore questions about complex biological systems. As part of its work, the GCB runs five shared resources, or labs with sophisticated equipment that several teams can use.
The Chesterfield is home to the Proteomics and Metabolomics Shared Resource lab, which uses mass spectrometry to analyze a substances molecular makeup, and the Sequencing and Genomic Technologies Shared Resource lab, which features equipment that can explore a cell's genetic blueprint.  
"We allow Duke principal investigators to have access to state of the art instrumentation that is much too expensive and requires a specialized skillsets to operate, which would put them out of the reach of being in individual laboratories," said Arthur Moseley, associate research professor for Duke Proteomics Core Facility.
 
While GCB's  shared resources are up and running, their lab space still has empty corners, underscoring the fact that many of Duke's assets in the Chesterfield have yet to fully grow into their new spaces. Compared to on-campus buildings, where space can be tight, having room to grow is a bit of a departure.
Elsewhere on the third and fourth floors – where the majority of Duke's space is – there are whole labs and offices that sit silent, waiting for tenants that will move in this summer.
"The building is bright and cheerful," said Wendy Parris, a lab research analyst in the Sequencing and Genomic Technologies Shared Resource lab, which came to The Chesterfield from a somewhat cramped on-campus space in the Biological Sciences Building. "And there's room for us. We're not all on top of each other."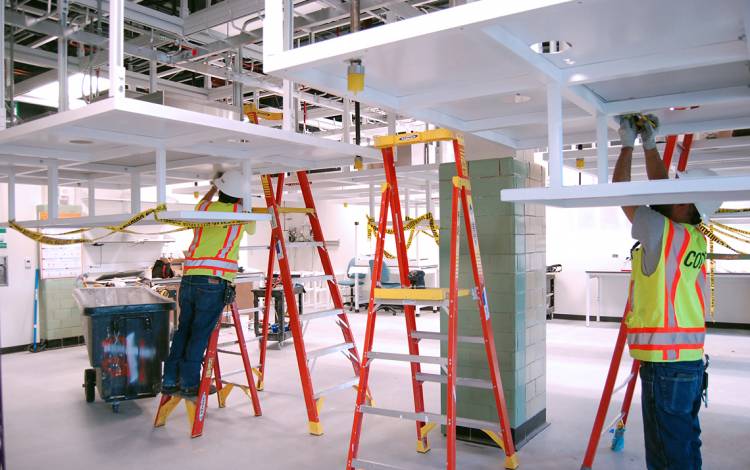 Labs on the third and fourth floor are home to research labs focusing on a wide variety of subjects, from how to capture and recycle water from areas with poor sanitation, to 3-D printed biomaterials that can help the body heal itself and how exposure to lasers affects the behavior of ions.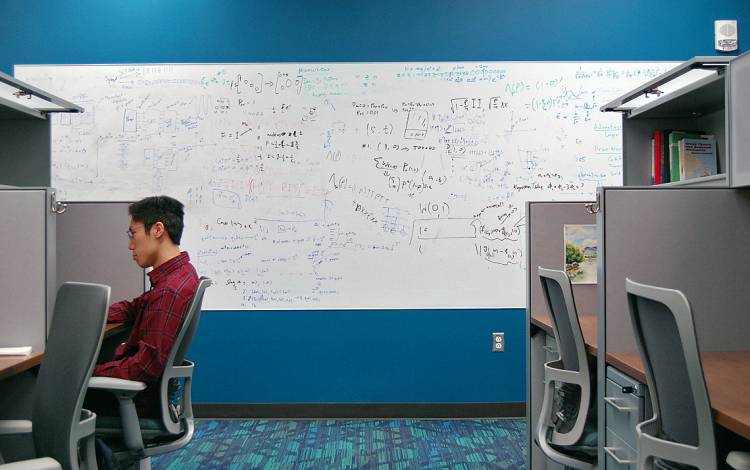 While the work that will go on in Duke's lab space in Chesterfield covers a wide array of disciplines, researchers came to the Chesterfield to find the right conditions for innovation.
The building is home to the Pratt School of Engineering's Bioengineering Research Initiative to Develop Global Entrepreneurs (BRiDGE), which offers lab space and mentoring to Duke Engineering students trying to turn an idea into a startup.
There are also two lab spaces equipped with 3-D printers for Biomedical Engineering students to work on class projects.
"This is where a bunch of different people can bring in a bunch of different ideas and have everything they need," said Kevin Wood, the building services coordinator for the Pratt School of Engineering's facilities at the Chesterfield. "They just have to figure out how to make it."