Blue Devil of the Week: Keeping the Pages Turning
Tabitha McCallop makes sure Perkins Library's books get where they need to go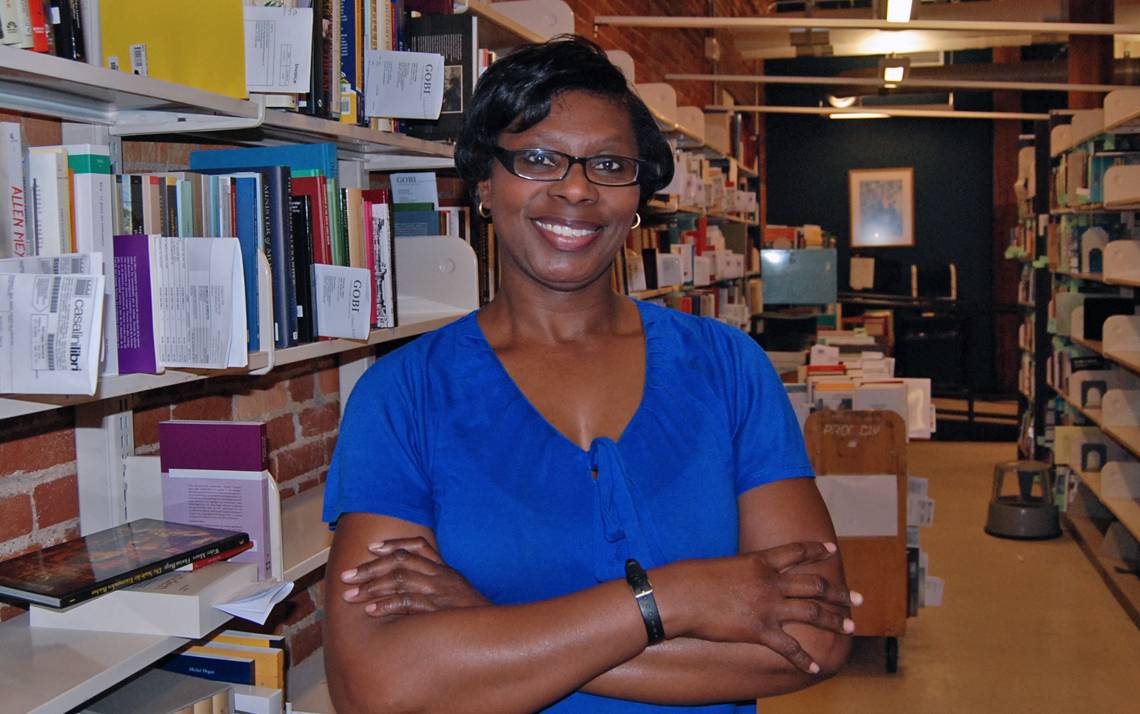 Name: Tabitha McCallop
Title: Staff Assistant, Administrative Services, Duke Libraries
Years at Duke: 20, spread over two stints
What she does: While it might be easy to picture a library as a place where books sit on shelves and stay until someone checks them out, that image isn't entirely accurate. Books are constantly being loaned to other libraries, both on campus and elsewhere. New books are being added to the collection and old ones are sent for repair.
For Perkins Library, McCallop is the person who makes sure all of those books end up where they need to be. Out of her office in Smith Warehouse, McCallop handles the shipping and receiving duties for Perkins Library. She unloads and organizes the daily shipments of new books and ones returning from loan. After sorting and packaging them, she sends them to their correct destination.
"I send to Perkins what needs to go to Perkins and I distribute everything else," McCallop said. "There are a lot of people in a lot of different departments, so I have to know who is where."
What she loves about Duke: McCallop's job recently added a new element. After a colleague retired, McCallop began working with the financial side of her department, filing expense reports and making sure purchases are charged to the right accounts.
She was able to take on the new responsibilities thanks to her experience in the Office Staff Development Program, which she completed in 2015.
The program, which was organized by Duke Human Resources and is now the Foundational Skills program, is an example of how Duke invests in its employees, something McCallop appreciates.
"I was able to develop skills I didn't have," McCallop said. "It helped me take on new things and get better in my position. I never thought I'd be able to do this kind of work."
A memorable day at work: In March, McCallop and around 20 colleagues took a day trip to the International Civil Rights Center & Museum in Greensboro. It was part of a series of departmental workshops centered around diversity and inclusion.
"It was a good learning experience," McCallop said. "It was a big group of us. We had some great discussions coming back from it. It was interesting to see how things were years ago."
Special objects in your workspace: A tradition among employees in the Perkins Library Administrative Services department is for co-workers to decorate the workspaces of someone having a birthday. During McCallop's last birthday in July, she found candy and banners around her desk. She said she only recently took the banners down.
McCallop said the ritual is an example of how much her co-workers enjoy each other.
"It's a good group, I love it over here," McCallop said.
First ever job: Growing up in Rose Hill, McCallop often spent summer days picking crops such as blueberries, corn and tobacco.
But after high school, she spent a summer with family members in Bridgeport, Connecticut, where she got a job working in a supermarket. She recalls being happy that she was indoors and the produce was already harvested.
"It was fun, it was different," McCallop said.
Something that most people don't know about her: While McCallop said that her playing days are mostly over, she said she's always enjoyed softball. She played a lot growing up and continued as an adult in recreation leagues where she was a sure-handed outfielder.
"I could always hit, but I was never a good runner, I wasn't that fast," McCallop said. "But I loved softball. That was my favorite."
Nominate a colleague to be Blue Devil of the Week.