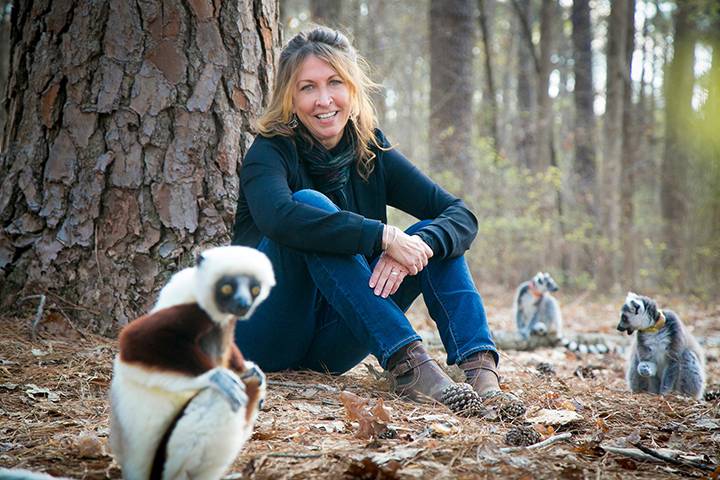 Anne D. Yoder, whose path in science was forever altered by a visit to the Duke Lemur Center as a UNC undergraduate in the 1980s, will be stepping down as director of the Lemur Center at the end of June.
Greg Dye, the Lemur Center's director of operations and administration, will serve as interim director while a national search for a new director is conducted.
Yoder led a remarkable 12-year renaissance of the landmark research center, from a little-known conservation center weatherized with plastic sheeting and space heaters to a jewel of Duke's research environment focused on conservation, research and education.
During Yoder's tenure, it changed its name from the Primate Center to the Lemur Center, built two new housing facilities for the animals, doubled its research activity and opened its doors to 32,000 visitors a year. Since her arrival 285 new lemurs have been born there.
"I love the place with every fiber of my being, but it's time to step aside and let somebody come in with new ideas," Yoder said. "It's been a fun, long ride."

Yoder's tenure also included the launch of Duke's SAVA Conservation project, based in northeastern Madagascar, which aims to protect lemur lives and habitat by making human lives better through education, fish farming, tree planting and healthier cooking stoves. "I'm so proud of it," she said.
Yoder is quick to add that she could not have led a dramatic reinvention of the center without its dedicated staff and the close guidance and support of then-provost Peter Lange.
When Yoder was recruited from Yale to lead the primate center, "the facility was no longer adequate for the security and safety of the animals and research and teaching had decayed," said Lange, who is now the Thomas A. Langford University Professor in the Sanford School of Public Policy. "She knew what she needed and wanted and was effective at presenting it."
The Lemur Center was worth the university's investment of $10.4 million in the new housing facilities and other support because it's a unique asset, Lange said. "To have things that nobody has that contribute to great scholarship."
"I think it's fair to say that Anne came in and took a primate center with a collection of animals and made it into an excellent facility, one we can be proud of," said biology professor Steve Nowicki. "It's a little bit like a CEO being hired in to take a company to the next level."
Nowicki, who regularly brings his first-year seminar students to visit the Lemur Center, said many undergraduates have told him they came to Duke specifically because of the lemur collection.
Kathleen Smith, a Duke professor of biology who was Yoder's thesis advisor and then sounding board, said the renaissance was about more than money. "Those resources would not have mattered without someone like Anne who had the passion and the vision for what the center could be," Smith said.
Having come to Duke more than a decade ago to do research at the Lemur Center, Christine Drea, the Earl D. McLean Professor of Evolutionary Anthropology, said the improvement in facilities and the availability of seed funding for pilot research projects have been keys to her success.
"Anne instituted a director's fund that provided seed grants to graduate students, post-docs and faculty," Drea said. "We got two in a row and that really made getting an NSF grant a reality."
In the decade prior to Yoder's arrival, the Primate Center accommodated an average of 39 research projects per year. From 2007 to 2017 under Yoder, the Lemur Center's average doubled to 78 research projects per year.
The improvements in facilities and staff at the Lemur Center have made both the researchers and the lemurs happier, Drea said.
"It's here to stay and it's something Duke can build on," Nowicki said.
Next month, Yoder will begin a year-long research sabbatical in Europe and northwestern Madagascar exploring species dynamics in mouse lemurs with support from a Guggenheim Fellowship and a Humboldt Fellowship. She will return to her teaching duties as the Braxton Craven Professor of Evolutionary Biology in Fall 2019.