Stelfanie Williams Named Vice President for Durham Affairs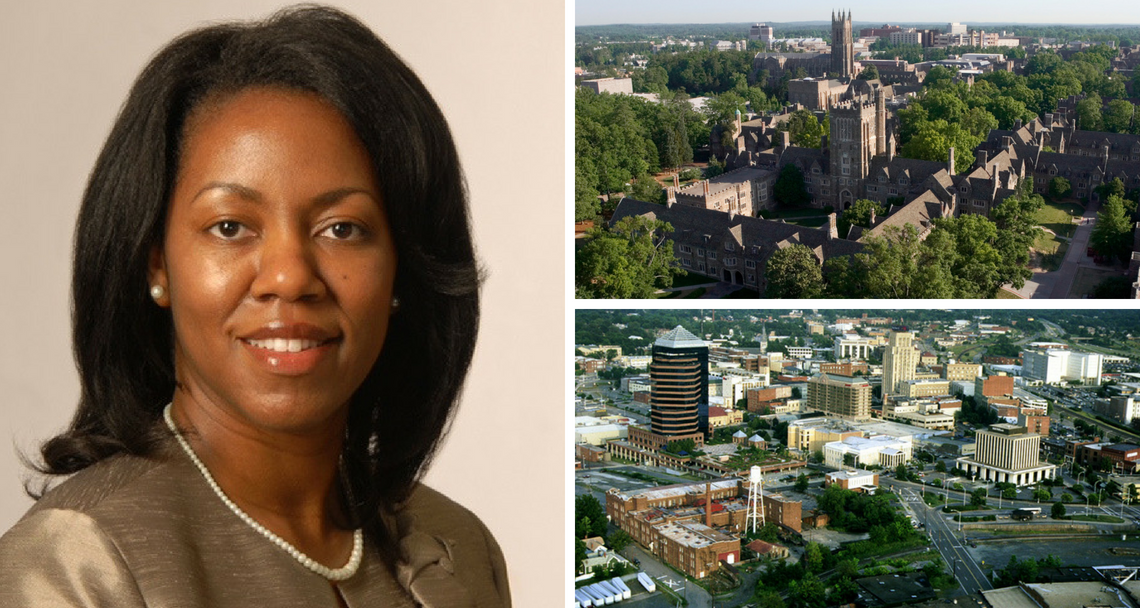 Stelfanie Williams, the president of Vance-Granville Community College and a Duke University alumna, will become Duke's vice president for Durham affairs on Aug. 13, President Vincent E. Price announced Monday.
In this role, Williams will lead and coordinate Duke's diverse and innovative community efforts in areas such as economic development, affordable housing, early childhood, K-12 and workforce education, student engagement, neighborhood relations and community health. She will also continue building connections between Duke and Durham Public Schools, Durham Technical Community College and North Carolina Central University. And she will oversee the Doing Good in the Neighborhood employee giving campaign.
Williams succeeds Phail Wynn, who is stepping down after 10 years in the post.
"I am thrilled that Stelfanie will be returning to Duke to join my senior leadership team and build on the vitally important work conducted by Phail Wynn and his team over the course of the past decade," said Price. "She brings a wealth of experience in higher education, with a particular focus on community engagement and innovative partnerships. As a Duke graduate, she knows firsthand that Duke simply wouldn't be Duke without Durham, and I know that she will help forge an even stronger relationship between the university and the city we are so proud to call home."
"Stelfanie stood out as that exceptional leader for this important role because of her great intelligence, energy, wisdom and stellar record of success in the areas that are critical for Duke's future success."
-- Dr. Eugene Washington
In 2012, Williams was appointed president of Vance-Granville Community College (VGCC), a four-county college in North Carolina with campuses in Vance, Granville, Franklin and Warren counties. Under her leadership, the college experienced significant growth in academics, including technical programs, the arts and distance education. The institution also set records in fundraising and grant development, established a new facility for continuing education and expanded partnerships with schools and universities, such as North Carolina Central University's Eagle Voyage program, that provides baccalaureate degrees on the VGCC campus.
With a focus on student access and success, Williams spearheaded the development of the VanGuarantee, a college promise scholarship, and led efforts that resulted in the largest graduating classes ever in 2015 and 2016 and the largest number of associate degrees awarded in the college's history in 2017.
"It is an honor to return to my alma mater as a member of President Price's leadership team, serving as vice president for Durham affairs and building on the fine work of Phail Wynn and the staff," said Williams. "I look forward to advancing public service, community engagement and strategic partnerships to the mutual benefit of the university and the community. Duke's commitment to public service and the unique attributes of the Durham community excite me about the bright opportunities ahead for thoughtful collaboration."
Williams has more than 20 years of experience in higher education, as a faculty member and in such administrative capacities as director, dean and vice president. She is currently an adjunct assistant professor at North Carolina State University's College of Education. She also consults on leadership and workforce development, including past faculty assignments for The Congressional Black Caucus Institute, The Thomas Lakin Institute for Mentored Leadership and The Aspen Institute College Excellence Program.
In 2017, North Carolina Gov. Roy Cooper appointed Williams to the Governor's Commission on Sound, Basic Education. She was also appointed to MyFutureNC, a commission of education, business, nonprofit, government and faith leaders launched in 2017 to create a statewide goal to get more North Carolinians better educated.
Williams' appointment comes after a national search chaired by A. Eugene Washington, chancellor for health affairs and president and CEO of the Duke University Health System.
"Through listening sessions with Duke's many stakeholders on campus and in the community, the search committee sharpened its view of the ideal candidate," said Washington. "Stelfanie stood out as that exceptional leader for this important role because of her great intelligence, energy, wisdom and stellar record of success in the areas that are critical for Duke's future success."
The other members of the advisory committee included former Durham Mayor William "Bill" Bell; Liz Brown, Duke Student Government's vice president for Durham and regional affairs; Duke trustee Allyson Duncan; Anna Gassman-Pines, associate professor of public policy, psychology and neuroscience; graduate student Kendal McBroom, Graduate and Professional Student Council's vice president of community outreach; Jan Riggsbee, director of the Duke TeachHouse program; Michael Schoenfeld, vice president for public affairs and government relations; and Scott Selig, associate vice president of capital assets and real estate.
Williams is active on public and private boards and civic organizations, including the State Employees' Credit Union Corporate and Foundation Boards, N.C. Central's School of Business Board of Visitors, the American Association of Community Colleges Commission on Structured Pathways, as well as local chambers of commerce and economic development commissions. She has also participated in the North Carolina Leadership Forum, a Duke program that provides an opportunity for bipartisan civic, business and political leaders from across the state to discuss issues.
Among other honors, Williams was selected for the White House Regional Community College Summit in 2011, and in 2014 she was awarded by N.C. State the I.E. Ready Distinguished Leadership Award, named for the first president of the North Carolina Community College System, for her active support and engagement in enhancing the state's community colleges. In 2018, she was named "President of the Year" by the North Carolina State Board of Community Colleges.
"Dr. Williams has provided outstanding leadership for Vance-Granville Community College," said Danny Wright, chair of the VGCC board. "Her vision and intellect, passion for student success, and commitment to community engagement will be assets to Duke University, and she will be missed dearly at VGCC and the surrounding communities we serve. Stelfanie is very deserving of this opportunity, and we are heartened to know that she will continue her great work and contributions in higher education."
Williams received her undergraduate degree in public policy and Spanish from Duke, a master's in project management from Western Carolina University and a doctorate in education from N.C. State.