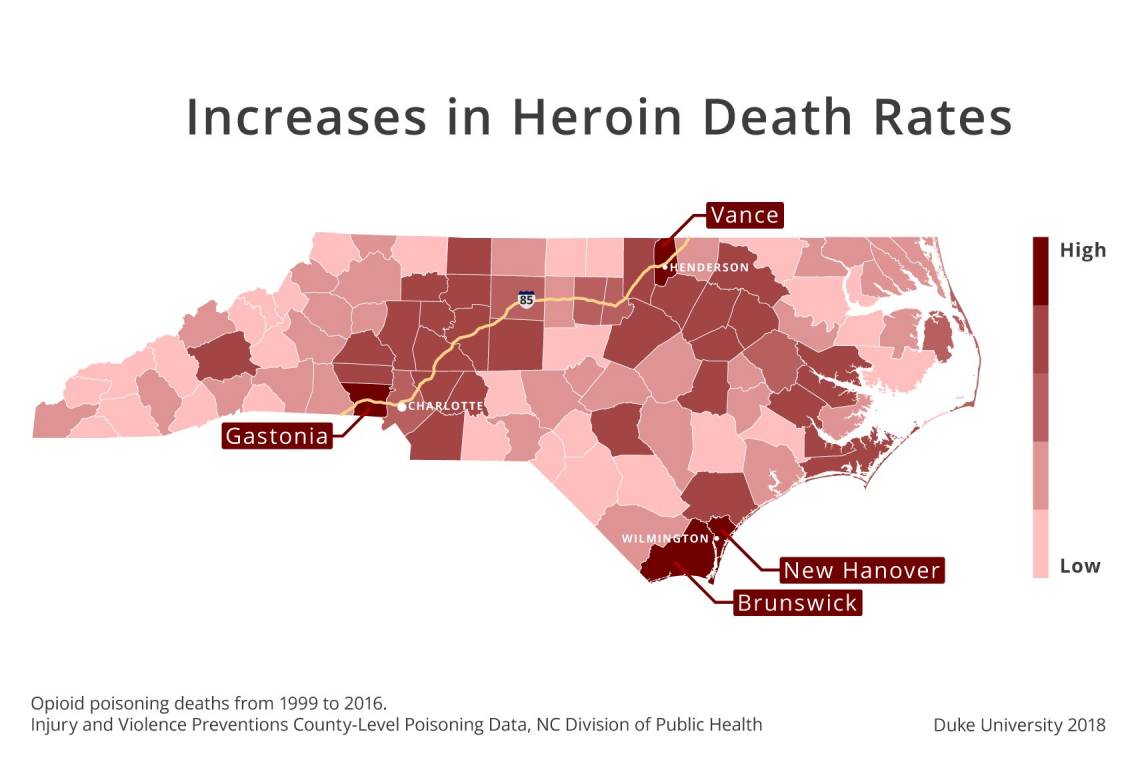 North Carolina experienced an 800 percent increase in opioid drug deaths from 1999 to 2016, largely driven by a growth of illicit heroin use, according to a study of death certificates conducted by a team of Duke University students and faculty.
Heroin overdoses have grown 10-fold in North Carolina since 2010, says the study, which appears this month in the North Carolina Medical Journal. Before 2010, two-thirds of the state's opioid deaths were the result of prescription painkillers, but since 2013, illicit heroin and fentanyl have become the dominant forms of opioid overdose.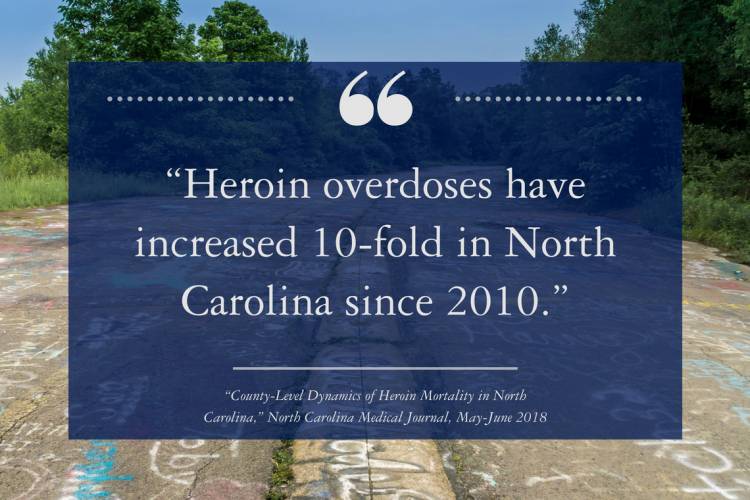 The study found that the growing illicit drug problem is not evenly distributed across the state. Twenty-nine of the state's 100 counties showed no changes in heroin deaths over the study period.  But while the study found that heroin deaths are mostly a problem of urban counties, four more-rural counties -- Brunswick, New Hanover, Gaston and Vance -- experienced a 13-fold jump in heroin deaths.
Proximity to bigger cities and major transportation routes likely accounts for the rise in those four counties, said Nicole Schramm-Sapyta, an assistant professor in the Duke Institute for Brain Sciences, who led the North Carolina study. New Hanover County includes Wilmington, and its neighbor Brunswick County includes Southport. Both ports are probable points of entry for heroin smuggling, Schramm-Sapyta said. Gaston County is adjacent to Charlotte and spans I-85 at the South Carolina border, so perhaps it's the proximity to an urban area that's the connection, she said. And Vance County straddles I-85 at the Virginia border. (See your county's overdose statistics:  http://www.injuryfreenc.ncdhhs.gov/DataSurveillance/Poisoning.htm)
The growing awareness of prescription opioid abuse and rising death rates has led to new policies and some self-regulation by prescribing physicians, Schramm-Sapyta said. "The early response worked against the early problem, but the illicit dealers have come in to fill that void."
"What we're seeing now is many people moving to illicit drugs," said Dr. Lawrence Greenblatt, co-chair of the Opioid Safety Committee at Duke Health, who was not involved in the student study. "You can just text your dealer and they'll deliver. It's like Uber."
By 2017, heroin and fentanyl played a role in 78.1 percent of opioid overdoses, said Greenblatt, who also chairs the North Carolina Medicaid Pharmacy and Therapeutics Committee.
The North Carolina Center for Health Statistics reported 1,300 unintentional opioid deaths in 2016.

During their 18-month project, which began in the summer of 2016, the Duke students, who were part of the Bass Connections program, assembled "rescue kits" with the overdose antidote naloxone that were distributed for free in at-risk areas of the state. They also developed a "mental health first aid" training program for undergraduates and medical and nursing students and successfully lobbied state officials to legalize syringe exchange programs.
"Needle exchange protects you from all kinds of things" that can be expensive health problems for society, Schramm-Sapyta said.
The opioid problem is putting a strain on health care systems and its workers, Greenblatt said. Some emergency departments are seeing three opioid overdose cases every day. The state is going to need to expand the availability of treatment resources, he said, and primary care and mental health professionals will be the front lines of getting people with addiction problems into care.
"What obviously should be done is setting up more addiction treatment clinics," Schramm-Sapyta said. And those clinics ought to be targeted to the urban areas where the heroin problem is worst, she said.
CITATION: "County-Level Dynamics of Heroin Mortality in North Carolina," Alexander H Gunn, Bryce Bartlett,Grace Feng, Matthew Gayed, Katie Kanter, Erica Onuoha, Madeline Thornton, Andrew Muzyk, Nicole Schramm-Sapyta. North Carolina Medical Journal, May-June, 2018.