Employees Reflect Upon Career Service Milestones
For Duke Appreciation this month, employees marking 10 to 40 years of service share what makes Duke special to them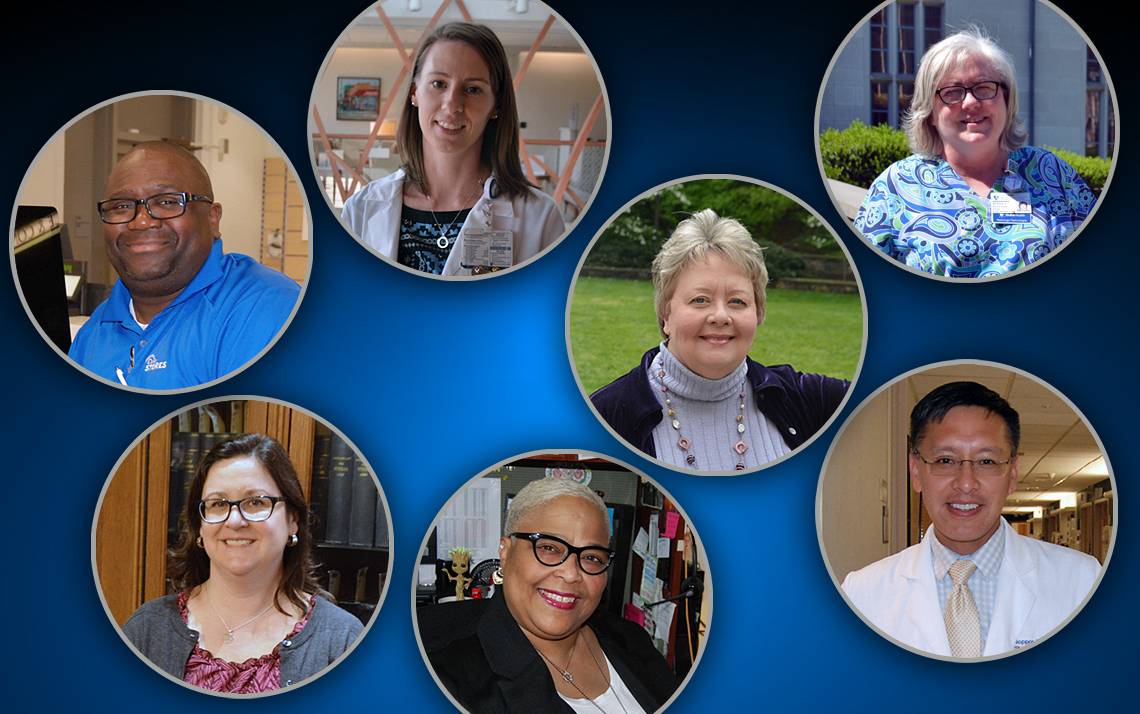 May is Duke Appreciation, a month-long celebration of 38,000 staff and faculty members who keep Duke University and Health System thriving. 
As part of the celebration, Duke honors nearly 4,000 employees who are marking career milestones of 10, 15, 20 and more years of service. 
Deemed the 2018 Duke Stars, members of the group range from the 1,301 who are marking a decade with Duke to the three who have worked here 50 years and the one – Ruby Wilson, a Duke University School of Nursing professor – who's celebrating her 60th year as a Duke employee.
"An inspiring reality at Duke is the number of people who have dedicated a significant part of their lives and work careers here," said Kyle Cavanaugh, Duke's vice president for Administration. "We continue to be extremely fortunate to have the talent and gifts of these many individuals. It is a testament to their commitment to the institution's core values and the overall mission of Duke."
As part of the Duke Appreciation celebration, Working@Duke caught up with some of the 2018 "Duke Stars" to hear their stories of what Duke means to them.
Karla Lambson
Clinical Educator at Duke Cancer Center
10 Years at Duke
The little things add up for Karla Lambson. 
The clinic birthday parties, baby showers and colleagues supporting each other during family losses and illness. These acts of kindness during her work at Duke make Lambson feel like her coworkers are family. 
"We see patients on some of the worst days of their lives," Lambson said. "We often have to have conversations about quality of life and hospice care. Doing simple things for each other can really improve a day."
When Lambson's grandmother passed away in 2014 , coworkers immediately told her to leave work and begin the drive to Orlando, Florida. They covered her shifts.
"That's our team's culture," Lambson said. "Anytime one of us has something going on, a family emergency or illness or surgery, we all step up to help." 
Pooh Setji
Associate Professor of Medicine
15 years at Duke
Since returning to Duke in 2003, Pooh Setji, who went to Duke as an undergrad, has seen his role expand.
As medical director of the Duke University Hospital Medicine Program, he helps oversee a program that features 54 providers. He also sees patients in the hospital's internal medicine service and serves in leadership roles in a variety of initiatives aimed at improving care.
He said occupying those roles while working alongside the kind of colleagues and students he encounters at Duke is a joy.
"We're continually surrounded by a bunch of bright, motivated people," Setji said. "They're always asking interesting questions that you have to know the answers to."
Saying that working in such an environment helps "keep you on your toes," Setji has taken advantage of professional development opportunities such as courses on project management and the Six Sigma Green Belt organizational improvement program.
"There's always stimulation here to stay engaged and try to figure out how to do things better," Setji said. 
Jacqueline Reid Wachholz
Director of the John W. Hartman Center for Sales, Advertising and Marketing History
20 Years at Duke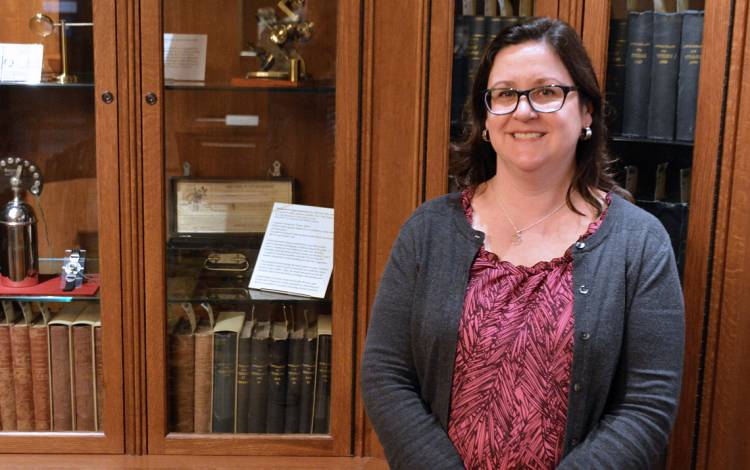 When Jacqueline Wachholz joined Duke 20 years ago, health insurance wasn't top of mind. She was just happy Durham had a health foods store. 
But two realizations have made Wachholz appreciate her health insurance through the Duke Select medical plan. 
The first occurred when Wachholz had her first child, Eva, 10 years ago. It cost Wachholz about $400.   
"Duke made the financial aspect of having a kid very easy," she said. 
The second realization happened gradually, as she started to hear how much friends were paying for their family members to be on their insurance plan. Wachholz covers her  husband and two daughters on her Duke Select plan. 
"I've come to realize not to take health insurance for granted," she said. "I feel lucky that Duke keeps is so affordable." 
Eric Reid
IT Specialist at Duke University Stores
25 years at Duke
Eric Reid was 23 years old and fresh out of the Navy when, on the advice of his aunt, he applied for a job with Duke Temporary Services. It wasn't long before he started working in the Duke University Hospital mail room, sorting letters.
Over the years, Reid went from temporary employee to full-time. He also went from the mail room to the Duke Technology Center, part of Duke University Stores, where he offers computer help. Reid said he appreciates Duke's commitment to his growth.
"I'm a work in progress always because technology is forever changing," said Reid, who plans on using Duke's tuition assistant program to take some community college IT courses this fall.
Looking back, Reid cites his career at Duke as a valuable stabilizing force in his life.
"At 23, I was just thinking about hanging out, now I'm thinking about retirement," Reid said. "This job has made me a lot more mature. I've grown a lot. I've become a lot more knowledgeable about a lot of stuff, just life in general."
Ronda Pulliam
Radiologic Technologist at Duke's Radiology Bone & Chest Cancer Center
30 Years at Duke
It was 1988 and Ronda Pulliam was working at Duke and attended a tailgate party before the Duke-UVA football game at Wallace Wade Stadium. 
There, a Duke technologist by the name of Tim Pulliam grabbed her attention. She thought he was cute and made her laugh. Tim got Ronda's phone number and the two began chatting over the phone. They had trouble finding a time to go on a date, but four to five months later, they went to Applebee's, and Ronda ordered a cheeseburger.
"Tim thought it was funny I ordered a burger," Ronda said. "I remember him saying 'usually when I go on a date, the girl orders a salad and barely eats it.'" 
In 1990, the two married at Duke University Chapel. They've since had two kids, Michael and Zachary. Both Ronda and Tim still work at Duke and even carpool most days from their home in Roxboro. 
And she remains grateful that Duke brought them together on that day in 1988.
"He still makes me laugh," Ronda said. "But don't tell him that." 
Maria Burt
Financial Care Counselor with Duke Psychiatry and Behavioral Sciences
35 years at Duke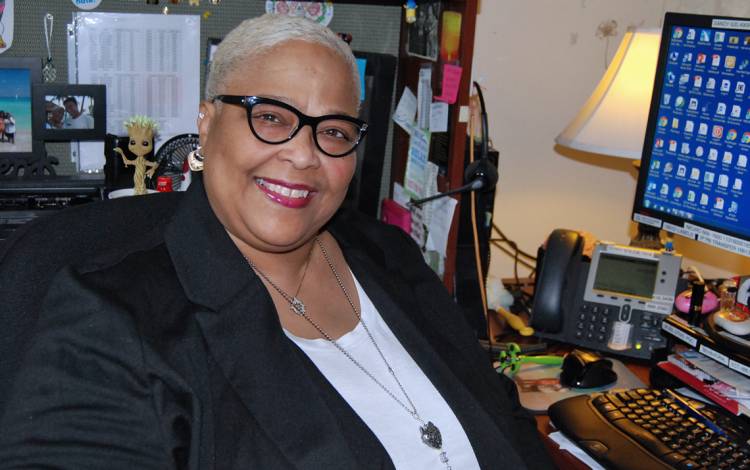 The first 16 years of Burt's Duke career were spent working in the cafeteria of what is now the Duke Center for Living. 
After that role, she moved into a position handling incoming calls for one of Duke Psychiatry and Behavioral Sciences' outpatient clinics. Burt had little in the way of computer skills or office experience, but she rose to the challenge of her new job, quickly learning the ropes.
"I just picked it up as I went along, I kept notes and figured it out," Burt said.
With the help of co-workers who were generous with their time and knowledge, Burt excelled, taking over the front desk and later moving into a role as the staff specialist for around 25 residents, all in her first year.
Now, she helps patients navigate billing issues and provides guidance to co-workers who are starting out careers in the same manor she once did. She has grown to appreciate the stability that Duke can offer.
"It's a great place to work," Burt said. "They give people opportunities. They believe in seeing people grow. I've seen that."
Cynthia Peters
Assistant Dean of Student Services in the Nicholas School of the Environment
40 years at Duke
Nothing makes Cynthia Peters happier as a Duke employee than reading the names of students as they walk across the stage during the Nicholas School of the Environment's Recognition Ceremony. 
As an assistant dean in student services, Peters often meets with students for one of two reasons: financial aid or academic assistance. So, she's overjoyed when she sees students cross the stage. 
"These people work hard," Peters said. "We're here to help them do awesome things with their lives. It is an honor to be part of their development."
Peters stores a pile of thank you cards from students in her desk and keeps in touch with a handful of alumni. Recently, Peters had lunch with a former graduate student, a mother of two who was battling cancer when she was studying for her degree.
At the end of the meal, the alumna thanked Peters for helping her plan her academic schedule around cancer treatments.
"It was such a gratifying experience," Peters said. "It's a reminder of why I've been working in higher education for so long."
Do you have special news to share about your school, department or unit? Share it with us.