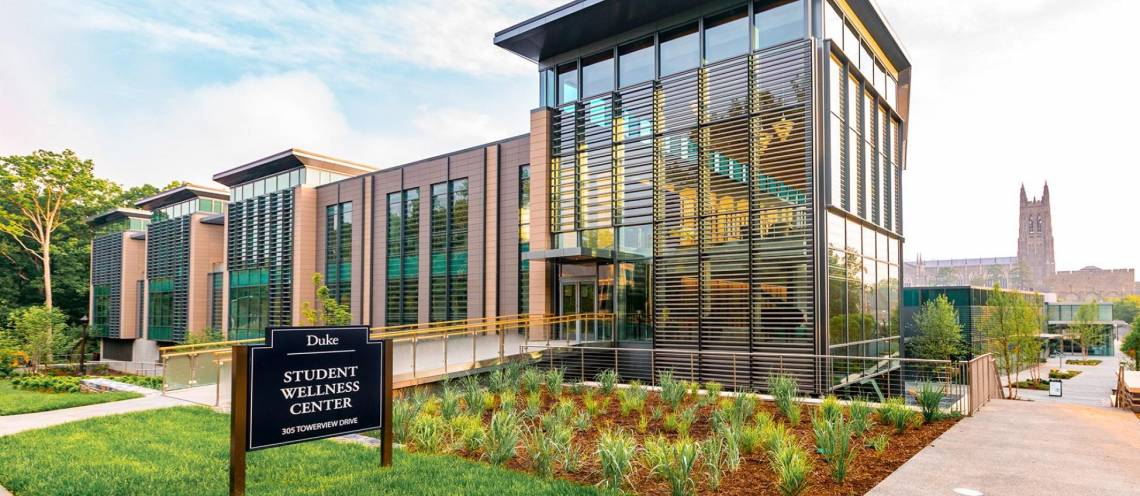 When Duke opened its Student Wellness Center in January 2017, the 72,000-square-foot building on West Campus underscored the university's commitment to helping students maintain sound physical and mental health.
Now, this commitment is being recognized nationally.
Duke is one of only seven colleges and universities nationwide to receive the Healthy Campus Award for its efforts to promote student health, especially mental health.
The award comes from Active Minds, a national nonprofit organization that seeks to raise awareness and inspire action related to mental health on college campuses.
"The fact that we, for the first time in the history of the university, brought together all services and programs related to student wellness in one facility, I think, speaks volumes to the commitment Duke has made and continues to make to student wellness," says Sue Wasiolek, associate vice president for student affairs & dean of students.
Student Health, DukeReach, Counseling and Psychological Services (CAPS), DuWell, Nutrition Services, a pharmacy, physical therapy, a dental office and a mindfulness garden are among the offerings at the transparent, two-story Student Wellness Center.
Helping students manage their stress is one of the priorities of bolstering student health at Duke.
Providing them with mindfulness techniques and resources – such as the Koru workshop on mindfulness meditation – has been particularly beneficial, Wasiolek says.
"We seek to help students understand that stress is not going to go away, it will be present while at Duke and after," she says. "Our hope is we can continue to offer to them opportunities and interventions that will help them cope with stress."
Other schools to win the Healthy Campus Award this year are Arizona State University, Kent State University, Jefferson Community College in New York, University of Oregon, University of South Carolina and University of South Florida.
At Duke, a committee of representatives from various student health groups worked on the application for the award.
"They put together a great application," Wasiolek says, "one that I think presented the holistic approach that we're trying to take with student wellness."