Blue Devil of the Week: Shaping the Student-Athlete Experience
Chris Kennedy has helped Duke Athletics stay ahead of the game for four decades
Name: Chris Kennedy
Title: Senior Deputy Director of Athletics, Adjunct Assistant Professor of English
Years at Duke: 41
What he does: In 1977, Kennedy was hired as an academic advisor for athletics at a time when the idea of having staff members solely dedicated to the off-field growth of college athletes was in its infancy.
"In those days, the athletics landscape was completely different," said Kennedy, who played varsity soccer while an undergraduate at Georgetown. "It wasn't a career, there was nobody to call up and ask, 'How do you do this job?'"
At the time, the one-size-fits-all approach to academic advising for college athletes meant little more than overseeing largely ineffective evening study halls for football and men's basketball players. Kennedy set out to change that.
Thanks to Kennedy's changes, athletes began receiving individual academic plans and were able to make more efficient use of their time by weaving in more study time throughout the day. Eventually Kennedy's template was expanded to all sports.
As college athletics has evolved, so too has Kennedy's job. He now oversees the department's academic advisors, compliance staff and external relations component, which includes marketing promotions, tickets and media relations.
But Kennedy, who also teaches a seminar on the philosophy and ethics of sports with the Kenan Institute for Ethics, said that the same values still guide him.
"I truly believe that you learn so much from what it requires to be really good at something and compete against other people who are trying to be really good," Kennedy said. "I go back and forth between the athletics world and the academic world. I really think of this world as part of that world, as an educational department of the university."
What he loves about Duke: Among the things Kennedy values about his position is how closely he works with athletes. He said it's hard not to be inspired when surrounded by passionate, determined young people.
"That's motivating," Kennedy said. "They're so energetic and so ambitious and so driven, there's just this buzz of energy being around those teams."
Special objects in his workspace: On the wall behind his desk are photos of a handful of athletes. There's a shot of Jay Bilas, David Henderson, Johnny Dawkins, Mark Alarie and Weldon Williams – one of the most important classes in Duke men's basketball history – on their graduation day in 1986.
There's also a team photo of the 1986 men's soccer team and a picture of Kennedy with the 2010 men's lacrosse team. Both of those groups won NCAA championships.
"I worked closely with all of them," Kennedy said.
First ever job: While in high school in San Mateo, California, Kennedy and a friend went door-to-door offering to paint neighbors' houses. Despite not having much in the way of painting experience, they occasionally got hired.
"I learned I didn't want to do that the rest of my life," Kennedy said. "But we liked it. It was fun. It beats being inside all day."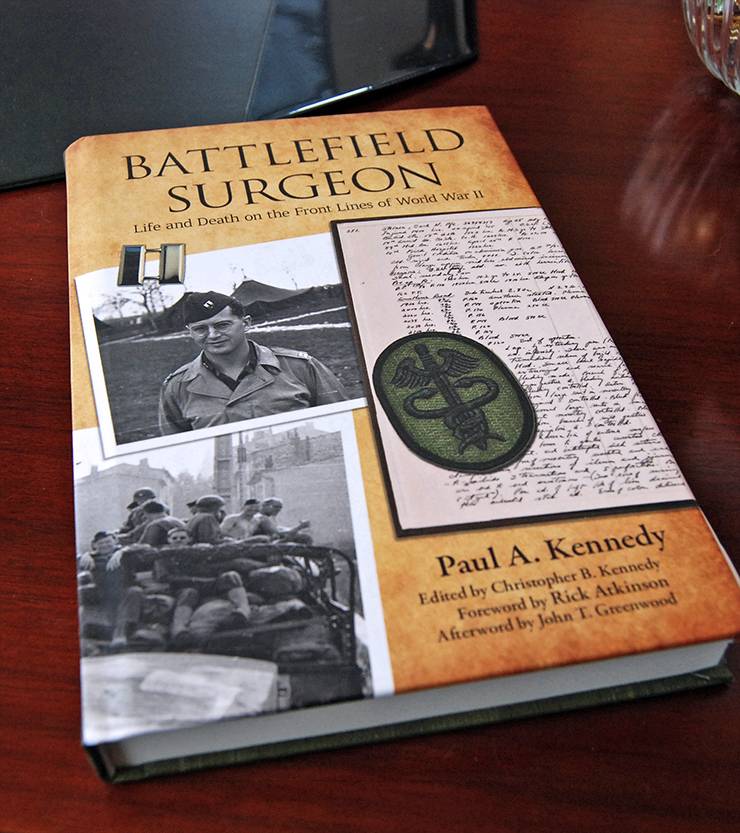 Something most people don't know about him: Kennedy's father, Paul Kennedy, spent World War II as an army surgeon, serving in North Africa, Italy, France and finally Germany. During the war, he took hundreds of photos, kept diaries and wrote meticulous case studies about many of the injuries he treated.
"I knew about none of this until after he died," Kennedy said.
In the years after his father's death in 1993, Kennedy decided to begin transcribing the newly found diaries and case studies. He also had the negatives of his father's wartime photos digitized. At first it was a project for family members. But soon he realized it could be much more.
"I thought I could make this into a book, which I did," Kennedy said.
Released in 2016 by the University of Kentucky Press, "Battlefield Surgeon: Life and Death on the Front Lines of World War II" offers an inside look of wartime medicine and serves as an homage to his father's work.