Blue Devil of the Week: Powering the Electronic Link to Patients
Dalia Mack and her team unite researchers with patients their studies need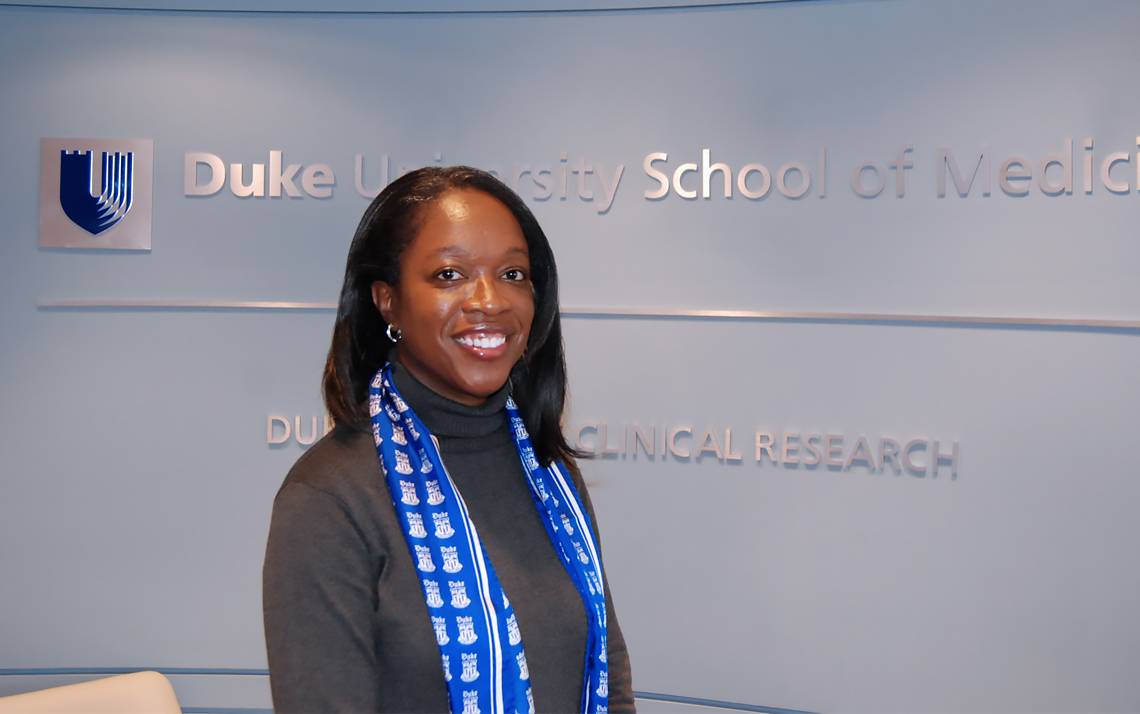 Name: Dalia Mack
Title: Associate Director for Maestro Care Research, Duke Office of Clinical Research
Years at Duke: 6
What she does: Without patients sharing their stories, clinical research can't happen. But how can researchers find the patients whose stories provide answers to the puzzle a study is trying to solve?
Through Maestro Care, Duke Health System's electronic health record program, Mack and her team of analysts help unite researchers with the patients their studies need.
Her team can create reports that provide lists of potential study candidates. They can build tools that tailor the necessary health record data to the researchers' needs. The team can weave research study information into the health record so doctors can invite eligible patients to join a study.
Mack's group also fixes occasional problems relating to research study conduct within Maestro Care and helps to ensure research-related orders and billing goes smoothly.
Mack, who has a doctorate in pharmacy, expanded her responsibilities earlier this year to include oversight of the team that meets with researchers before a study begins to make sure all of the necessary approvals are in place.
"It's really just comprehensive support for the research community using the electronic health record," Mack said of what her team provides.

What she loves about Duke: "I really like my team, I like the people I work with on a regular basis," Mack said. "I feel like my team is very diverse. I've never worked with such a group of people who are so different from one another. We have all types of personalities on this team, but somehow it works. … It makes things interesting, but it makes for a productive dynamic."
Most important objects in her workspace: Around her desk are photos of her family and friends. The most prominent ones are of her 8-year old son, K.J. There's a bulletin board full of his photos on one wall and a Christmas-themed image of him on her computer desktop.
"I like to just surround myself with personal trinkets and mementoes, but especially pictures of my family," Mack said. "It reminds me of why I'm working hard, being an example for (K.J.). I want him to see what it looks like to work hard and take on new responsibilities."
First ever job: While in high school in her hometown of Orlando, Florida, Mack worked at J.C. Penny.
"They called us 'S.T.A.F.F.', which stood for 'Special Teen Advisor For Fashion,'" she said.
In addition to ringing up customers, she and her colleagues occasionally modeled the clothes in ads and in-store fashion shows.
"It was fun," Mack said. "You're a teenager walking down the runway in your local mall. It wasn't New York City or Paris, but I was 15 and it was fun. And I got to have my picture on the wall at J.C. Penny."
Best advice ever received: Mack credits her mother's advice with shaping how she lives each day.
"She would often say 'I want my flowers when I can still smell them,'" Mack said. "I take that as meaning you should enjoy every day, make the most out of it."
Mack often puts this into practice at work by holding short, impromptu dance parties with co-workers to celebrate accomplishments both large and small.
"If someone comes in and they're excited, they might say a project got good feedback or someone is excited about their work, I'll say 'Hey, let's have a one-minute dance party,'" Mack said. "Some people hate it, but they'll still smile and laugh. That's what it's all about. Just celebrate the small victories."
Something most people don't know about her: In 2006, when her husband, Kervin, was in dental school, Mack had an idea for a children's book.
"I wanted to write a children's book that showed an African-American dentist that could inspire kids and show that it doesn't matter where you come from or what you look like, it's all about your drive, your ambition and that you can be whatever you want to be," Mack said. "While doing that, I wanted it to be light and fun and maybe alleviate some fears about going to the dentist."
After putting together an early draft of the story, her focus on the project waned and she moved on to other pursuits. But early last year, Mack decided to pick it back up. After reworking the story and finding an illustrator, she arranged to have the book published.
"I decided I didn't just want it to be an idea anymore," Mack said.
Released last fall, "Meet Dr. McGee" can be purchased online.
"It felt good to finally see something I started thinking about a long time ago finally come to fruition. It was very exciting."
Nominate a colleague to be Blue Devil of the Week.