Top Student Scholars: Independent Studies of Neutrinos, Medicaid Policy and African Feminism
Faculty Scholars Awards presented to five juniors for independent study
Duke's highest undergraduate scholar award has gone to a neutrino hunter in physics and two public policy students who have studied Medicaid reform in North Carolina and feminist movements in Africa.
The Faculty Scholars Award is the only undergraduate scholarship award presented by university faculty and honors students whose record of independent work suggests great potential for innovative scholarship and a scholarly career.
Professor Carlos Rojas, chair of the Faculty Scholar selection committee, said the panel receiving an unusually high number of quality nominations this year from departments across the university. He added that it is always exciting and humbling to meet with students who have accomplished so much in independent research.
This year's winners – all juniors – are John Franklin Crenshaw, a physics and German double major; Kushal Kadakia, a public policy and biology double major, and Mumbi Kanyogo, a gender, sexuality and feminist studies and public policy double major.
Honorable mention went to Laura Naslund of biology and Louden Richason of economics.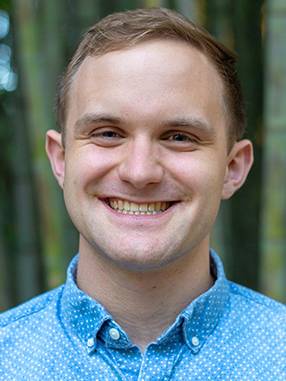 Crenshaw said physics is his greatest intellectual passion, and he's used his classes to study under Professor Kate Scholberg one of the great mysteries of the cosmos: the neutrino. This particle is similar to an electron but rarely interacts with other matter and can be detected only in complex detectors built deep beneath the earth's surface. But because neutrinos are generated in the explosive chaos of dying stars, they provide essential clues for astronomers to the stellar life cycle.
"I am very passionate about the research I do," Crenshaw writes. "It is exciting to be personally involved in real physics research and it has further confirmed my passion for physics, my desire to pursue a career in research, and my ability to excel in the field. My research has become one of the things I look forward to most at Duke. While working full time during the summer, I would often stay in lab late in the evening because I was excited about what I had been working on that day."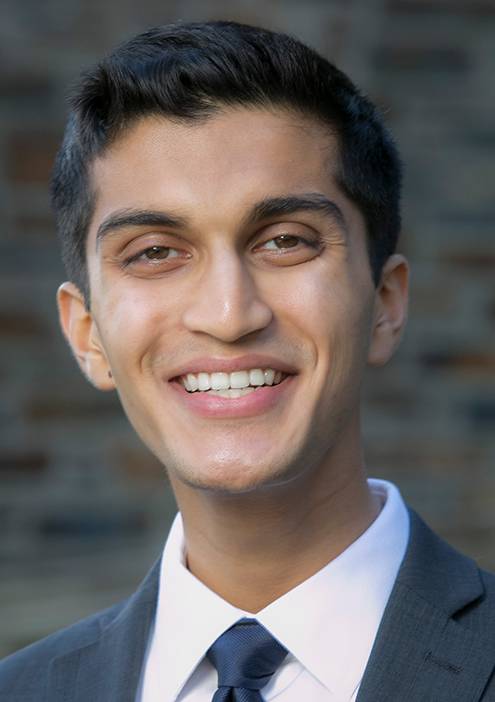 The chair of the Duke Honor Council, Kadakia was also named a Truman Scholar earlier in April. He has used both his major interests in scholarship through the Bass Connections program (on Medicaid in North Carolina), Innovation and Technology Policy Lab, Duke Initiative for Science and Society, the Duke-Margolis Center, and two research laboratories based in the Medical School. For his public policy honors thesis, Kadakia is focusing on how using an "accountable care" health care framework could "repurpose international innovations to improve the U.S. health care system."
In addition to his work on the honor council, Kadakia's university leadership work includes serving as student body vice president, and on more than a dozen university committees ranging from the Duke Board of Trustees to the Presidential Advisory Committee on Investment Responsibility. He also has led the campaign to make Duke a smoke-free campus.    
Kanyogo's studies are particularly focused on the power of digital and physical social movements. She has participated in Bass Connections research on hidden histories at Duke, writes for The Bridge and other platforms, as well as feminist organizing work—both on and off campus.
For her honors thesis in gender, sexuality and feminist studies, Kanyogo is researching African feminist movements and how African women mobilize strategically to, as she puts it, "use political spectacle to highlight the oppressive conditions and violent acts they have suffered through, when men, the state, and other patriarchal institutions have denied them formal recourse and justice."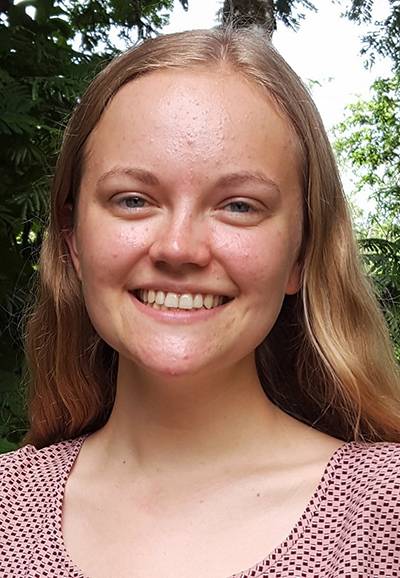 A North Carolina native, Naslund intends to seek a Ph.D. in ecology following graduation, an interest that arose out of her family's visits to national parks and amplified by her scholarship at Duke. She started in Professor Emily Bernhardt's lab studying the environmental consequences of mountaintop mining, specifically tracking the movement of pollutants from water-based organisms to those living on land.
That initial project grew her interest in interdisciplinary research working at the "intersection of ecology, entomology and computer science." Naslund has developed her computer skills to analyze complex data sets to model natural processes. She is currently studying abroad in Costa Rica at the Organization for Tropical Studies.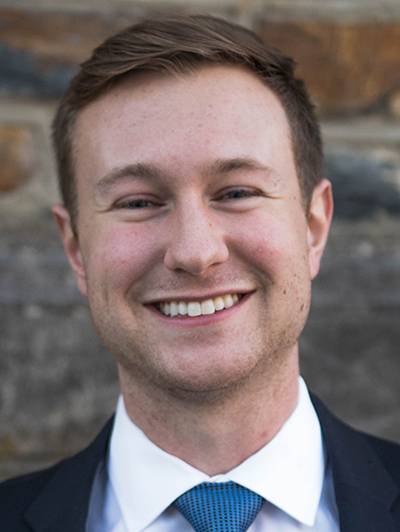 Richason's economics studies have focused on the structural, cultural and psychological factors that constrain opportunities for different groups in the United States. He plans to pursue a Ph.D. in economics with a focus on identifying ethical questions implicit in economic analysis and understanding the effects of a disbelief in upward mobility in the Rust Belt and a perceived ignorance of the community's contributions nationwide. He hopes his future research can "bridge gaps among people and create shared understandings about the manifestations of different types of privilege."
His interest in upward mobility opened research possibilities for him both internationally and here in Durham: A Duke Engage in Ireland project studying challenges facing unaccompanied children seeking asylum there; a DukeImmerse Jordan project working with Syrian and Iraqi refugees; and a Bass Connections project exploring refugee students' transitions in the Durham Public Schools and how the school system can offer greater support.