Replacing the Irreplaceable
Duke prepares for retirements by nurturing future leaders
There are a few things Bob Byrd is looking forward to doing after he retires in May.
Byrd wants to do more volunteer work, visit family and finally tame the wilderness in his long-neglected yard. He's also curious to see what happens at Duke's libraries once he's gone.
"I've enjoyed thinking about the future, even though I won't be employed here for it," said Byrd, 67, associate university librarian for Collections and User Services. "I'll be excited to see the organization's continuing growth and change and adaptation."
On staff since 1978, Byrd helped guide Duke Libraries through a time of drastic evolution in the library field. In addition to helping plan the library at Duke Kunshan University and the renovation and expansion of Perkins Library, he oversaw the merger of a handful of library departments into the internationally known David M. Rubenstein Rare Book & Manuscript Library.
After Byrd announced his retirement in November, library leadership mulled how best to handle the departure of one of their most experienced employees.
"In 40 years at Duke, he's seen so much change and easily managed to adjust to it, embrace it, move forward and bring people forward with him," said Duke University Librarian and Vice Provost for Library Affairs Deborah Jakubs. "It is a huge loss, not just for the libraries. But we will move ahead, building on the foundation that Bob has put in place."
Successfully navigating the retirement of employees is a situation many corners of the University and Health System face. With roughly 11,500 members of Duke's staff and faculty born during or before the baby boom, that trend is not slowing down. In 2012, the group comprised 42 percent of Duke' workforce. Last year, their share dropped to 30 percent.
From co-workers preparing to take on new responsibilities to programs such as the Duke Leadership Academy, now in its ninth year of nurturing emerging leaders, Duke is finding ways to keep moving forward when essential employees retire.
"For years, Duke has been thoughtful about the idea of transition planning," said Kyle Cavanaugh, Duke's vice president of Administration. "We always want to make sure we're hiring the best people we possibly can and that we're grooming people internally and developing their skillsets."
Soak up the knowledge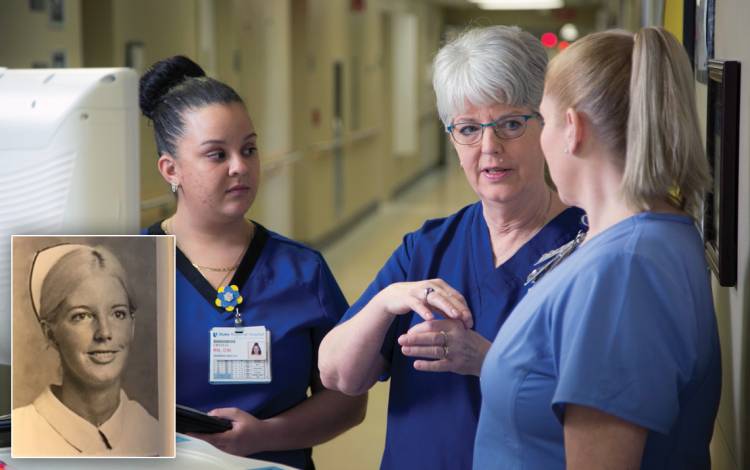 When Clinical Nurse Ann Llewellyn told colleagues in Duke Regional Hospital's 5-3 Unit that she was retiring this June, she got panicked looks.
"A lot of them said 'What are we going to do?'" Llewellyn said. "At first I thought they were kidding. But then they said, 'Who are we going to go to when we need to figure something out?'
"I thought, 'I guess I'll be missed.'"
Nicknamed "Mama Ann," Llewellyn, 66, has been at Duke Regional since it opened in 1976. For the past several years, she's been the veteran presence on the 36-bed unit's nursing staff.
While colleagues are sad to see her go, they're making sure much of what's in her head doesn't leave, too. The unit's focus these days is to learn how Llewellyn does what she does.
"I know there's a lot more knowledge I need to get from her before she leaves," said fellow Clinical Nurse Linda Martin, one of the many co-workers peppering Llewellyn with questions.
Nurse Manager Sharon Tobias said Llewellyn has mastered the charge nurse role, always crafting shift plans with equitable and efficient distributions of labor. During many of her recent shifts, Llewellyn has handed that job over to other nurses and helped guide them through it.
Whether she's quickly and accurately hand-counting prescription medicines for comparison with computer records or knowing whom to call when issues with computers or pharmacies arise, Llewellyn has a skillset that's hard to replicate.
But that's a challenge her co-workers are taking on.
Make a transition plan
In the three decades Jim Roberts has worked in the Office of the Provost, he's seen Duke's total student body grow by roughly 62 percent and the number of full-time faculty members more than double. New programs, institutes and departments have been created and, while the university's core values have remained, it's been reshaped time and again by the flow of people and ideas.
Working under five provosts and four presidents, Roberts, the executive vice provost for finance and administration, has seen his job evolve, too.
Initially a role focused on supporting the Provost in managing the finances of Duke's academic programs, it's grown to include allocating space in university buildings and oversight of Duke's online student record system and the Scholars@Duke faculty profiles portal. He also played a major role in the formation of Duke Kunshan University, where he was a founding member of the Board of Trustees.
Once Roberts decided to retire this summer, work immediately began on figuring out how to fill a complicated void.
"The reason this is called an institution is because it continues, regardless of the people," said Roberts, 67. "You want to make sure it goes on."
Roberts and Provost Sally Kornbluth crafted a plan for how to distribute his duties. They decided Vice Provost for Academic Affairs Jennifer Francis would assume Roberts' administrative responsibilities, while other aspects of his job will be handled by members of his current team.
With the plan in place, the transition began with Francis now accompanying Roberts to key meetings. They also hold weekly "deep dive" sessions on subjects such as funding allocation formulas and financial aid.
"The amount of functional information and institutional knowledge that Jim has, it's irreplaceable," Francis said. "Having a plan to fill in as best as we can, so we have as smooth a transition as possible, is the critical part."
Invest in future leaders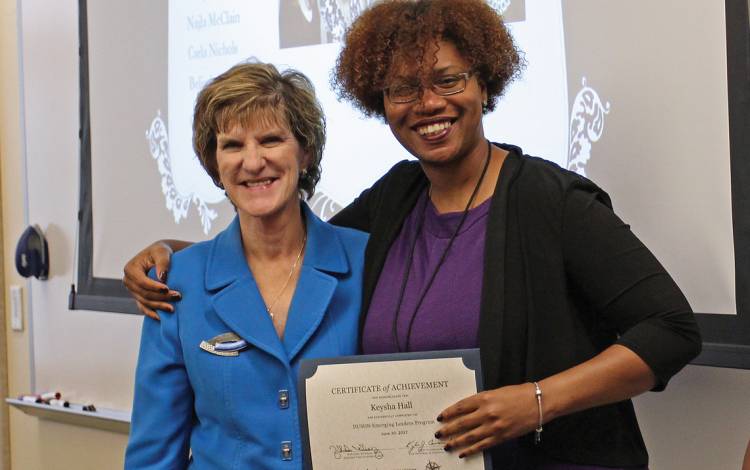 In the four years Keysha Hall has worked as a senior staff assistant at the Duke University School of Nursing, she has shown the ability to take on new things. In her early days on staff, she handled the event planning, online course development and administrative needs of three faculty members. Now she does that for seven faculty members.
After being one the 11 employees selected for the School of Nursing's first "Emerging Leaders Program" in 2016, she showed both herself and her colleagues that she's capable of even more.
The year-long program, developed with the help of Duke Learning & Organization Development, features coursework, a group project and discussions with University and Health System leaders.
"It stretches you, it forces you to step out of your comfort zone and think about things you hadn't before," said Hall, 46.
"It showed me that Duke sees me as valuable, it wants to invest in me, it cares about my growth and development."
David Bowersox, one of the program's developers and associate dean for finance and administration at the School of Nursing, said Emerging Leaders aims to expand the horizons of people such as Hall. The hope is that the program can reshape how the school and participants view their path forward.
"It's geared toward the informal leaders that don't have the responsibilities but have the potential for taking on leadership roles in the future," Bowersox said.
With nearly two dozen School of Nursing faculty and staff members in supervisory roles born during or before the baby boom, the graduates of the Emerging Leaders Program will likely play an important role in the life of the school in coming years.
Nora Harrington, a 33-year old lead admissions officer, fits that description. She was nominated for Emerging Leaders by Ernie Rushing, director for admissions and recruitment for Duke's School of Nursing, and said the experience left her encouraged by how much the school is looking ahead.
"Knowing that the School of Nursing has an eye on constantly improving really makes a difference," Harrington said.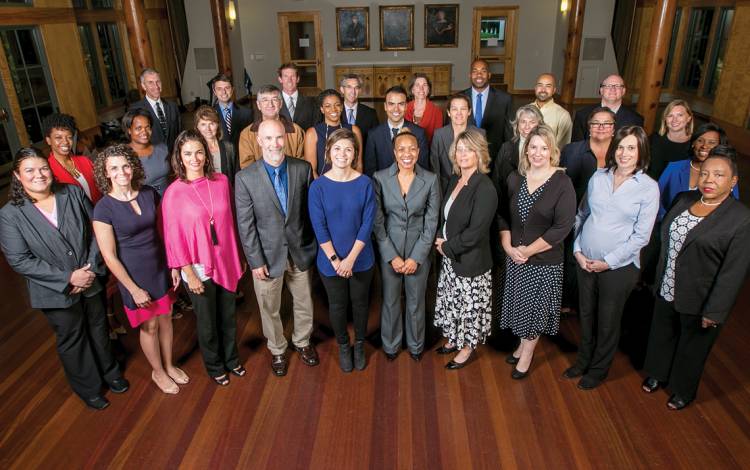 Nursing's Emerging Leaders Program is based on the Duke Leadership Academy. Started in 2010, the Duke Leadership Academy identifies and develops employees from across the University and Health System with the right combination of drive and skill. To date, 229 staff and faculty have completed the Duke Leadership Academy.
Bowersox was part of the Duke Leadership Academy's first class in 2010. Rushing took part in the academy in 2016.
Both said lessons learned during the Duke Leadership Academy about management styles and the experience of working on a project with colleagues across Duke helped broaden their understanding of leadership.
"You learn how to relate to and motivate staff," Rushing said. "You learn how to bring them up and help improve the way they do their jobs. The whole institution benefits from that."
Do you know of an irreplaceable employee who is retiring? Send an email to working@duke.edu