Blue Devil of the Week: From Part-Time Employee to Chief of Police
John Dailey's history with the Duke Police Department dates back to high school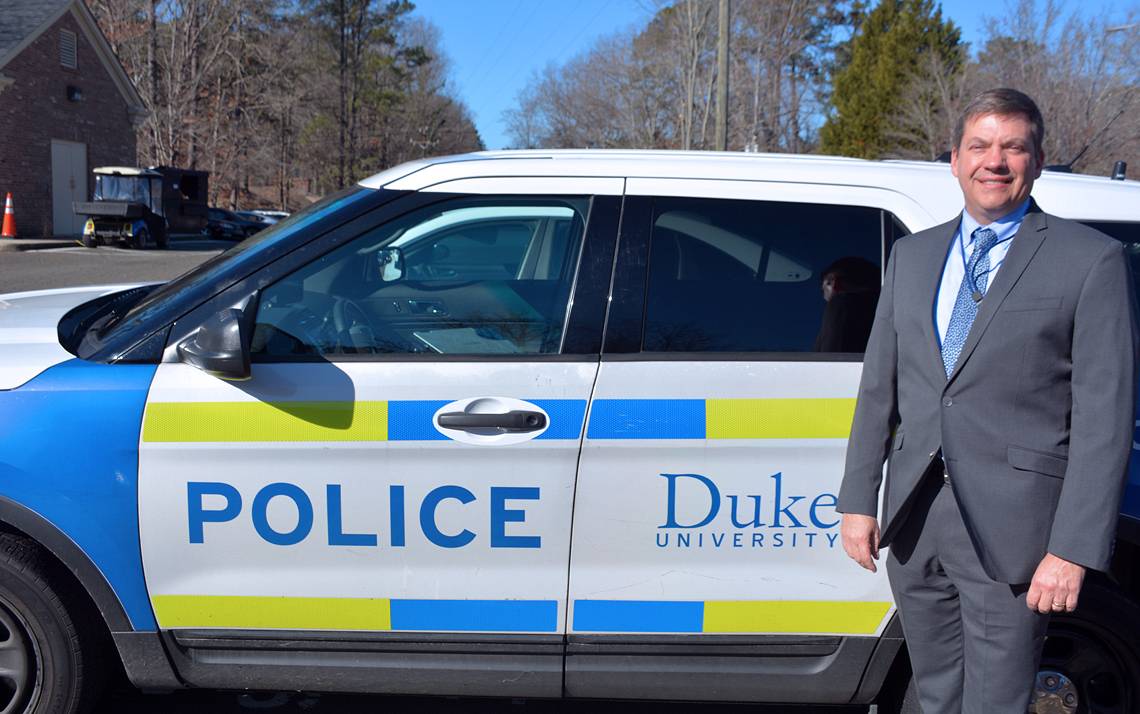 Name: John Dailey
Position: Chief of Duke University Police Department
Time at Duke: 9 years
What he does at Duke:
Dailey sees his role as creating an environment where the 150 police and security officers feel like they can do their job effectively.
"They're the ones on the front lines providing service and helping people," he said. "I want to make sure they're getting the support to provide the best service at Duke."
Dailey joined Duke full-time in 1993 as a police officer. He helped develop an alcohol education program to teach students about impairment and behavior. He left in 2001 to become the assistant police chief at North Carolina State University in Raleigh.
Since rejoining Duke in 2009 as chief of police, Dailey has regularly brought in new perspectives to the police force. For the past five years, he's asked Duke's Office for Institutional Equity to train officers on implicit bias. He brought in outside consultants to provide de-escalation and communication training and led a regular process in which officers are assessed on their emotional intelligence.
Under Dailey's leadership, in the spring of 2016, the Commission on Accreditation for Law Enforcement Agencies (CALEA) accredited the Duke police department.
"We want people who have social responsibility and are in the job for something bigger than themselves," Dailey said. "The reason we do this work is for service to others. When you work for an institution like Duke, people expect the best."
What he loves about Duke:
"Duke is a remarkable place. It's beautiful. It impacts the world through education and research," he said. "It saves lives. It makes a difference and to be able to support that mission is very fulfilling."
A memorable day at work:
Dailey appreciates the notes that often land on his desk and email inbox that thank officers for their help around the community. But, what means the most is anytime a Lifesaving Award is given to an officer who saves a life.
The award was recently given to an officer who performed the Heimlich maneuver on a visitor who was choking.
"We have people that say, 'we were at the end of our rope and you helped us,'" he said. "It's very gratifying. I am just proud to work with a team of people who really are committed to others and the Duke community."
First-ever job:
Dailey, who grew up in Durham, watched the TV shows "Adam-12" and "Emergency!" as a kid. The shows inspired him to work part-time for Duke Police when he was 16. His job duties included handing out parking tickets, painting traffic cones and filing citations in the office.
"It didn't matter what I was doing, because I just enjoyed working for the police," he said. "I've always believed police work is incredibly noble.".
Special memento or object in his workplace:
Dailey served as a captain in the United States Army for six years. His team managed supplies, fuel, vehicle support and war supplies to units across Germany.
As a memento, he keeps a coffee mug with the name of his unit, the Equipment Support Center in Kaiserslautern, Germany, on his desk. The mug combines two images of a wheel and jeep with a wrench laying over both.
Something most people don't know about him:
When most people hear that Dailey has a dog named Maverick, they generally think of a ferocious beast. In this case, it's a 10-pound Havanese.
"The name does not fit him at all," Dailey said. "He's a sweet little fluffy white dog. It's a bigger name than he can handle."
Nominate a colleague to be the next Blue Devil of the Week