Blue Devil of the Week: Bringing Duke Wherever She Goes
Lisa Weistart of the Duke Alumni Association ensures distance doesn't strain alumni ties to Duke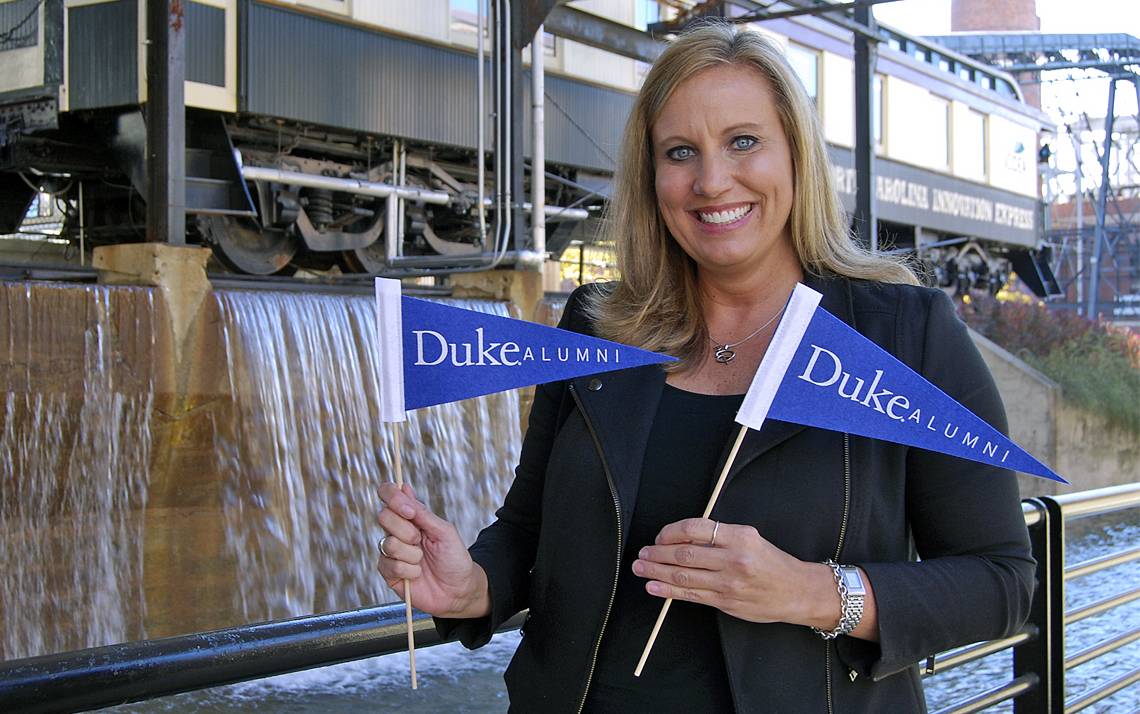 Name: Lisa Weistart
Title: Senior Director of Regional Engagement, Duke Alumni Association
Years at Duke: 1
What she does: For much of her life, not being able to be around Duke wasn't much of a concern for Weistart. She grew up in Durham and, as the daughter of a Duke Law School professor, she jokes that the school's halls were where she learned to walk.
But after graduating from Duke in 1992, Weistart's professional life led her far from Durham. Working in public relations and sports marketing, she landed in spots like Washington D.C., Connecticut and Texas. She often found herself searching out fellow Duke graduates in each new city in an effort to both get settled in her new home and maintain a connection with her roots.
Now, she helps others who are in the same position she was. As a director of regional engagement for the Duke Alumni Association – her areas of emphasis are Texas and California – she works with local networks of Duke alumni, helping coordinate events to keep their bond with the school strong.
"We put together a full slate of events, everything from community service activities, to hoops watches, to speaker events with faculty or prominent local alumni, arts events, it's a whole range," Weistart said. "I wish all of that existed years ago. I would have felt a lot more connected."
What she loves about Duke: "This is a great institution," Weistart said. "It stimulates an intellectual curiosity that I haven't had in past jobs. I get to go to events where I hear our professors talk about behavioral economics or counterterrorism efforts, all these topics I would never hear about. As a student, you always hear about classes that are interesting, but they weren't in your path. Now, it's like I get to take them now. I'm learning every day."
A memorable day at work: In March, the Duke Alumni Association held an event at the Smithsonian's National Museum of African American History and Culture in Washington, D.C. The event featured remarks by then-Duke President Richard H. Brodhead and Duke University Chapel Dean Luke Powery, music from the Duke Jazz Ensemble and an opportunity to tour parts of the museum with members of Duke's faculty.
"It was such a magical evening, seeing the alumni connections, experiencing this amazing space that we had been granted access to, it just really was one of those once in a lifetime experiences," Weistart said.
Meaningful object in her workspace: Since taking her job at Duke, Weistart has begun collecting pictures and displaying them near her desk. The faces in the photos remind her of the friends, both new and old, that she's made at Duke.
"A great thing about my job is that I've been able to connect with a lot of my classmates," Weistart said. "I have some pictures from our reunions. … And then I have some pictures that are with my teammates with the Duke Alumni Association, where we've done fun things together."
First ever job: Weistart's first job was as a lifeguard at the Duke Faculty Club.
"Well, I should say lifeguard/camp instructor/lawn maintenance person/snack bar attendant, we all did a little bit of everything," Weistart said.
Something that most people don't know about her: During the spring of her sophomore year, Weistart saw an ad in the Duke Chronicle for mascot tryouts. At the urging of some of her sorority sisters, she tried out and eventually was selected to be one of the two people to inhabit the role of the Blue Devil the next fall.
Her stint proved to be doubly historic. Not only was she the first woman to don the Blue Devil suit, she also held the role during Duke's back-to-back NCAA Tournament title runs, arguably the most storied run in the basketball program's history.
"It was amazing," Weistart said. "I went to Tokyo, I got to see some of the most amazing basketball games, it was phenomenal."
The most memorable moment came during the Blue Devils' 104-103 overtime win against Kentucky in the East Regional final. The oft-replayed game, which ended with a Christian Laettner buzzer-beater, is considered by many the best college basketball game of all time.
"To watch the clips, it's funny because I can see myself," Weistart said. "I was under the basket where the shot was made. But I couldn't see it. You look out of the (mascot's) mouth. … So if you look, I'm the last one of our group to react."
Nominate a colleague to be the next Blue Devil of the Week.