Why the Rewrite of Federal Higher Education Policy Is Coming Down to Definitions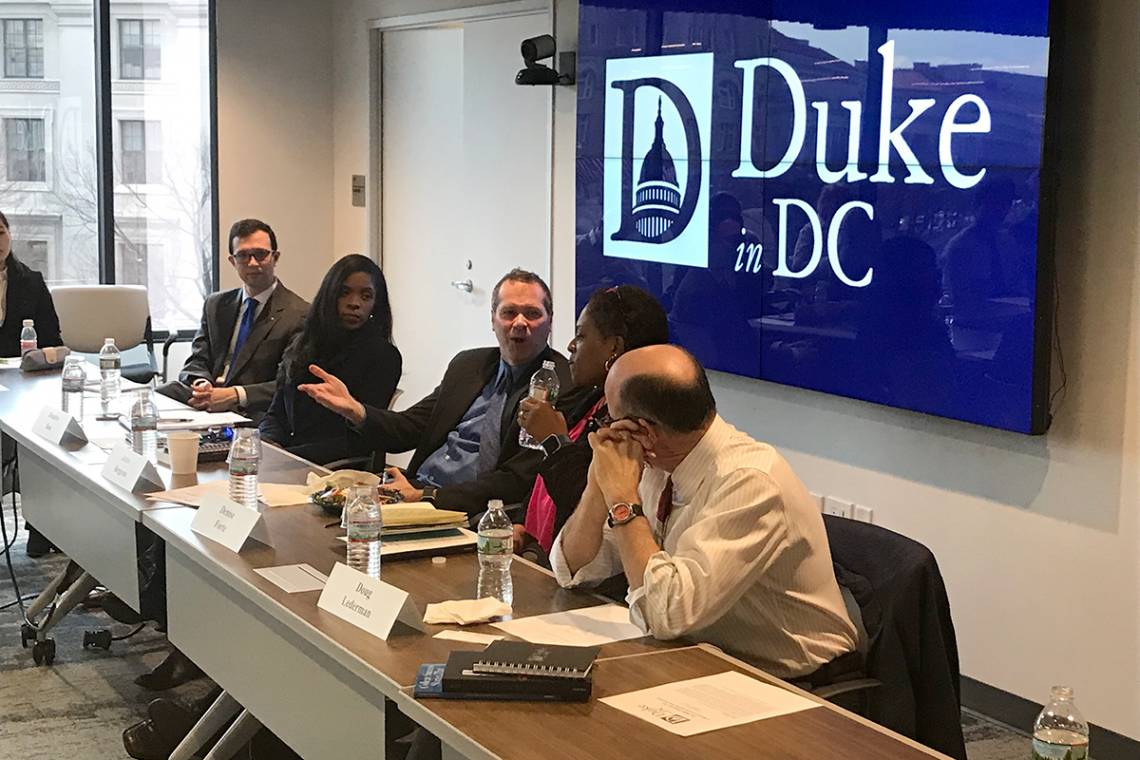 The Higher Education Act's ability to increase access to America's higher education relies more on definitions than on disagreements over programs and funding, a panel of experts said during a panel last week at the Duke in DC office in Washington, D.C.
Both pending congressional legislation and the timeliness of a Duke professor's work drove the discussion on American higher education. The House Education and Workforce Committee has already passed a Higher Education Act (HEA) bill, rewriting key federal education provisions, and the Senate may soon offer one of its own. Meanwhile, Sanford School Assistant Professor Deondra Rose recently authored a book on the history of the HEA and its role in shaping citizenship.
The panel, comprised of education policymakers, journalists and academics, focused on the problem of defining 'access.' Debates about the nature of higher education and the government's role in enabling access go back to the original Higher Education Act in 1965.
Part of President Lyndon Johnson's "Great Society," the HEA intended "to strengthen the educational resources of our colleges and universities and to provide financial assistance for students in postsecondary and higher education."
Originally written to ensure equal access to financing, the HEA has since taken many different roles and controls policies from Title IX funding and student loan or grant programs to college accountability and accreditation.
In the first HEA, "access was initially about money and admission," according to Denise Forte T'86, senior fellow at The Century Foundation and previously minority party staff director for the House Committee on Education and the Workforce. The current HEA debate includes not only financial access but also support for students who need non-traditional support mechanisms such as college counseling or childcare to be able to graduate.
Panelists said as American demographics and social expectations change, different populations may require programs focused on niche issues to meet specific needs. For example, first generation students require different help than homeless students, Forte said.
The "role of the federal government right now is to provide universal access to financing," said James Bergeron, president of the National Council on Higher Education Resources. At its core, said Bergeron, the HEA allows access to the money it takes to complete a degree or certificate program. But that paradigm is changing as America anticipates the next decade of higher education.
Doug Lederman, co-founder of Inside Higher Ed, noted how the original "goal [of the 1965 HEA] was to create universal equity of access, but now the question is access to what?"
The higher education landscape itself has changed dramatically since 1965, he added. Students can now pursue traditional four-year degrees, associates degrees, vocational work, coding certificates, online courses and more. With the diversification of higher education, Congress must revisit fundamental questions about their role in advancing society's youth, Lederman said.