Go to the Head of the Class
Duke's certificate program for staff teaches leadership and technology skills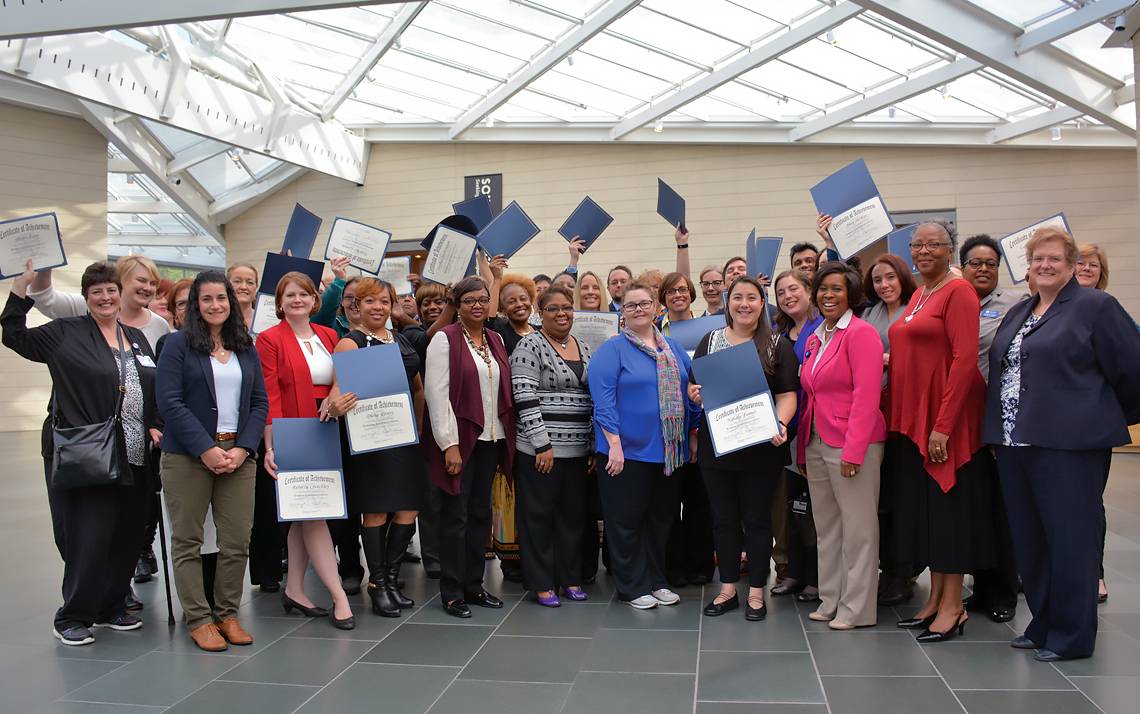 In the middle of a workday a few years ago, Regina Leak was blindfolded with a bandanna as part of an assignment.
A participant in a "Guide to Managing at Duke" class offered by Duke's Learning & Organization Development (L&OD), she was then instructed to listen to a classmate who provided instructions on how to untie 10 strings.
"It reinforced my listening skills," said Leak, a Duke Health Technology Solutions analyst who's been at Duke 43 years. "Being blindfolded, you really have to tune into what the other person is saying."
A "Guide to Managing at Duke" is a course offered as part of L&OD's Excellence Certificate programs. L&OD offers University and Duke Health employees certificate tracks in seven disciplines: Administrative Assistant of Excellence, Executive Assistant of Excellence, Training Excellence, Customer Service Excellence, Supervisory Excellence, Leadership Excellence, and Technical Excellence.
To earn a certificate, employees take three to four core courses and two to four electives. Last year, 80 employees received certificates, up from 50 in 2016.
"Duke employees have a desire to show improvement," said Keisha Williams, assistant vice president of L&OD, which is part of Duke Human Resources. "We've provided designated paths for people where they can selectively say they want to focus on their performance."
L&OD has released its course catalog through June with about 126 offerings, including the certificate tracks.
Leak, the Duke Health Technology Solutions analyst, earned her first certificate, in Supervisory Excellence, in 2016. She enjoyed it so much she earned a second certificate the following year in Leadership Excellence.
But the most important lesson Leak learned was to be an active listener for the six employees she supervises. "By showing I'm listening and reaffirming what my employees are saying, it makes them feel valued," Leak said.
Tracey Madrid, a staff assistant for the Duke Clinical Research Institute, enrolled in the Technical Excellence track to update her computer skills. In L&OD's technology classes, Madrid learned computer shortcuts like hitting F12, which opens a new document in Microsoft Word.
"I came back from the classes feeling refreshed with my job," Madrid said. "It makes you feel like you can handle anything."
Madrid also earned a second certificate in 2017 in Customer Service Excellence.
Michele L. Jones, an administrative assistant in Undergraduate Education, also earned the Customer Service Excellence certificate last year. She enrolled in the L&OD program because her job expanded to include more interactions with students.
"You don't have to go outside of Duke to get what you need to do your job effectively," Jones said. "It's good to have an employer who's concerned about the continued learning of their employees."