Duke Olympian Will Soon Defend Her Ph.D.
Q&A with Randi Griffin, Duke student and forward for historic Korean hockey team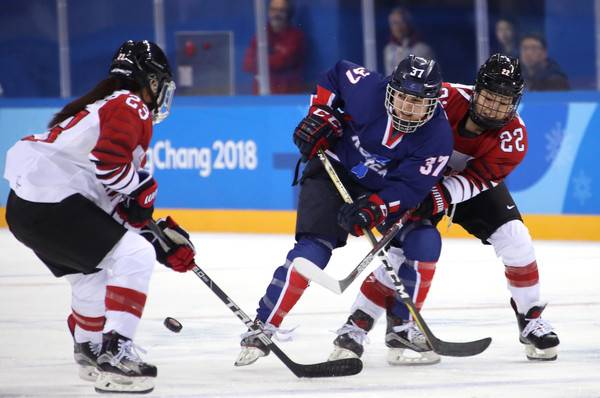 DURHAM, N.C. -- The weeks after the Olympic Games are supposed to be a time for athletes to rest and recover from the performance of a lifetime. Not so for Duke graduate student Randi Heesoo Griffin. After competing for the unified Korean women's hockey team at the 2018 Winter Olympics, Griffin used her two-week post-Olympic break to work on her dissertation on the evolution of primate skulls.
The 29-year-old doctoral candidate in evolutionary anthropology has been frantically preparing for her dissertation defense, the final step in her five-year Ph.D. program.
In 2014, just one year into her Ph.D., Griffin got an invitation so unusual that at first she thought it was a hoax: Would she like to try out for the Korean ice hockey team, and a chance to represent Team Korea at the PyeongChang Olympics?
Griffin, who was born in North Carolina but whose mother is South Korean, had spent her undergraduate years at Harvard as a forward for the university's women's hockey team.
Despite feeling a bit out of shape and having, as she put it, the Korean language skills "of a 2-year-old," she decided to give it a try.
She ended up scoring the first ever Olympic goal for a team made up of players from both North and South Korea.
In an email interview, Griffin reflected on the Games, what they meant to her personally, and where she hopes to go next:
Duke Today: The unified hockey team generated tremendous publicity and controversy. How did it feel to compete in the swirl of that?
Griffin: It was overwhelming at times. There was a lot of media attention in Korea, and people were very divided on whether we should be unified or not. People either thought it was the best thing or the worst thing in the world, and comments from the players could quickly spiral into controversy. For example, one of my teammates made an Instagram post arguing that the unified team wasn't fair to the South Korean players, and after her post was shown on the news, she got so much verbal abuse from random people on the internet that she had to shut down her social media accounts. After that, we were told not to answer any controversial questions until the Olympics were over, and we tried to just put blinders on and stay focused on hockey.
It was hard though. I think part of why we got blown out 8-0 in our first two games against Sweden and Switzerland is that we were really anxious because of all the attention and pressure. I certainly wasn't expecting to win those games, but at the same time, I know what we are capable of, and we played exceptionally poorly in those first two games.
It wasn't until we were eliminated from the medal round and the media attention died down that we started looking like ourselves on the ice. In the consolation round, we only lost 2-0 to Switzerland, and they are the defending bronze medal champions. I wish we could have played that way from day 1, but you see this in the Olympics a lot. For example, I think it happened to Nathan Chen, the hyped-up American figure skater. When athletes get too much pressure from the media, if they aren't really experienced dealing with that, years of training can go out the window overnight.
Duke Today: You came out of a five-year retirement to skate with the Korean team. What did you do to get back in shape and how did you fit that into a demanding graduate program?
Griffin: For the first two years, from 2015-2016, the team only met up during the summer to play in a small Korean summer league, and that was kind of like playing in an adult recreational league in the U.S. There were a lot of weak players, some of them were either very young or very old, and I could get away with playing at a very low intensity. But starting in January 2017, the team centralized all the national team players in Korea for a year of intensive preparation for the Games. That involved numerous training camps and tours in foreign countries where we were playing very high level teams, including D1 NCAA teams. Competing at that level is a completely different story than the Korean summer league, and getting back into that kind of shape was extremely challenging. Ice hockey works some very specific muscle groups that you just don't use in day-to-day life, so I was dealing with strained muscles and sore joints all the time. I'd say it took about eight months of regular skating, lifting weights, and recovering from numerous minor injuries before I got back into decent hockey shape. 
Duke Today: Not many graduate students have also juggled Olympic competition at the same time. Likewise, a lot of Olympians don't have time to pursue college degrees, much less PhDs. What conflicts or challenges did you face in the lab and on the ice that your peers in grad school or in hockey didn't?
Griffin: Women's hockey is very much a student-athlete culture. It's one of the best things about the sport. For example, the NCAA is the premier women's ice hockey league in the world, and virtually all of the players on Team USA and Team Canada are either former or current NCAA athletes. On my Korean team, we had several high school students, university students, a nursing student and a medical student. Some of them took leaves of absence during the Olympics, but in the three years leading up to the Olympics, everyone had to juggle their academic and athletic life.
I think it's a bit more unusual to have a Ph.D. student on an Olympic ice hockey team, but balancing the workload isn't any different from being a college athlete, and my college hockey days prepared me well for it. Because I was in the final writing phase of my dissertation during the Olympic year, I actually didn't have to take a leave of absence, I just budgeted my time so that I could take the month of February off to focus on the Olympics.
As for comparisons to my fellow graduate students, I know Ph.D. students who have balanced graduate school with activities such as serious rock climbing, being a professional musician, and even having babies. I'd say having a baby in graduate school is way more difficult than being an Olympic athlete, but when you love something enough, you find a way.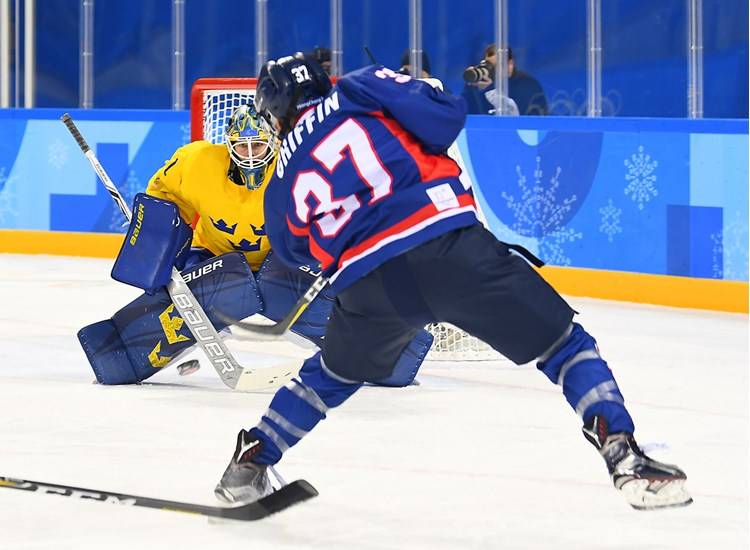 Duke Today: You have said that you dreamed of being an Olympic athlete as a kid, but could never have imagined it would happen this way. What are you most proud of?
Griffin: I'm proud of how far I had to push myself out of my comfort zone to do this. I have always been comfortable pushing myself physically and academically, but I'm much less comfortable being in an unfamiliar social or cultural environment. I like routine and familiarity, and I loved my life and circle of friends in Durham. Leaving everything behind and going to Korea to live with new people in a new city where I barely knew the language was scary and unusual for me, but I really grew a lot from the experience and I'm glad I took that chance.
Duke Today: You put a chocolate medal around your mother's neck when you scored your historic goal. What did this experience mean for her, and for your grandparents?
Griffin: I think there are two really meaningful aspects of this experience. First, my mother knows how much I've loved hockey since I was a child, and she was always incredibly supportive. I know she would have preferred for me to be a figure skater or a pianist (she is Korean after all), but when she realized I wanted to be a hockey player more than anything, she supported me without question and trusted me to choose my own path. All of the athletic opportunities I've had in my life, from Harvard to Team Korea, started out with that support. I thought she deserved a medal for that, and luckily, they were giving out chocolate medals to athletes in the village that day, and as soon as I saw it I knew I had to give it to my mom.
Second, I think it was really special for my mother and grandparents to see me living in Korea and representing their native country. As a second generation Korean-American with a white father, my ethnic identity has always been fuzzy and I've always felt a bit disconnected from Korea. I think first-generation immigrants know that this will happen to their children and grandchildren, but it's still sad for them to see that connection disappear. Of course, I'll never be 100 percent Korean, but I have a strong connection to Korea now and even though my heritage is mixed, I feel very welcome here, I've formed amazing friendships and memories with Korean people, and I'm really proud to be Korean. That transformation has definitely brought my closer to my Korean family members, and especially my grandparents. 
Duke Today: What's taking up most of your time now that the Games are over?
Griffin: It's more of the same. We have World Championships in Italy in April, so we are still training in Korea, and I am in the final phase of dissertation writing. I get back to the U.S. on April 18 and have to submit my dissertation by April 27, so I need to get most of it done before I go home.
Duke Today: What's next?
Griffin: I'm expecting to graduate this summer, and I'm not sure what's next! I haven't been able to dedicate a lot of time to searching for a job, so I'll focus on that after I defend my dissertation in May. I'm hoping to get a job as a data scientist.
As for my future in hockey, that is uncertain, too. It depends on if I can find a way to stay in shape while also have a job and a personal life. Now that the Olympics are over, the team will probably only meet up once or twice a year for tournaments. If it is possible, I would love continue playing with Team Korea as long I am healthy and contributing on the ice. There are very few female players in Korea, so if the team is going to continue being competitive internationally, they need to retain most of their current players until the next generation develops enough to take our place, which might be a few years. But if I can't keep playing, then I am happy to end my career on a high note and I will be excited to get back into coaching kids!