Blue Devil of the Week: Staying State of the Art
Lee Walls looks after technological needs of Duke Global Health Institute and beyond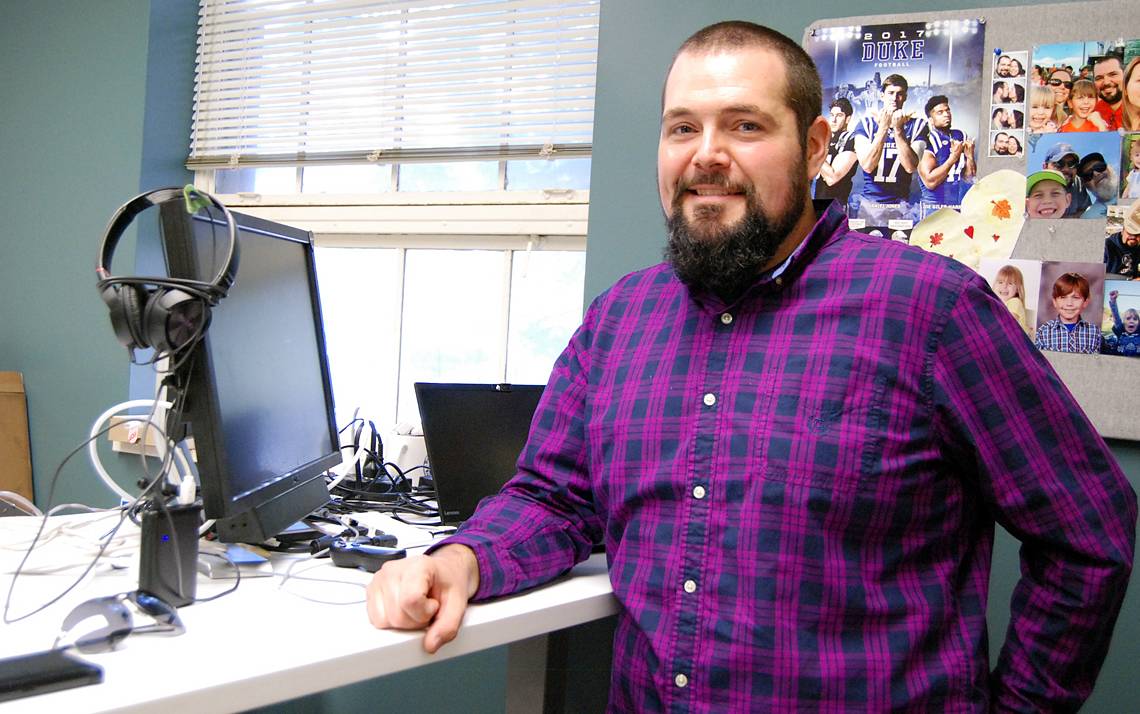 Name: Lee Walls
Title: IT Analyst for Multimedia-equipped Classroom Support, Duke Global Health Institute and Trinity College of Arts & Sciences
Years at Duke: 4
What he does: The thing Walls likes most about his job is its variety.
"I do a lot of different things," Walls said.
Walls' job is divided into two main parts. He's part of the Trinity Technology Services team that tends to audio/visual needs of classrooms and meeting spaces around campus. He helps repair and install equipment such as projectors, camera and flat panels.
He's also part of the IT team for the Duke Global Health Institute, where he manages video conferencing and helps produce video pieces that are distributed online and via social media.
"I'm usually not doing the same thing every day, so that's nice," Walls said. "I get to get dirty, I'm on a ladder, I'm pulling cable. But I'm not doing it all the time."
What I love about Duke: "I like the Duke community as a whole." Walls said. "Being in a support role, I'm often going to different buildings or areas of Duke. Most days, on my lunch break, I take a walk up to the west quad from my office in Trent. I just like the feel of the buildings and the grounds. Especially when I was in college, I loved the feel of college campuses, and Duke just has an amazing campus."
A memorable day at work: For Walls, a tragic day hammered home the importance of the work that goes on at DGHI.
In 2014, a Malaysia Airlines flight was shot down over Ukraine. On board was influential AIDS researcher Joep Lange. Lange, who was from the Netherlands, had visited Durham for a presentation at DGHI weeks earlier. Walls remembers setting up the equipment for Lange's talk.
In the days after Lange's death, Walls read about Lange's immense contributions to the fight against the virus. To Walls, the fact that Lange took the time to come to DGHI served as a reminder of the value of the work that goes on there.
"I'm involved in something that's not just about selling more of something," Walls said. "Duke does a lot of good. I'm a little part of that."
Most important objects in his workspace: "If you look in my office, most of the stuff in there is either pictures of my kids or my family, or it was given to me by my kids or my family," said Walls, a father of two. "As an adult, you work for your kids. You're doing what you're doing for them. It grounds me."
First ever job: In high school, Walls worked at The Record Exchange, a used CD store in his hometown of Richlands, Virginia.
"As a 16-year old, it was the best job ever," Walls said. "That's where I hung out. So to get paid to be there, it was great. And the best part was that it was a used CD store, so everything was open. I just sat and listened to music all day."
Best advice ever received: Walls recalls his wife passing along the advice to "be impeccable with your words."
"I take that to mean that you should to be mindful and be thoughtful with what you're doing," Walls said. "Everything means something to somebody."
Something that most people don't know about him: "My musical tastes really haven't changed since I was 16. I definitely don't look the part of a metal head, but that's what I am."
Walls is a devout fan of heavy metal music. While he doesn't make it out to as many lives shows as he did years ago, he still manages to catch some.
"Metallica is my band," Walls said. "I also like a bunch of others that nobody's probably ever heard of. My daughter likes AC/DC now. I've been working on her."
Nominate a colleague to be the next Blue Devil of the Week.