Keeping the Course Green
Duke University Golf Club maintenance team braves elements to maintain terrain
Temperatures had climbed just above freezing for a few hours on a January afternoon when the full might of the Duke University Golf Club's Maintenance Team began uncovering tarps from the course.
Fourteen people worked on removing the tarps, which are about 6,000 square feet, and take about five to six folds to pack away. The goal? Have all 18 holes and four practice greens uncovered so play could resume on the rolling terrain after 13 days of freezing temperatures.
"It's very rare to get this deep of a cold in the Carolinas," said Sadler Stowe, golf course superintendent, as the crew drove carts packed with some of the 22 tarps back to storage.
The maintenance team oversees the golf course, which opened in 1957 and spreads out over 120 acres. No matter the day of the week or if there's snow, hurricanes or extreme heat, the team is there preserve the course, which is open daily.
Four years ago, Duke University Golf Club changed from bent grass to drought tolerant Bermuda grass. Bent grass thrives in colder months when the club sees less people on the course. Bermuda grass grows better in the summer when more people play.
On days below freezing, Stowe's team must cover all 18 greens with pine straw before placing tarps down with metal rods and sandbags ahead of the cold weather. The team lets the grass grow longer in the winter; mowing it would cause stress and make it tougher to survive the cold.
"It takes a lot of effort for the crew to protect the grass when temperatures drop below freezing," said Edward Ibarguen, the golf club's general manager. "They deserve all the credit in the world. They bring it every single day."
There's less the maintenance team can do with heavy rains. They can lower pond levels, install drainage and enforce golf carts to only stay on paths, but that's about it.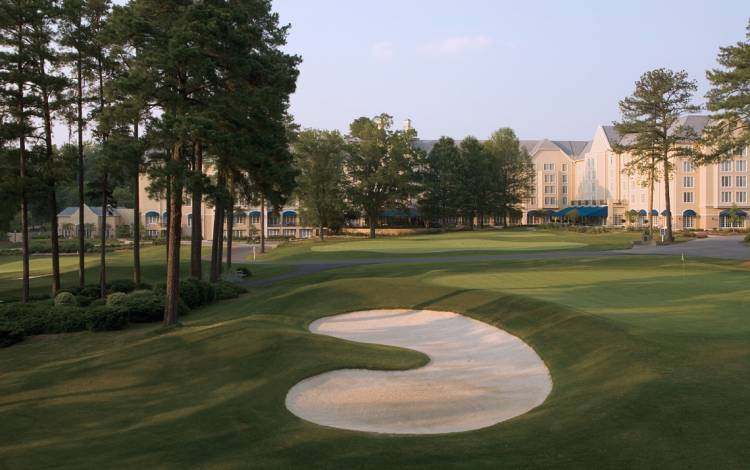 "I was out here during Hurricane Matthew and we got six inches in 24 hours," Stowe said. "To see it during that storm and you think 'how are we ever going to open back up?'" Through design features and drainage, we were up and running two days later."
Gavan Fitzsimons, the Edward and Rose Donnell Professor in the Fuqua School of Business, has been a member of the Duke University Golf Club for five years. No story better exemplifies the quality of Duke's course than when he played with members of Pinehurst Resort.
"We were all hanging out chatting a little bit and they unanimously agreed that Duke's greens were better than Pinehurst's No. 2 course, which is consistently ranked as one of the top golf courses in America," Fitzsimons said. "That's about as high of praise as you can get."