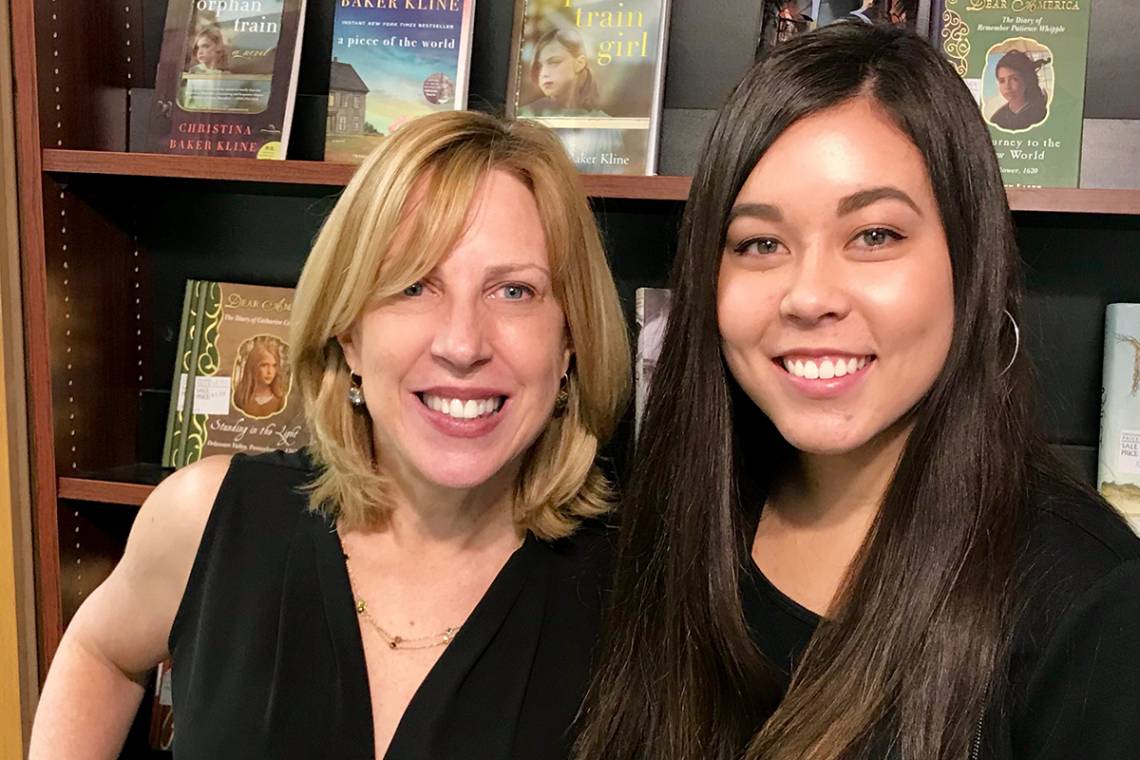 Duke senior Alex Gonzalez is an aspiring TV sitcom writer with a lot of ambition, a lot of ideas and a lot that she doesn't know.
That's where Kevin Plunkett can help.
Plunkett is a successful television executive in Los Angeles who has been paired with Gonzalez as part of a new Duke program connecting determined students with professionals working in creative industries. Called StudioDuke, the endeavor creates mentoring relationships designed to give students a deep look at the entertainment, media and arts business – warts and all
Gonzalez is working on a half-hour comedy show called "Prep," featuring two sisters who recently graduated from college and move home, live with mom and dad, and get jobs as teachers at an all-girls Catholic School.
The plot is derived from Gonzalez's own life; she's from Miami, attended an all-girls Catholic school and has worked on this project with her sister, Lauren, a 2014 Duke graduate.
It's been her labor of love since summer 2016 when she started writing it.
"I've done research. I've read. I've done internships and pre-production. But it's still a limited knowledge of the entertainment world," she said. "An intern's knowledge isn't like an industry insider who's there day in and day out. So this opportunity feels great."
Gonzalez is one of 23 students whose projects were selected for StudioDuke from more than 50 submissions from across the artistic spectrum.
Each StudioDuke student is paired with a mentor – many of whom are Duke graduates -- working professionally in a related creative field. The initiative is a joint effort of Duke Arts, Duke's Innovation & Entrepreneurship Initiative, Duke Entertainment, Media & Arts Network (DEMAN) and Duke Alumni Association.
StudioDuke works in tandem with DEMAN, which holds events throughout the year in the region and on-campus including DEMAN Weekend, a two-day gathering each November in which alumni in creative industries return to campus to talk shop with students interested in careers in those industries.
"Students now don't need to figure it out all on their own," said Kip Frey, who directs Duke's Innovation & Entrepreneurship (I&E) initiative. "The impetus is from alumni who love Duke and want to give back."
Plunkett is one of those active alums. A 1995 graduate with a degree in history, Plunkett has spent two decades in the television industry and is now executive vice president and head of television at New Regency TV.
"I wish DEMAN had been in existence when I was an undergrad," he said. "I would have loved some help or guidance way back when. So I'm doing this to help someone have an easier path into the industry than I had when I was in college."
To that end, Plunkett will read Gonzalez's script and talk and correspond with her in the days ahead. He wants her to understand that the entertainment industry is unusual. You don't just enter at the ground floor in a three-year training program with a clearly defined ladder to climb.
"That doesn't exist in entertainment," he said. "You have to make it up yourself, which is really empowering to some and terrifying to others."
Among other things, Gonzalez hopes to learn how to maintain her unique voice while writing something networks will want to buy.
"I probably won't learn everything there is to learn about selling pilots and getting your foot in the door, but getting some knowledge about how that works would be great," she said.
Cara O'Malley is another Duke senior excited for the opportunity to receive career advice through StudioDuke. An aspiring novelist, she is paired with Christina Baker Kline, the author of seven novels including "A Piece of the World," a New York Times best-seller released in 2017.
O'Malley is writing a science fiction novel about a teenage girl who realizes she's a creation of artificial intelligence. O'Malley has been interested in writing since the second grade, when she submitted a story to a children's writing contest – and won. It was then published. Now O'Malley hopes for the guidance necessary to get her new novel – of which she's written 65,000 words already – to a literary agent.
"I want to be able to finish it, to revise it, and to have someone who has been through this process guide me through it," she said. "I don't understand the industry – how to revise properly, how to take feedback. I need help through that process."
StudioDuke plans to enroll a new batch of undergraduate and graduate/professional students in the program each semester. More information is available on the StudioDuke website.
Who's Who at StudioDuke?
Brooks Fredrickson, a music composition graduate student, is paired with Penka Kouneva, a film and game composer.
Jackson Prince, an English major, is paired with Charles Randolph-Wright, a screenwriter and film director.
Lanre Danmola, a mechanical engineering student, is paired with Julien Thuan, a partner at United Talent Agency.
Hans Theiler, a public policy student, is paired with Bobby Rosenbloum, co-chair of Atlanta Entertainment & Media Practice
Harini Sridhar, a biology major, is paired with Danielle Zapotoczny of the United Nations Foundation.
Nicole Blake, a Visual Media Studies major, is paired with Sean McManus, chairman of CBS Sports.
Christopher Ames, a computer scientist graduate student, is paired with Ezra Kucharz, Chief Business Officer of Draft Kings
Will Francis, a global cultural studies major, is paired with David Garfinkle, CEO of Hello Entertainment.
Tristan Bouan, a political science major, is paired with Stephen Zapotoczny, CEO of The Magic Factory.
Jillian Apel, a Visual Media Studies student, is paired with Lisa Katz, executive vice president for drama development with NBC.
Cameron Beach, a political science major, is paired with Dave Karger, a TV host and entertainment expert.
Caroline Brockett, a psychology student, and Alexandra Davis, a Program II major, is paired with Pola Changnon of Turner Classic Movies.
Cara O'Malley, a Visual Media Studies major, is paired with Christina Baker Kline, a novelist.
Robin Wang, an English major, is paired with Mark Vahradian of di Bonaventura Pictures.
Jacqueline Monetta, a public policy major, is paired with Ryan White, director and executive producer with Tripod Media.
Alex Gonzalez, an English major, is paired with Kevin Plunkett, executive vice president and head of television for New Regency TV.
Omo Sanusi, an undecided major, is paired with Greg Veis, executive editor of HuffPost Highline.
Madeline Taylor, a theater studies major, is paired with Peter Friedlander of Netflix.
Michael Ivory, Jr., a political science major, is paired with Chuck Adams, executive editor of Algonquin Books.
Thomas Li, a computer science major, is paired with Brandt Joel, Head of Talent with William Morris Endeavor
John Benhart, a computer science and creative writing major, and Garrett Post, computer science and biology major, are paired with Amy Gravitt of HBO.