Views from the Top
For some Duke staff and faculty, enjoying a nice view is part of the job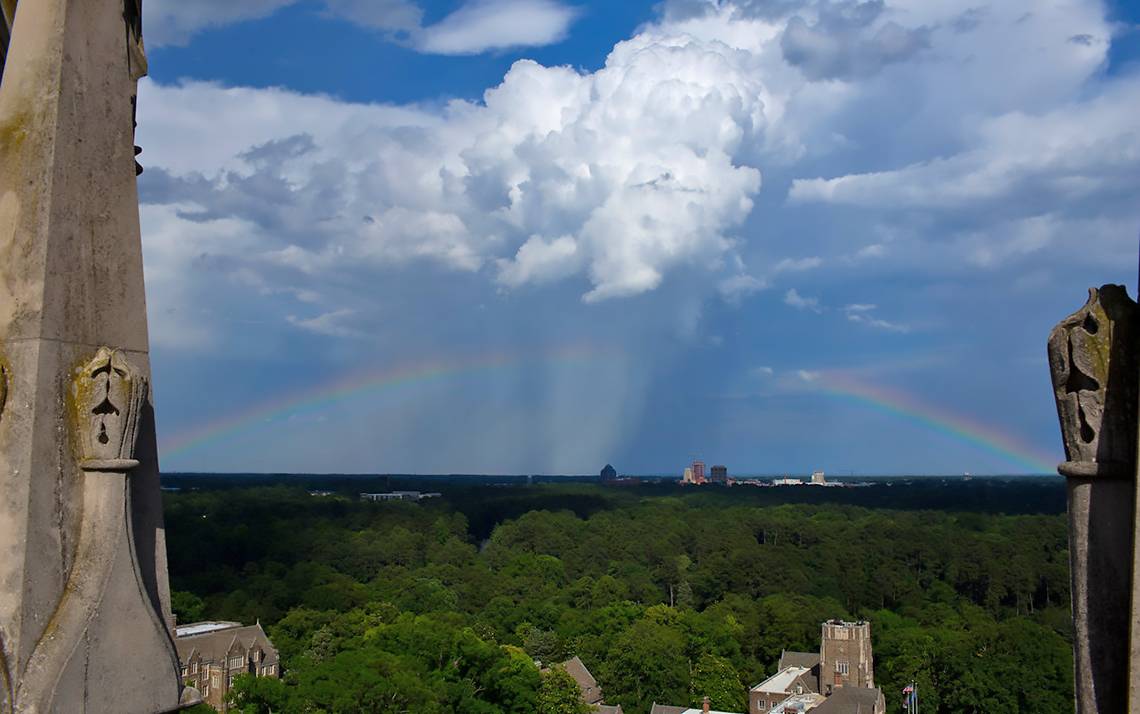 Most days, after the last tour group has climbed the narrow, spiral staircase to the top of Duke University Chapel, Joni Harris makes the ascent herself.
As part of her role as the Chapel's business and facilities manager, she secures the staircase and roof. In the process, she gets to enjoy Duke's most breathtaking view.
"You get amazing sunsets," Harris said. "It's a beautiful place."
Harris is one of many Duke employees whose jobs give them an opportunity to soak in some impressive vistas. From staff members who work in downtown office towers to those who frequent the upper floors of buildings in the health system, meet the people who are lucky enough to experience some of Duke's best views.
Durham Centre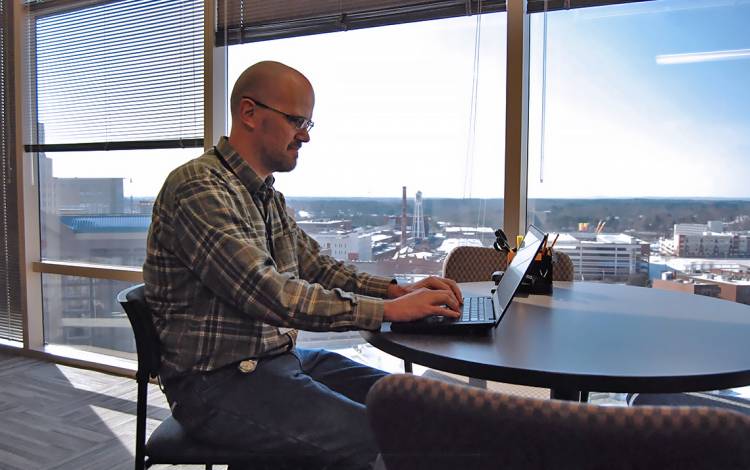 Brad Conant said it's not hard to focus while doing his work as a technical trainer at Duke Clinical Research Institute (DCRI). But he admits the view from the 10th floor of the Durham Centre is hard to ignore.
"Sometimes the windows will call you," Conant said.
DCRI is one of the main tenants of the 15-story downtown office building. Conant and his colleague, technical writer Matthew Heck, are two of the DCRI employees who enjoy the large windows that look out over the downtown skyline.
"We get to look out and see what the weather is doing, see how the traffic is," Heck said. "We get to see all the things that are happening downtown."
While Conant said he relishes the older buildings that give Durham's skyline character, the rapid pace of change has been fun to watch, too.
"During the past five years, Durham has been going through such incredible transformations," Conant said. "To see all these buildings up close as they're being built is impressive."
University Tower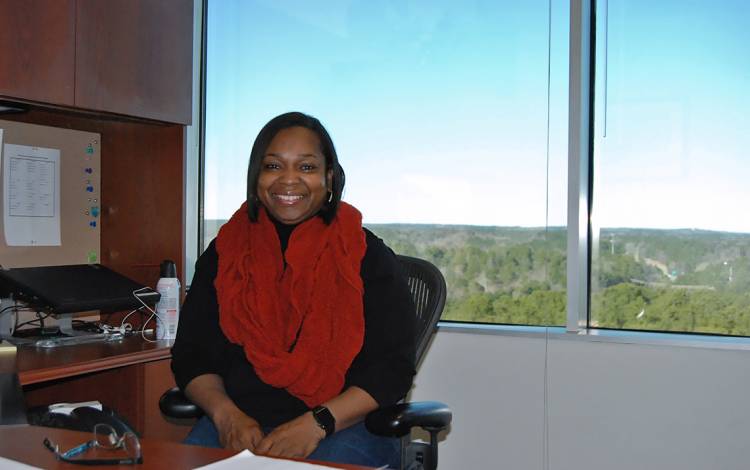 Durham native Lamez Williams has long been familiar with the 17-story University Tower, which rises above the trees in southwest Durham.
Since 2006, the administrative specialist with Duke Health Marketing & Communications has worked in it.
"I've always loved this building, I've always wanted to work here," she said.
The large windows in her 10th floor office give her a soaring view of treetops that stretch to the horizon. The view allows her to look down on Duke University Chapel and see downtown Durham in the distance.
"In the fall, when the trees start changing, it's absolutely gorgeous," Williams said.
Blue Devil Tower

David Shumate, director of broadcasting for the Blue Devil IMG Sports Network, has several things he loves about his office in Blue Devil Tower.
As the radio voice for Duke athletics, he's a short walk to nearly every team's facility. With Blue Devil Tower serving as the athletics department's high-tech hub, he's got all the tools he needs.
And with his office doubling as the radio booth, he's got an unbeatable view of Brooks Field at Wallace Wade Stadium and West Campus.
"Every now and then you get lost in what you're doing and you forget about the view," Shumate said. "Then you'll look up from doing and look off to the left and see the Chapel and look straight ahead and see downtown and say, 'This is pretty ridiculous.'"
Sixth Floor, Trent Semans Center

When the Trent Semans Center for Health Education opened in 2013, it became the Duke School of Medicine's state-of-the-art home. But, the sixth – and highest – floor was an empty shell. The roughly 10,000 square-foot open space was room the school could grow into.
However, a near-constant demand for event space quickly provided the inspiration for the sixth floor's current use.
"Within a few months, we realized that it would be great if we could finish that off,' Stacey McCorison, associate dean for medical education administration.
Over the next few months, the space was carpeted and filled with tables and lounge furniture. Now, when it's not hosting medical school events, it's open to medical students looking for a place to study, medical school staff in search of a quiet spot and occasional yoga classes.
The floor-to-ceiling windows offer a panoramic view of West Campus. Duke University Chapel's soaring spires are at eye level. At night, the blue-lit exhaust from the West Campus Steam Plant gives the scene a dramatic glow.
"It's been a real delight," McCorison said.
Duke University Chapel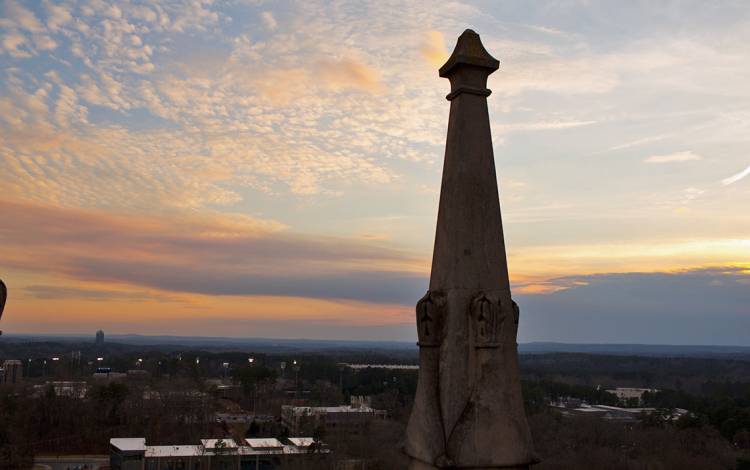 Photography is one of Joni Harris' passions. Before digital cameras, she had a dark room in her house. She now rarely goes anywhere without her Cannon camera.
That comes in handy during her trips to the top of the Chapel, where she captures images of sunrises, approaching storms and a hawk that is a common visitor to campus.
"No sunset is ever the same," said Harris, who has worked at Duke for 30 years, the last four at the Chapel. "I've got thousands of pictures of sunsets from up there."
Members of the Duke community can enjoy the view with group climbs.
"When I ask people how it was, the first response is usually 'Wow, that was so amazing,'" said Rachel White, a visitor relations specialist and another regular visitor to the chapel's 210-foot summit. "It's breathtaking."