Toddi Steelman Named Stanback Dean of Nicholas School of the Environment
The executive director at the University of Saskatchewan's School of Environment and Sustainability earned her Ph.D. from Nicholas in 1996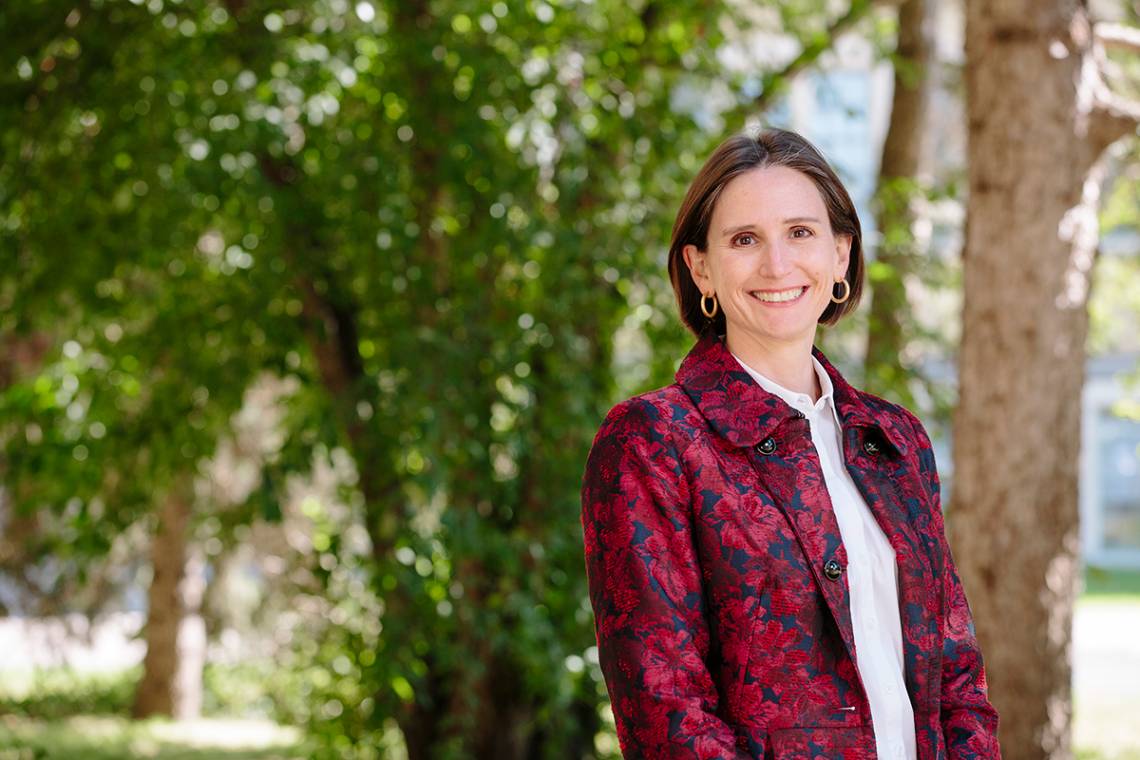 Wildfire expert Toddi Steelman, the first permanent executive director at the University of Saskatchewan's School of Environment and Sustainability (SENS), has been selected as the next Stanback Dean of the Nicholas School of the Environment effective July 1, Duke President Vincent Price and Provost Sally Kornbluth announced Tuesday.
Steelman, who earned her Ph.D. from the Nicholas School in 1996, has some unusual items on her resume, including qualified wildland firefighter, ice-road trucker and participant in the world's largest snowball fight. 
Steelman will follow Jeffrey Vincent, Clarence F. Korstian Professor of Forest Economics and Management, who has been serving as the interim dean since the departure of former dean Alan Townsend last year.
"I am delighted to welcome Toddi Steelman back to Duke," said Price. "She has a rare combination of scholarly achievement and successful leadership in environmental education and research that will only accelerate the Nicholas School's great momentum in focusing on perhaps the defining issues of our time.  And as a Duke graduate, she has a special understanding of our culture of collaboration, ambition and action."
"I look forward to the wisdom and innovation that Toddi Steelman will bring to the Nicholas School, and indeed to our academic community," said Kornbluth.  "She has energized us all with her ideas for ways in which the Nicholas School can further realize its potential."
Added Kornbluth: "President Price and I are also grateful to Jeff Vincent for his exemplary leadership over the past year, and in particular the stability and seriousness of purpose he brought to the task of interim dean.  And we appreciate the thorough and thoughtful work of Emily Klein and the search committee in helping us make this appointment."
Steelman said she is thrilled to be coming back to the Nicholas School, "which played a formative role in shaping who I am today."
"We are at a historic crossroad in our need for leadership on pressing environmental issues facing the United States and the planet," Steelman said. "I look forward to working in partnership with the talented faculty and staff of the Nicholas School to ready the next generation of students to tackle these challenges."
Steelman noted that, "Science, expertise and evidence-based decision-making are being challenged in all sectors of society. Arguably there has been no other time in history where thoughtful reason and insight are more important, and there is no better platform in the world from which one could lead on these issues than the Nicholas School."
Prior to serving five years (2012-2017) as the first permanent executive director at SENS in Saskatoon, Saskatchewan, she spent 11 years on the faculty in the Department of Forestry and Environmental Resources at North Carolina State University (2001-2012) and four years in the Graduate School of Public Affairs at the University of Colorado at Denver (1997-2001).
Steelman is best known as a wildfire expert and has brought her expertise to bear in a variety of venues, including the Royal Society (UK), National Academy of Sciences (US), National Socio-Environmental Synthesis Center (US) and as an invited keynote speaker in Canada, Germany, Australia and the United States. She sits on the board of directors for the International Association of Wildland Fire. Her research agenda has focused on understanding community preparation and response to wildfire, and how communities and agencies interact for more effective wildfire management. Steelman is co-director, with Branda Nowell, of the Fire Chasers project at North Carolina State University.
Steelman was selected following a national search chaired by Emily Klein, professor of earth sciences at the Nicholas School.
"The search committee evaluated many excellent candidates, and we found that Toddi Steelman has the right combination of experience, vision and energy to lead the Nicholas School into an exciting future," said Klein. "I look forward to welcoming Toddi as a faculty colleague and a passionate advocate for our mission of education, research and service to society."
In addition to holding a Ph.D. from Duke, Steelman earned a Master in Public Affairs from Princeton University and a Bachelor of Arts in Political Science and International Studies from West Virginia University.