Steve Nowicki Looks Back at a Decade of Change
Undergraduate education dean to return to teaching and research
As Duke's first dean and vice provost for undergraduate education, Steve Nowicki has worked on a broad swath of projects affecting undergraduates, from the creation of new support programs for low-income students to the design of a new campus dining facility.
After 11 years of defining and shaping a post aimed at addressing all aspects of undergraduate life, Nowicki will be stepping down on July 1, returning full-time to his role on the faculty. A search committee has been formed to find his successor.
"Steve has been an amazing advocate for students, a voice of wisdom in all things related to undergraduate education and undergraduate life, a font of innovative ideas and a tireless fundraiser in support of our educational efforts," said Provost Sally Kornbluth. "I am going to miss Steve's thoughtful input and excellent advice on many different topics of importance to students at Duke."
A Duke professor in biology, psychology and neurobiology since 1989, Nowicki spent three years as dean of natural sciences before then-President Richard Brodhead and Provost Peter Lange tapped him to be the first dean of undergraduate education.
A popular, award-winning teacher and internationally recognized researcher in the fields of neuroethology and behavioral ecology, Nowicki had quickly developed a reputation as an engaging instructor who occasionally juggled flaming clubs in the classroom.
In his new role, Nowicki set out to meet students in their environment. He sat in on evening dorm meetings with first-year students; met regularly with leaders across the full spectrum of student organizations; and hung out in the campus dining halls, holding informal office hours for any student who wanted to sit down and chat.
And he joined the pep band, scratching an itch he'd had since his high school marching band days.
Since then, Nowicki has been a ubiquitous presence at games, both on trombone and joining in with the students who roll along the Cameron Indoor Stadium floor as the Blue Devil mascot surfs above them. 
"It's been an incredible privilege to be in the band, as a way to experience the energy of the students," he said. "It's a trip -- it's hard work, but it's incredibly fun and it's a unique opportunity to better understand what makes Duke tick."
As for the surf-rolling thing?
"For the record: it hurts."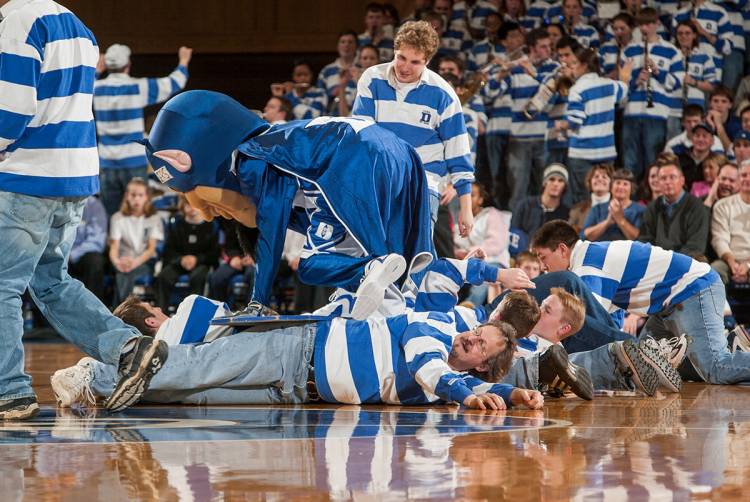 As the first dean of undergraduate education, Nowicki had the rare opportunity to shape an administrative role that had no history.
"It's been 11 years of surprises," he said. "One of the things that has made this fun, but also challenging, is that there's always something new."
One of his top priorities was to break down silos between different parts of the university contributing to undergraduate experience in and out of the classroom. "You can't start to improve the undergraduate experience without sharing information and thinking more holistically," said Nowicki, who holds monthly undergraduate leadership group meetings.
Some of Nowicki's other priorities have been to improve the residential experience, a challenge he says continues still, and to strengthen academic advising for first-year students and sophomores.  Nowicki led the implementation of what have become signature Duke programs such as FLUNCH, the Winter Forum, Chautauqua and DukeImmerse. 
"You always can count on Dean Nowicki to advocate for students," said Duke Student Government President Riyanka Ganguly. "I have been incredibly fortunate to have worked with him through my role in DSG, and I always know I can count on him for helpful advice and unwavering support. Even if he disagrees with a project idea, he isn't one to shut you down and will instead provide ideas for who to further talk through the idea with.
"Among students, there is often the misconception of the administration as a separate governing entity, and Dean Nowicki is the type of administrator that breaks those barriers between administration and students and allows for honest conversations that lead to productive measures."
Tara Bansal, '17 and DSG president in 2016-17, said Nowicki "brought the 'scientist's brain' to the administration-- always open-minded and humble to a new hypothesis, curious and helpful in testing, and enthusiastic in assessing the results. He connected with students on a deep level by not just opening the door, but going to them. Whether he was playing with the Duke Marching Band or reminding students, though a pin he wore daily my junior year, to 'Question Authority,' he made us feel welcome to bring our ideas and passion to the administration."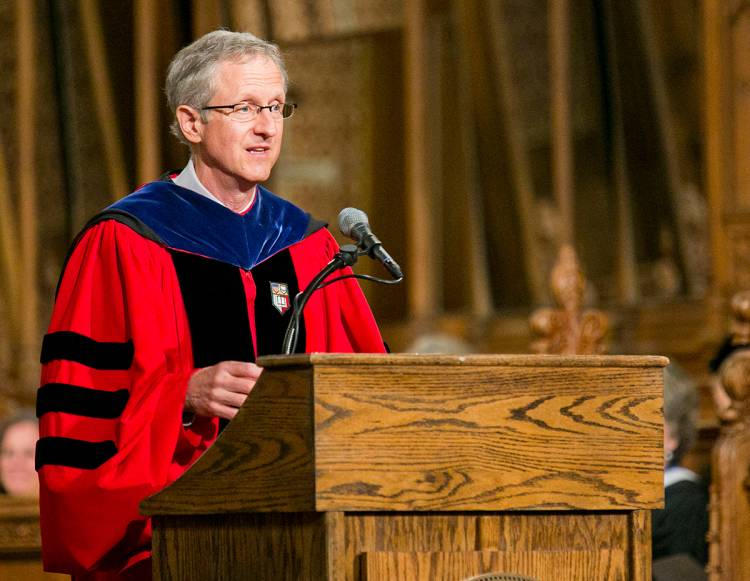 One surprise of the job, Nowicki said, was the amount of time he spent traveling to raise money for financial aid and other undergraduate priorities through the recently completed Duke Forward campaign. Those efforts helped expand scholarship funding for low-income students, perhaps most prominently the establishment of the David M. Rubenstein Scholars program, which provides financial, academic, personal and professional support to first-generation students.
That program, coupled with the establishment of the Office of Access and Outreach and other initiatives, have made Duke a more accessible university, Nowicki said.
"If you're a first-generation student from a low-income background, coming to Duke can be like arriving on a different planet. There's more work to be done, but we've done a lot to make Duke an even more welcoming and supportive environment for all our students."
Now 62, Nowicki will return to a faculty life he never fully left. During his tenure as undergraduate dean, Nowicki maintained his research lab and taught a first-year seminar each year. He's now anxious to spend even more time in the classroom, as well as to work more closely with undergraduates in his lab. He also hopes to take part in programs like Focus or DukeEngage -- initiatives he was too busy to take advantage of while in the administration.
"As a dean, I've touched the lives of a lot of students, but not very deeply," he said. "As a faculty member I'll be able to work with students in a sustained fashion, as a teacher and as a mentor. And that's a unique privilege you have as a faculty member."