Learn from the Masters
Duke's master classes let audiences sit in on lessons from professional musicians
As four students performed a piece of contemporary classical music called "Different Trains" in Baldwin Auditorium one night in December, a voice interrupted the musicians.
"You're not holding your quarter notes long enough," Austin Wulliman, one of four members of JACK Quartet, a contemporary string quartet based in New York City, told them.
Wulliman's feedback was part of the Duke Master Class Series with the string quartet. The master class series, coordinated by the Department of Music, brings professional musicians to teach students a piece of music before they critique their recital in front of an audience. Master class sessions are free and open to the public to observe.
"Everybody's hope for the encounter is some new insights in the piece of music," said Eric Pritchard, professor of the practice in the Department of Music. "It's an opportunity not just for students, but for community members to learn from experts in their field."
Upcoming master classes are Jan. 11, Jan. 25 and Feb. 13. The Jan. 15 class will focus on reducing muscle tension while playing instruments, Jan. 25 on playing the violin and Feb. 13 on chamber music. A few other master classes cover voice and piano.
In a master class, undergraduate and graduate students typically play a series of songs then receive feedback from the visiting musician and finish the class by repeating the music. The class generally lasts about an hour and a half.
Often, musicians teaching the master class are part of Duke Performances' Artists in Residence program, where artists visit campus over several days or years to work with Duke students. JACK Quartet, the New York City string group, is currently in the midst of a two-year residency at Duke.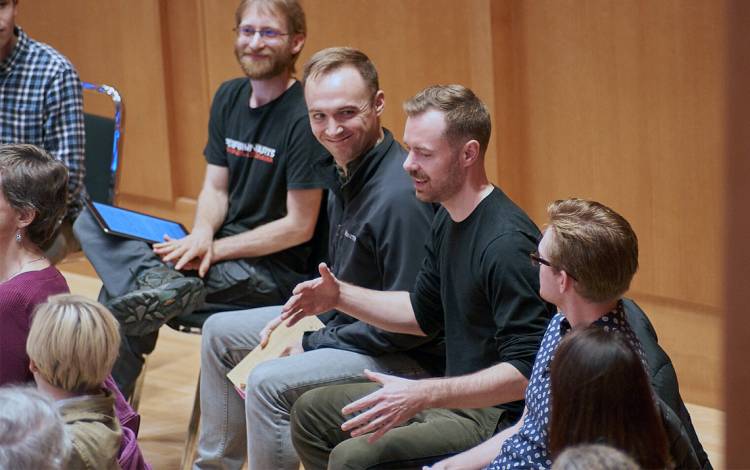 "There's something very rewarding for many of these artists in sharing their knowledge and seeing improvement in the span of an hour," said Brian Valentyn, Duke Performances' manager of campus and community initiatives. "Master classes force artists to speak in highly specific ways about what animates a piece of music, allowing students to maximize its impact."
For the master class with JACK Quartet in December, the audience joined students on stage in Baldwin Auditorium to observe. JACK Quartet sat quietly, taking notes until the students finished playing "Different Trains" by Steve Reich, a piece that blends contemporary and classical string music over three movements. The quartet then walked the students back through "Different Trains," asking them to show more emotion while playing.
Robert Zimmerman, instructor in the Music Department, attended the class to see how JACK Quartet worked with students.
"For the students, it's an amazing opportunity to play for someone who's a professional artist of real stature," Zimmerman said. "For the audience, it gives an inside glance into how these pieces are perfected."