Inside the Greenhouse
Unique campus facility is home to research and some of Duke's biological treasures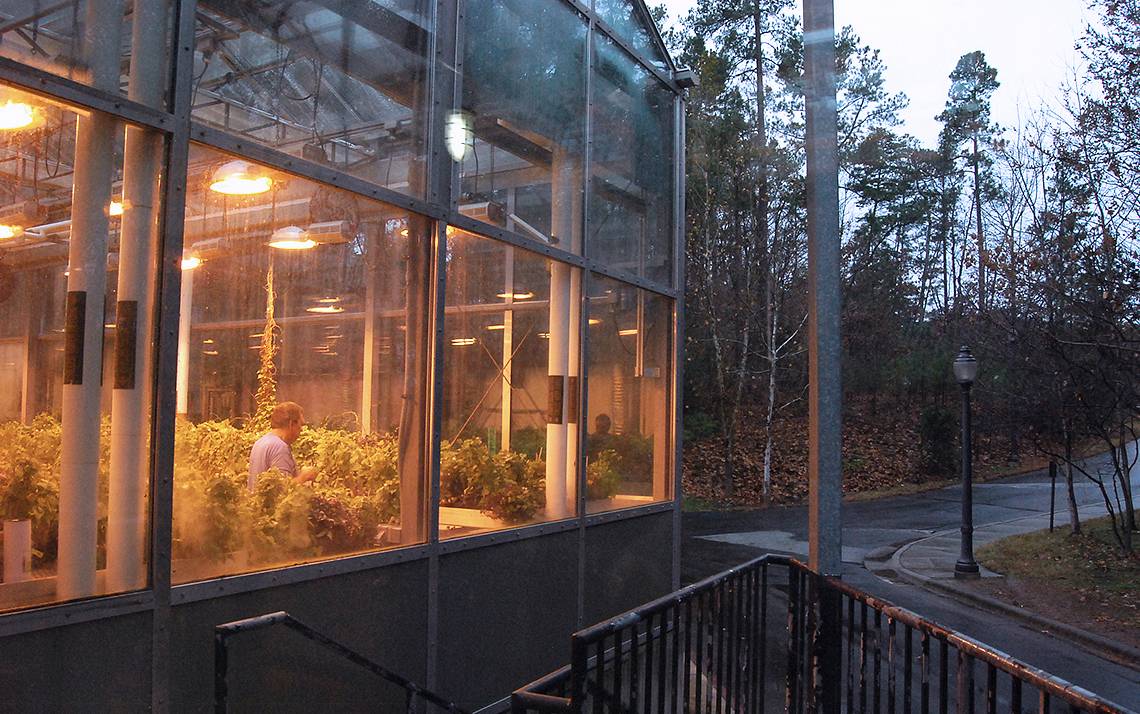 Jenny Gordon is dwarfed by trees that shoot upward and create a canopy of deep, green leaves overhead in Duke's Biological Sciences Greenhouse.
It's a dreary December Wednesday, but the temperature in this corner of the greenhouse is pushing 90 degrees and fans drone constantly, pushing the thick, humid air.
"This is supposed to represent a rain forest," said Gordon, the greenhouse's teaching collection horticulturalist. "It's not any particular rain forest because these are Australian plants, Asian plants, African plants…"
Many of these plants were brought here by Duke scientists in the 1960s. And tucked behind the French Family Science Center, the research greenhouses are the one spot on campus where they can survive. With large overhead lights – some burning 24 hours a day – and lush green tropical plants visible through the glass, the greenhouse is one of Duke's quirkier sights. Built in 2004, the sprawling greenhouse covers 15,000 square feet and has 15 rooms with climates that can range from sticky and humid to dry and arid. The temperatures can range from 52 to 110 degrees Fahrenheit.
Three-quarters of the facility is devoted to research projects. Duke faculty members can rent space to grow specific plants under specific conditions. It's up to the greenhouse staff to keep the plants growing.
"They know everything about plant genetics, we know about growing the organism," said greenhouse manager Michael Barnes said. "We keep it alive."
Tours of the greenhouse are available by request, but if you can't make it over, here's a glimpse of what is inside.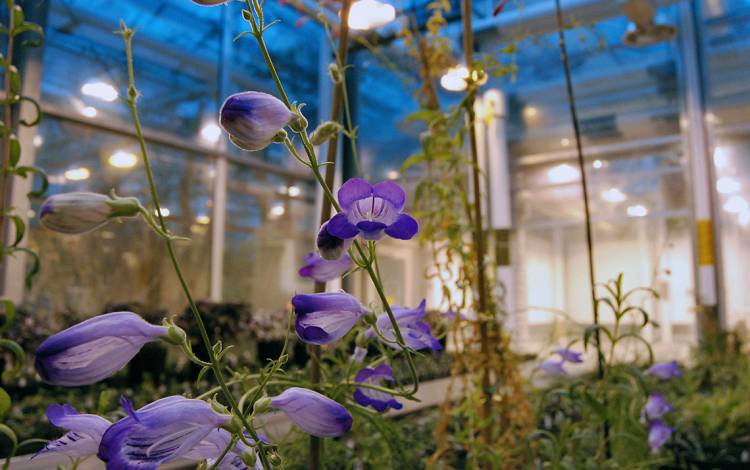 At any given time, there are around 50 different researchers with plants, which are selected for their reliability, being grown in the greenhouse.
Wander between rooms, you'll see the pink flowers of Clarkia, the white flowers of Arabidopsis and the fast-growing vines of Morning Glory. Each of these plants – which are common in many parts of the globe – grow easily and are popular with biological researchers.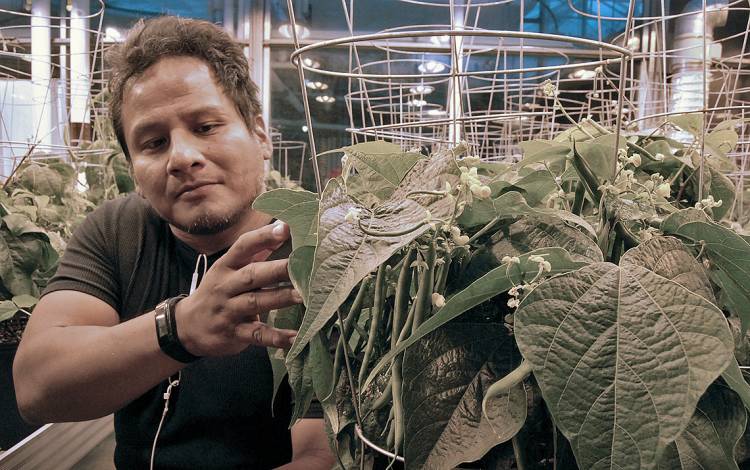 Another plant grown in large numbers are green beans.
"The thing with these green beans is no pesticides," said research horticulturalist Jorge Fidhel Gonzalez as he showed off a healthy bush of Lewis green beans.
Nothing grown in the greenhouse will be used for human consumption. These beans will end up being a part of a study of methods used to control pests."It's insect food," Gordon said.

With so much experience with plants, it's no surprise that many of the staff members have thriving home gardens. Fidhel Gonzalez said he enjoys growing tomatoes in the summer. Jenny Gordon said she's got several perennial plants thriving at her Bahama home.
Despite his green thumb at work, research horticulturalist John Mays said he can't grow much at home.
"Shade is good, but I have too much," Mays said of his yard. "I've tried to grow vegetables for many years in the summer. I may get a few little tomatoes but it's not worth it. So I have to go to the farmer's market or roadside stands."

Tucked away in one corner of the greenhouse is the teaching collection.
Consisting of around 1,000 species, the collection is made up of plants that Duke faculty and students brought to campus from across the globe. Spanning four rooms with some of the most extreme conditions in the greenhouse, many of the the plants are either the same ones that were originally brought to Duke or grown from cuttings.
There are tropical trees in the tall, humid room meant to mimic a rain forest. Desert plants live in a hot, dry room. Orchids, bromeliads and tropical flowers that look like Dr. Seuss creations live in a room with such high-humidity, its glass walls are perpetually fogged.
"Most of the plants in here couldn't survive outside of this room," Gordon said. "It's special."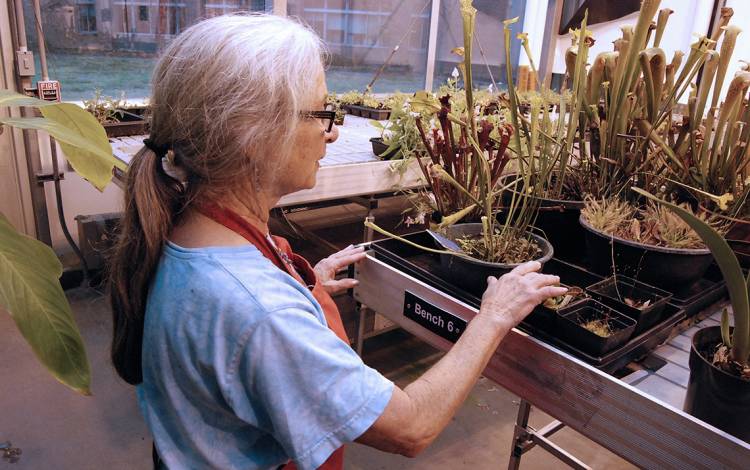 The teaching collection also houses a wide array of carnivorous plants.
Does the staff need to feed them?
"I don't have to," Gordon said. "There are fungus gnats that are kind of their winter food."
In the summer, Gordon said, she'll move some of the plants into a secured area outside, where they'll feast on whatever insects pass by.
"They eat better in the summer," Gordon said.