Historic Storm Yields Selfless Dedication
Through the snow, Duke employees show 'extraordinary effort'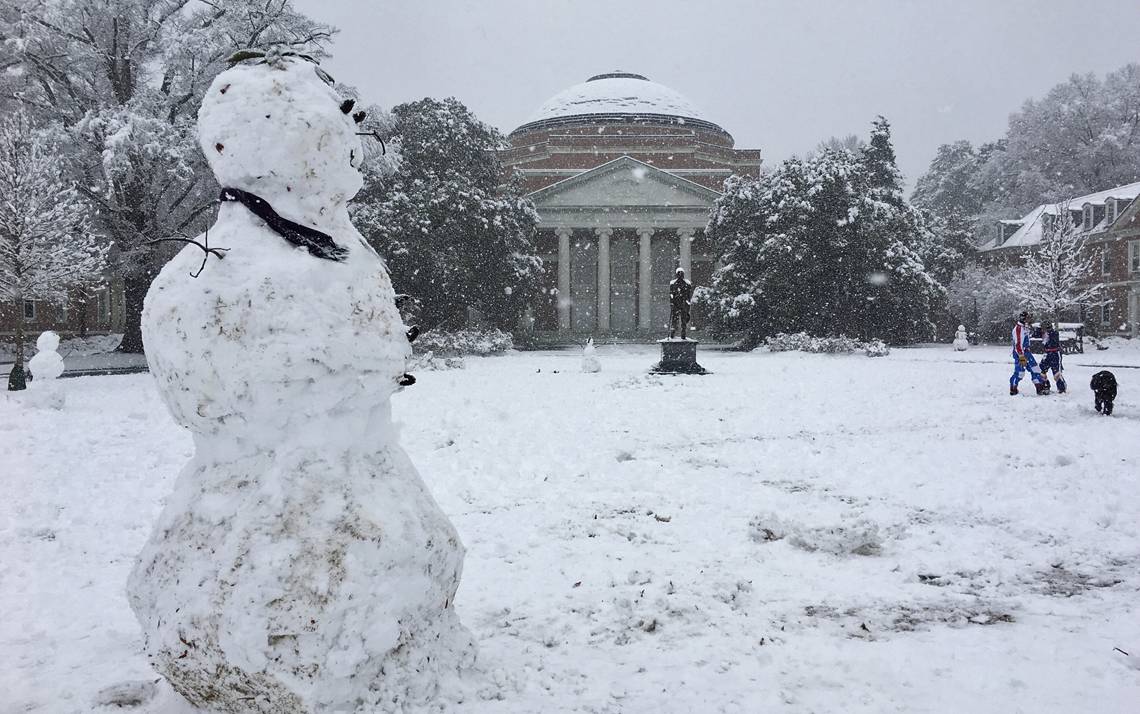 Before the first snowflake fell, Duke Regional Hospital Clinical Nurse Liz Frei knew the winter storm would likely spell trouble. She also knew that work within Duke's Hospitals would need to continue, despite any weather conditions.
With her house roughly a half-mile from the hospital, she found a simple way to help: For two snowy nights, Lisa Wiseman and Teresa Perry-Williams, fellow nurses in the Ambulatory Care Unit who had longer commutes, stayed at Frei's place to get to work safely the following day.
"It was fun," Frei said. "We had pizza, brownies and snow cream."
In the wake of last week's winter storm, stories such as Frei's are common. Across Duke University and Duke Health, employees showed selflessness and determination, ensuring important work got done. Preparation for the storm began several days before the arrival of the snow on Wednesday, Jan. 17, with Duke officials monitoring forecasts and hosting conference calls to plan the response, which included pre-treatment of roads, walks, and parking lots.
The storm, which grew in strength and slowed down as it passed over central North Carolina, dropped 8 to 10 inches of snow on Durham. According to the National Weather Service, it was the most snow the region had seen since 2010. Hazardous conditions forced the activation and extensions of Duke's severe weather and emergency conditions policy from Wednesday morning to Friday morning, including a decision by the Provost to cancel classes.
"Our Duke community came through this challenge with their normal unwavering dedication," said Kyle Cavanaugh, Duke's emergency coordinator and vice president of Administration. "Hundreds of dedicated team members provided patient care, served meals, cleared roads, and overall, literally, kept the lights on. We always have so much round the clock coordination during such events, and I could not be prouder of the effort of our Duke team."
Throughout the event, roads and walkways on campus were cleared, students on campus were fed, many staff in critical health services provided care. And when classes resumed Friday, life at Duke returned to normal.
"What's most remarkable is that for many of our nurses, doctors, police officers, facilities and grounds crews, and transportation and dining staff members, the extraordinary effort during and after the storm was all in a day's work," President Vincent E. Price wrote to employees. "Duke staff are the backbone of this vibrant and passionate university."
Here's a look at some of the work that went into keeping Duke running 24/7 during last week's storm.
Clearing the way
For Bryan Hooks, director of landscape services for Duke Facilities Management, and his colleagues, preparing for the snowfall started early. As the group in charge of keeping streets, sidewalks and other areas clear, the landscape services team treated paved surfaces with brine last Tuesday and then waited for the snow.
The snow, however, was late.
"We had quite a few people here waiting for things to happen," Hooks said.
Last Wednesday, crews reported for duty at 3 a.m. to begin clearing the fast-falling snow, and the action didn't let up.
Until Friday, there were no fewer than 30 workers – Duke employees and outside contractors – and five plow trucks clearing roads, parking lots and sidewalks. During the peak hours of the storm, the number rose to around 60.
Some of the roughly 40 Duke employees involved in the cleanup stayed in nearby hotels and most worked 12 hour shifts. They used roughly 900 gallons of brine and 150 tons of salt.
"They were fired up for the challenge," Hooks said.
Work must go on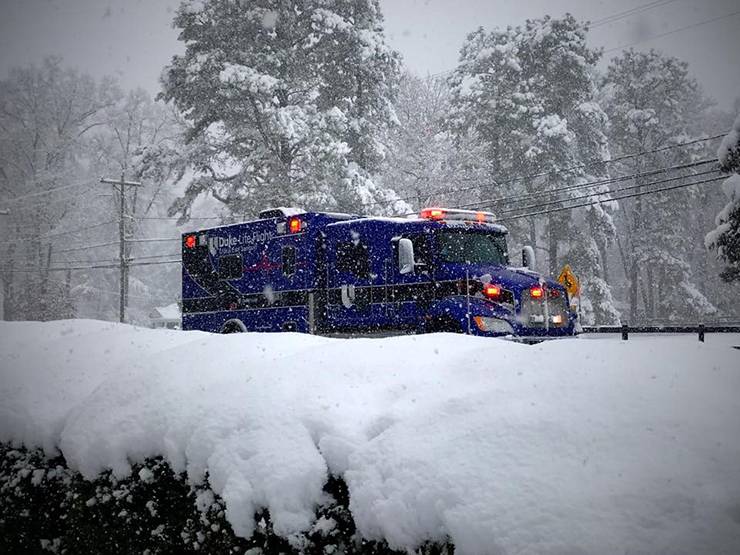 On Wednesday night, many of the roads around Duke Raleigh Hospital were treacherous. That's why a handful of members of Duke Raleigh's Endoscopy unit opted to spend the night in the unit.
Spending their downtime watching movies on Netflix and sleeping on stretchers, the group of three nurses, a technician and a medical assistant wanted to be ready to serve any patients in need.
"We've got a great staff that's willing to stay and go that extra mile," said Elaine Simmons, clinical team lead with the group that stayed. "It's a really good unit with really caring people."
When the severe weather policy went into effect at 7 a.m. Wednesday, it meant all staff in "essential service" positions reported to work for continued operations. In Duke Health alone, around 500 staff and faculty members spent Wednesday night at either Duke University Hospital, Duke Regional Hospital or Duke Raleigh Hospital.
"It's exciting to see the Duke team work as a unit and work through the challenges," said Duke University Hospital Emergency Management Coordinator Jason Zivica. "The teamwork is amazing to watch."
Elsewhere, on the university campus, Duke Utility & Engineering Services, which monitors Duke's utility infrastructure around the clock, and Duke Facility Operations, which tends to university buildings, stationed extra personnel at nearby hotels to be close by if called upon.
Sara-Jane Raines, Duke University Police Department's assistant chief for support services, said that, aside from the four hotel rooms the department booked for employees who couldn't make it home, there was little unusual about the department's work during the storm.
Patrolling the campus in all-wheel drive vehicles, Duke Police officers responded to 13 stranded drivers on Wednesday and early Thursday.
"We serve the community all the time, it's just that this time, we did it with lots of snow," Raines said.
Campus life continues

While the snow left campus quiet, it wasn't empty. From dining to transportation, Duke's on-campus student population had needs to meet.
All told, around 200 to 300 people – both Duke Dining employees and vendors – kept core campus eateries open during the storm. Throughout the storm, Duke Dining employees served breakfast, lunch and dinner in the Marketplace on East Campus.
Robert Coffey, Duke Dining executive director, praised the work the Dining team put in before the bad weather hit, reserving hotel rooms for key staff, coordinating extra shipments of food and ensuring staff members had safe transport to work.
"We've got an awesome group of folks," Coffey said. "This is a prime example. All of Durham was closed, but our operations on campus were open and feeding folks."
Bus service was affected by the snow, but with the exception of Wednesday night, the main route between East and West campuses and a route running between Parking Garage No. 3 and Duke Medicine Pavilion continued to run when weather permitted.
Ray Hester, who's in his sixth year as a bus driver for Duke Parking & Transportation Services, drove multiple routes on Thursday.
"Not a whole, whole lot," Hester said of how many riders he had early in his shift. "But the ones that got on there were very appreciative."
University Environmental Services had employees stationed in nearby hotels to help keep open campus facilities clean. Staff in Duke University Stores And staff members of Housing and Residence Life ensured that areas around residence halls were safe.
Bernard Smith, associate director of residence hall operations, joined supervisors Al Rogers and Willie Charles Jr. to lead a team that cleared snow and salted walkways and stairwells around Duke's residence halls. The work began Wednesday and continued into Friday.
"This was different," Smith said of the snowfall. "I've worked at Duke for 10 years and I don't think we've had something like this. … The snow kept coming, but we continued to work."
Did you or someone you know go above and beyond during last week's snow storm? Read and share your snow response stories here.