Compliance is a Team Game
Need for awareness of NCAA rules extends to faculty and staff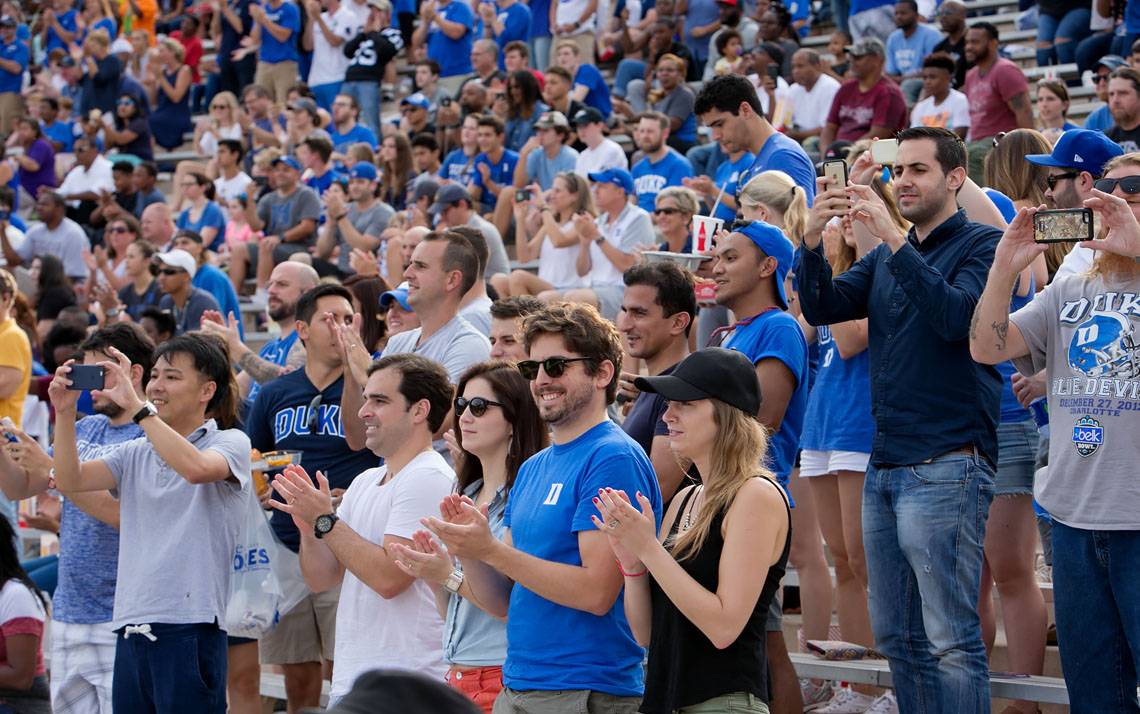 As director of compliance, Mary Giardina spends most of her time educating Duke's athletes and coaches about how to work, train and live in accordance to the NCAA's complex set of rules.
Every so often, she'll even find herself fielding a question from a member of Duke's staff and faculty.
"I think more informed people ask more questions, and Duke has a lot of informed people," Giardina said. "Duke people are great people and they want to do things the right way."
As members of the campus community, Duke employees play a small-but-not-insignificant role in Duke's compliance puzzle by ensuring their dealings with student athletes don't violate NCAA rules and jeopardize the eligibility of student athletes.
Giardina and the athletics compliance team are always willing to offer guidance to members of the Duke community when rules seem unclear.
Rosie Canizares, a physical therapist at the Student Wellness Center, has reached out to Giardina for advice on a few occasions. As a former athlete and a member of the Iron Dukes, Canizares said she knows how NCAA rules can make simple gestures tricky.
Canizares recalls asking Giardina for direction about donating to a fund-raising effort organized by a student athlete and giving one a graduation gift.
"I'm pretty aware of things," Canizares said. "… But it's nice to have someone there to help."
While individual situations can be complicated, Giardina offered up three simple ideas on how staff and faculty members can avoid running afoul of NCAA rules.
Don't treat athletes differently
Giardina said she'll often hear from faculty members who like to make connections with their students through meals. If one of those students is an athlete, they ask, is the gesture still okay?
The important thing here, Giardina said, is to make sure the athlete isn't getting any preferential treatment.
"As long as you do that for everybody else, you're fine," Giardina said. "We like them to be treated like any other student. That makes life easy."
Be careful on social media
One of the common bits of advice Giardina dishes out is to "let the coaches do the recruiting."
With social media playing an outsized role in the lives of both fans and athletes, that wisdom looms large when it comes to the online realm. Until an athlete signs a binding letter-of-intent, social media contact between people affiliated with a university and potential recruits could result in rule violations.
So Giardina urges caution when it comes to employees connecting with athletes online.
"Social media is constantly changing, so the rules are constantly behind," Giardina said. "Figuring out how to navigate that is interesting."
If you're not sure, ask
While Duke's student athletes come to Duke in search of league and national glory, most also come with a desire to have a normal college experience. And sometimes, those experiences bump up against NCAA rules.
While athletes and coaches are well-versed in what's permissible, the rest of the Duke community should be aware as well. If there are any questions, Duke's compliance staff is ready to help.
"Our main goal is to remind people that NCAA rules exist and let them know how to contact us easily," Giardina said.