Blue Devil of the Week: Leading the Fight Against ALS
Richard Bedlack creates a bright atmosphere for those fighting a dark disease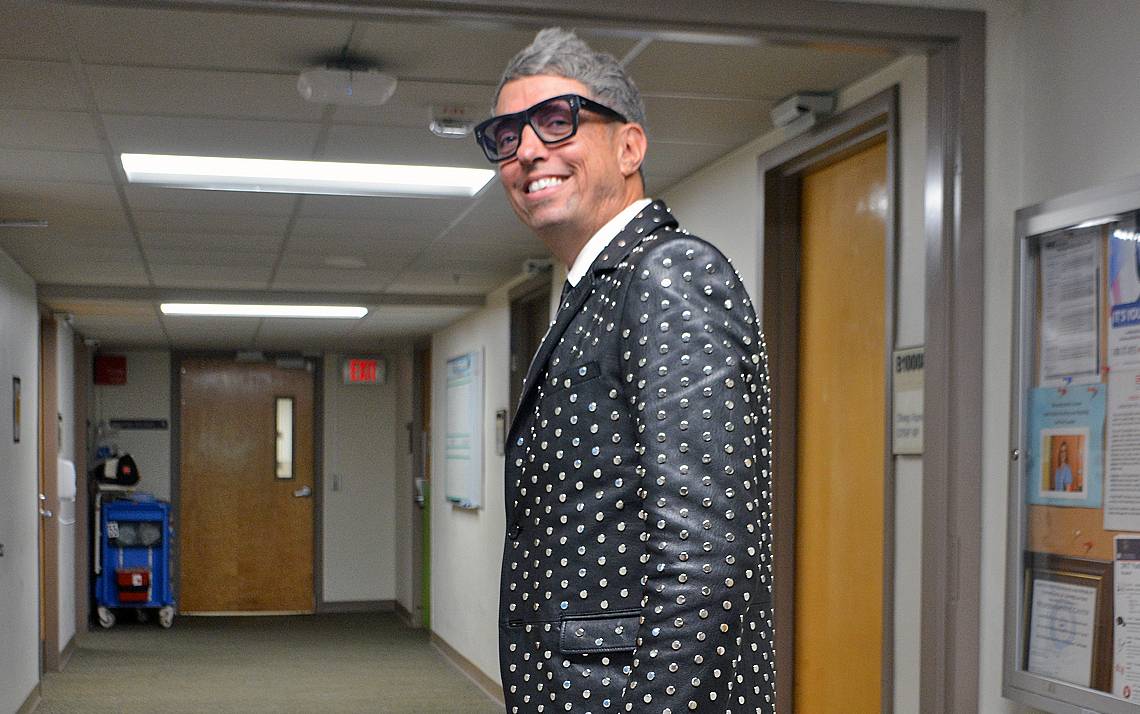 Name: Dr. Richard Bedlack
Position: Associate professor of neurology and director of Duke's ALS Clinic
Years at Duke: 22, since he came to Duke as an intern in 1995.
What he does at Duke: Known for his colorful fashion sense (for this interview he wore a silver-studded black leather jacket) and his work fighting amyotrophic lateral sclerosis (ALS), Bedlack devotes his Duke days to patients with the disease. ALS is a progressive neurodegenerative disease that affects nerve cells in the brain and the spinal cord, rendering sufferers unable to control voluntary muscle movement and eventually taking away the ability to walk, speak, swallow and breathe—greatly shortening life spans.
"This disease really takes away your ability to move everything," said Bedlack, who sees an average of 15 to 20 ALS patients every Tuesday at the ALS Clinic, often making hard calls like whether a patient should continue driving, or if lifestyle aids like feeding tubes, wheelchairs and computer-assisted communication aids are necessary.
What he loves about Duke: His colleagues. He said many coworkers have been instrumental in helping him build the ALS Clinic and pursue research such as examining the genetic components of certain ALS types.
"I love the collaborators here," he said. "Developing the type of research I'm doing would have been impossible by myself. I think we're going to have cures for some forms of ALS in the next five years. We're starting to understand how broken genes contribute to some forms of the disease."
Memorable patient: Bedlack pulls up his jacket sleeve and reveals a tiny black swallow tattoo on his wrist, which honors a former patient who had an entire arm tattooed with images of the birds. Bedlack recalls the patient's youth and positivity whenever he looks at the tattoo. "This disease can take you down on the outside but it can't touch who you are on the inside," he said.
The clothes make the doctor: Bedlack's trademark colorful fashions, whether it's neon blazers or wildly-patterned pants, represent a personal love of clothes as well as a practical professional choice. The patients love them and the clothes help him "Create as bright an atmosphere as I can, because the disease is really dark."
Best advice he's ever received: "Pick your battles." This is a mantra Bedlack applies to all aspects of life, whether it's dealing with medical insurance companies or understanding national politics. Dealing with the mortality of ALS also gives him perspective. Half of ALS sufferers succumb to the disease within three years of symptom onset, creating an appreciation in Bedlack, a self-described Type A multitasker, for life's simpler enjoyments, whether it's watching "Stranger Things" with his wife, Shelly, or golfing a round with friends.
Smart like a Fox: One of Bedlack's biggest medical inspirations? Fox Mulder, a detective from "The X-Files," a 1990s television show that often explored paranormal and alternative explanations for crimes. Bedlack's not looking for ghosts or aliens, but he's willing to "think outside the box" and explore alternative ALS therapies—seen on his website ALSUntangled.com—whether it's energy work or fecal transplants. "When we've got something this bad that we can't fix yet, we've got to be open to all possibilities."
Nominate a colleague to be the next Blue Devil of the Week.