3 Ways Duke's Institutional Equity Office Can Help
OIE provides strategy services, toolkits and facilitation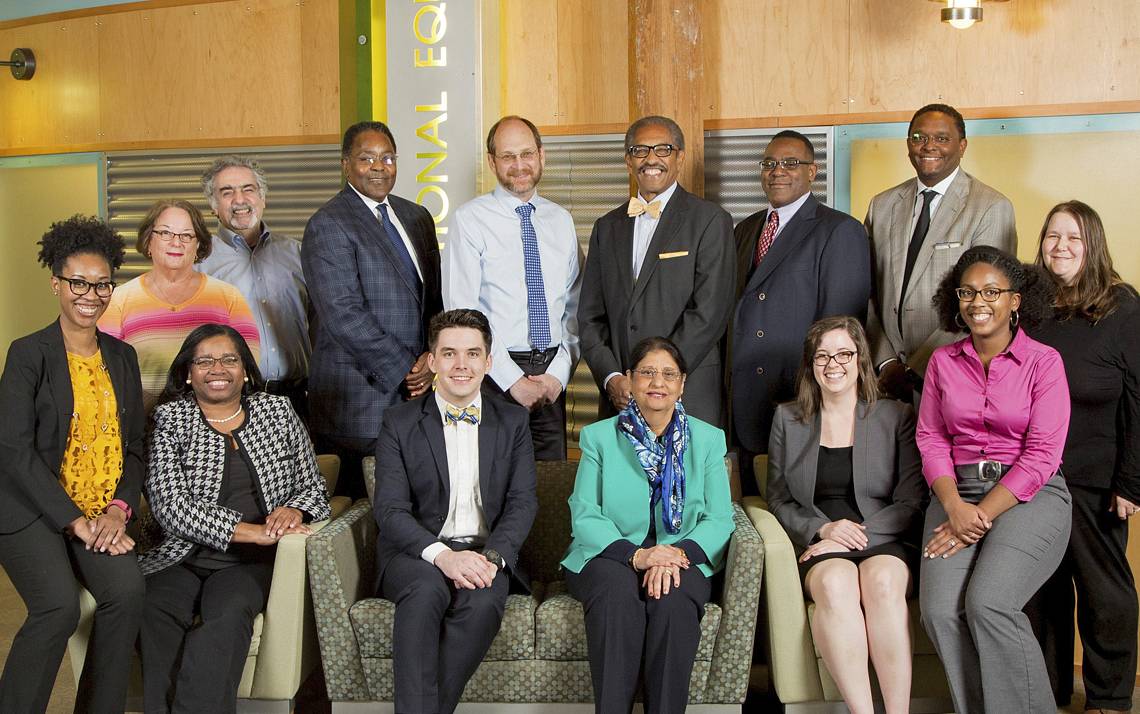 After a patient passed away, Hai Ly Burk needed a better understanding of Buddhist tradition.
A case manager at Duke Raleigh Hospital, Ly Burk wanted to learn how to appropriately respond to the patient and family in observance of Buddhist culture. Ly Burk turned to "CultureVision," an online toolkit provided by Duke's Office for Institutional Equity, for help.
"We learned we needed to leave the body undisturbed for six hours," she said. "It's meaningful, not just for the family, but for us as healthcare providers who care deeply for patients and their families. We want to support families through a difficult time in the best way we can."
CultureVision is one service provided by Duke's Office for Institutional Equity (OIE), which offers training, workshops and strategies to empower employees to work effectively with people who have different worldviews, perspectives, backgrounds and experiences.
"Our goal is for every single person at Duke to have a touch point with professional development focused on intercultural awareness, belonging and inclusion," said Paul James, OIE's assistant vice president.
Here are three OIE resources for the Duke community:
Diversity & Inclusion Strategy Services
In the summer of 2016, Duke Health Development and Alumni Affairs began a multi-year project to continue investing in diversity with OIE's guidance.
James began to work closely with Jeff Chitester, executive director of talent management for Duke Health Development and Alumni Affairs, on developing a long-term diversity and inclusion strategy for the department.
"We truly want everybody to believe that they belong here," Chitester said. "When everybody feels included and engaged our culture will best support our work."
OIE's Diversity & Inclusion Strategy Services include trainings and workshops and long-term planning for schools, departments and offices around diversity, inclusion and belonging.
For Duke Health Development and Alumni Affairs, OIE assisted in facilitating focus groups to better understand employees' perceptions of diversity and inclusion in the workplace. In February, the office will continue to work with OIE in case studies anchored in workplace scenarios related to various cultural intersections.
"They're the experts at this," Chitester said. "We're lucky to have a partners like them."
Toolkits
As chief human resources officer for Duke University Health System, Rhonda Brandon often thinks about how to engage providers, staff, students, faculty and leaders in professional development and mentorship opportunities.
For resources on various topics, Brandon visits OIE's "Diversity Toolkit," a searchable online collection of articles, books, videos and research on themes like disability, gender, inclusion, cultural awareness and unconscious bias.
"When I'm looking to put together some strategies I can use the resource for insight," Brandon said. "It's a pretty rich collection of information and education to help build awareness knowledge and skills."
OIE created the Diversity Toolkit as a quick resource for the Duke community, and staff adds materials to the collection.
"We wanted to create an evidence-based research tool that could be meaningful and updated on an ongoing basis," James said.
In addition to the library of materials, which are open to all Duke community members, employees in Duke Health have access to CultureVision, a database that gives healthcare professionals access to culturally competent patient care.
CultureVision users are able to conduct searches based on religion, ethnicity, country of origin and sexual orientation and gender identity. CultureVision is available on computers in hospital rooms, the health system intranet and through clinic and hospital websites.
"I often think about when my parents first came to America in 1980 from Vietnam," said Ly Burk, the case manager at Duke Raleigh Hospital. "Entering the healthcare system with a language and cultural barrier can be frightening. It's important we have the tools to connect with people on a individual level with cultural awareness."
Dialogue Conversation and Facilitation Guide
Last November, OIE released its latest digital tool: the Dialogue, Conversation & Facilitation Guide.
The guide, compiled by OIE, provides a set of guidelines for individuals to effectively frame discussions about diversity and inclusion. The guide offers tips around picking a space for discussions, facilitating conversations and how to close a discussion.
"We wanted the guide to be two things: brief and hard hitting," James said. "OIE is here to create and sustain dialogue for persons seeking authenticity in the context of human difference."