What's In the New Tax Bill Concerning Higher Education
How the bill will affect universities, its employees and students
Congress is scheduled to vote as early as today (Tuesday) on a new $1.5 trillion tax bill, and people are scrambling to understand how it affects them. Meanwhile, university leaders are looking at the impacts on Duke's policies and budgets. [UPDATE: Congress passed the bill Wednesday morning.]
The good news is, in large part because of the involvement of large numbers of students, faculty, staff and administrators at colleges and universities across the country, some key provisions in an early version of the bill that would have negatively affected the higher education community have been removed.
Duke worked closely with other universities, national associations and Congress to press for continued favorable tax treatment of educational tuition assistance plans, the deductibility of interest on student loans and exclusion of graduate student tuition waivers from taxable income.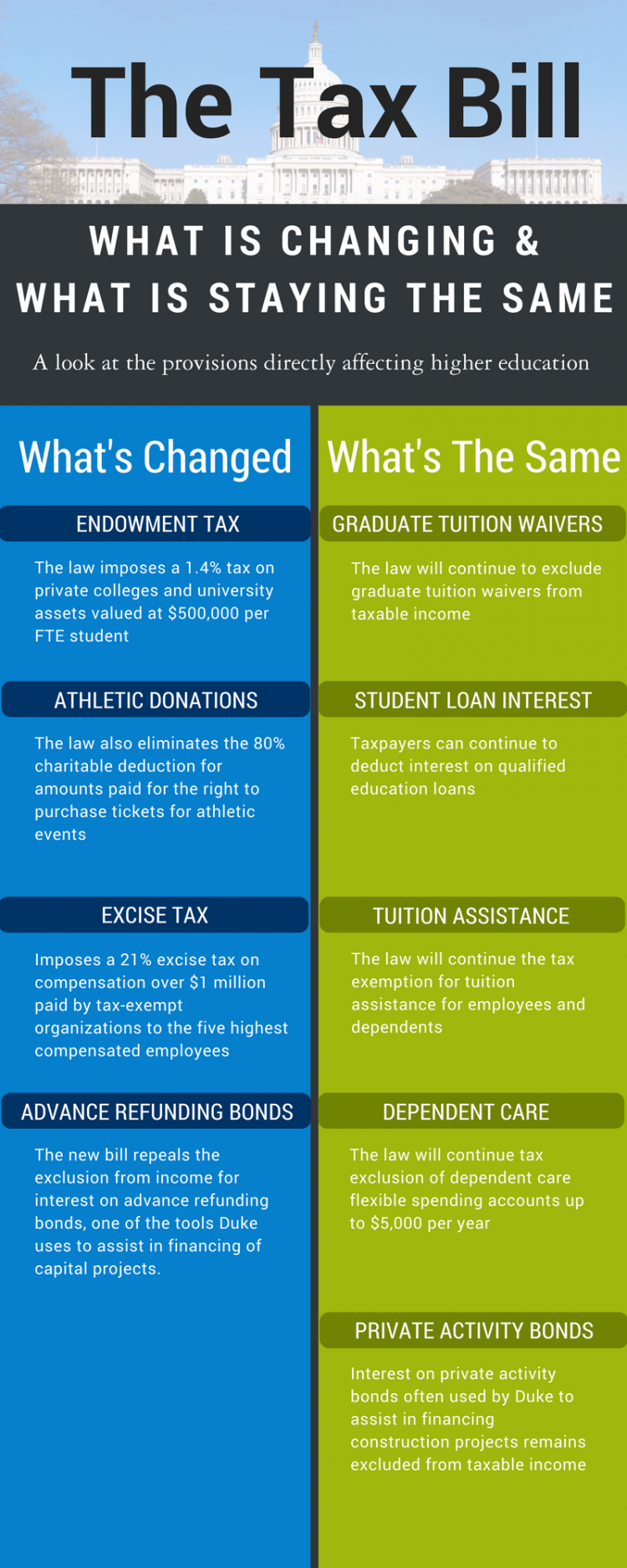 But other provisions of the new tax bill will affect higher education, in some case raising the costs of education for Duke and other universities. University officials are still reviewing the legislation to determine potential costs and effects.
In addition, the bill's rewriting of the tax codes on issues ranging from deductibility of state and local taxes to changes in the tax rates and charitable giving will affect many members of the university community. Duke officials are encouraging individuals to consult with a tax specialist to assess the impact of this new law on their personal finances.
"A once-in-a-generation rewrite of the tax code will have implications for every individual and organization," said Michael Schoenfeld, Vice President for Public Affairs and Government Relations. "While this bill makes fundamental changes in support for the mission of universities, we're grateful to our government relations team, graduate students and many others whose advocacy helped protect important aspects of our mission."
The graphic above is a summary of some of the major changes in the bill that would impact higher education, as well as some of the issues that were considered but were not included in the bill.