Trustees Approve New Nursing Building, Graduate Degree Programs
The new building will house the nursing school, medical school's Doctor of Physical Therapy program, and Orthopedic Surgery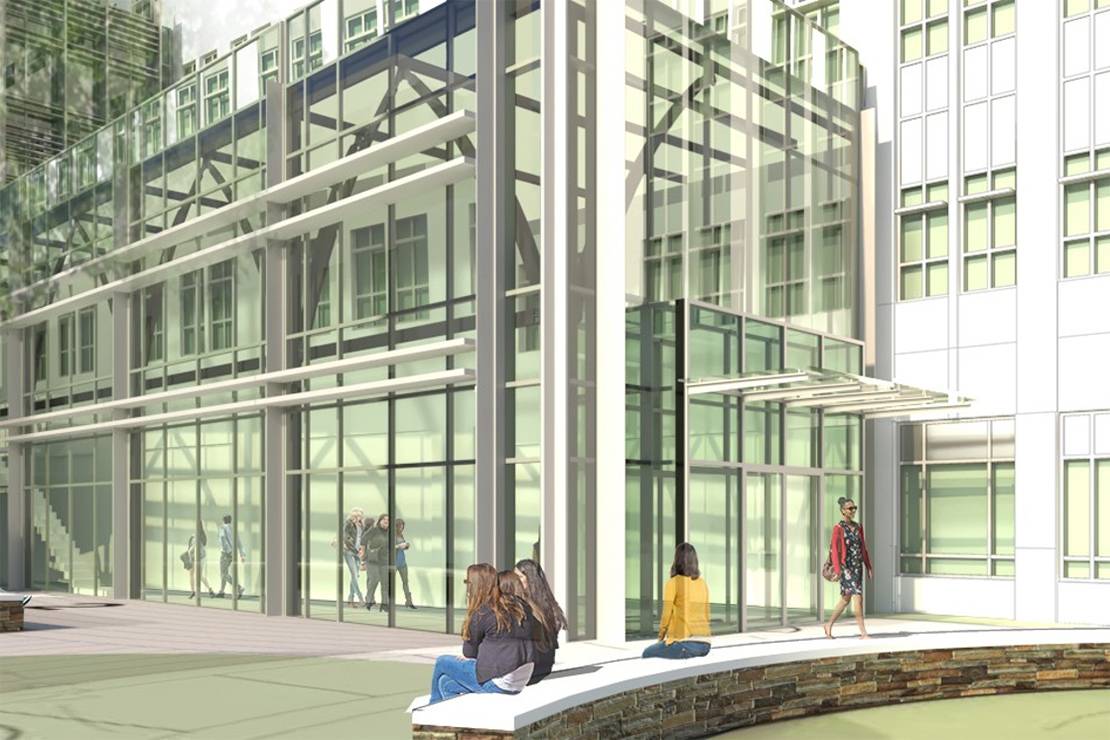 A new building that will house Duke University's School of Nursing, School of Medicine's Doctor of Physical Therapy program and Department of Orthopedic Surgery received approval Saturday from the Duke University Board of Trustees. 
The trustees also approved new graduate degree programs in materials science and engineering, and in dance, among other items.
Construction on the 102,000-square-foot facility is scheduled to start this month and be completed in fall 2019. It will connect to the Duke University School of Nursing Christine Siegler Pearson Building along Trent Drive.
"I am very pleased that the Board of Trustees approved the plans for this new building," said Marion E. Broome, dean of the School of Nursing. "Once this project is complete, the School of Nursing and School of Medicine will continue to expand their interprofessional efforts by providing unparalleled educational excellence, leading research and clinical expertise to our students and the community."
The five-story building will replace the one-story, 14,000-square foot Elizabeth C. Clipp Research Building. The School of Nursing will occupy 50 percent of the new building, and will be home to the school's Ph.D. program, Center for Nursing Research, Office of Diversity and Inclusion, Office of Student Services, Duke Health Center for Inter-Professional Education, simulation suite and more.
In addition to serving as the the new home for Duke's Doctor of Physical Therapy program, it will also house administration and Graduate Medical Education offices for the Department of Orthopaedic Surgery.
"This new building is tremendously important to the continued growth of our nationally recognized Doctor of Physical Therapy program, which has been located off-campus for many years," said Dr. Mary E. Klotman, dean of the School of Medicine. "In creating a campus presence, the physical therapy students will strengthen important connections to clinical services and campus life, and will allow us to evaluate program expansion in the near future."
"The ability to co-locate with the School of Nursing also allows us to focus on a new office of Interprofessional Education, which will teach students the value of patient-centered care across multiple medical disciplines," Klotman added.
The trustees also approved a new university program in materials science & engineering that will offer multidisciplinary Master of Science (MS), Master of Engineering (MEng) and doctoral degrees focused on the discovery and development of materials with desired structures and properties.
The program builds on Duke's strong research programs in fields such as metamaterials, energy materials, computational materials discovery, electronic and photonic materials, soft matter and biomaterials by bringing together faculty with expertise in various aspects of materials science and engineering. The faculty -- from all four academic departments of the Pratt School of Engineering and from the biology, chemistry, mathematics and physics departments in the Trinity College of Arts & Sciences -- will conduct collaborative research to improve basic knowledge and develop technologies with the potential to transform areas such as health, computing, energy and security.  
Doctoral students are currently being admitted through participating departments, and the program expects to matriculate its first MS and MEng students in fall 2018.
In addition, the trustees approved a degree in Master of Fine Arts in Dance: Embodied Interdisciplinary Praxis. The program is open to all forms of dance and human movement -- artistic, aesthetic, social and therapeutic. Moreover, it will provide an exclusive collaboration with the American Dance Festival, which is based in Durham.
The new MFA seeks to attract dance artists who recognize the potential of all forms of creativity, be it traditional, contemporary or experimental. The Dance Program will accept seven students each year, leading to 14 graduate students enrolled in the MFA program at any given time.
The new Rubenstein Arts Center, which opens next month, will house the Dance Program with two state-of-the-art dance studios and offices for faculty and staff.
In other business, the trustees:
approved resolutions of tribute for recent winners of Rhodes, Marshall, Schwarzman and other honor scholarships. (The Marshall and Schwarzman scholarships will be announced this coming week.)
engaged in a wide-ranging discussion of intercollegiate athletics that included athletics staff, coaches, current and former student-athletes and trustees who engaged in athletics.
were introduced to Durham Mayor-elect Steve Schewel, who assumes office this month. Schewel is a visiting assistant professor in Duke's Sanford School of Public Policy. He graduated magna cum laude from Duke in 1973, and earned a Ph.D. in education from Duke in 1982.
approved a change in the names of degrees awarded by the Sanford School from "public policy studies" to "public policy." Before Sanford became Duke's 10th school in 2008, "public policy studies" was a department within the Trinity College of Arts & Sciences. The name change affects the school's undergraduate major and Ph.D. degree, and was made in order to create consistency among the school name, program and degree names, and course titles.