The Story Behind Your Email Address
The quirky addresses scattered around Duke highlight the evolution of its email system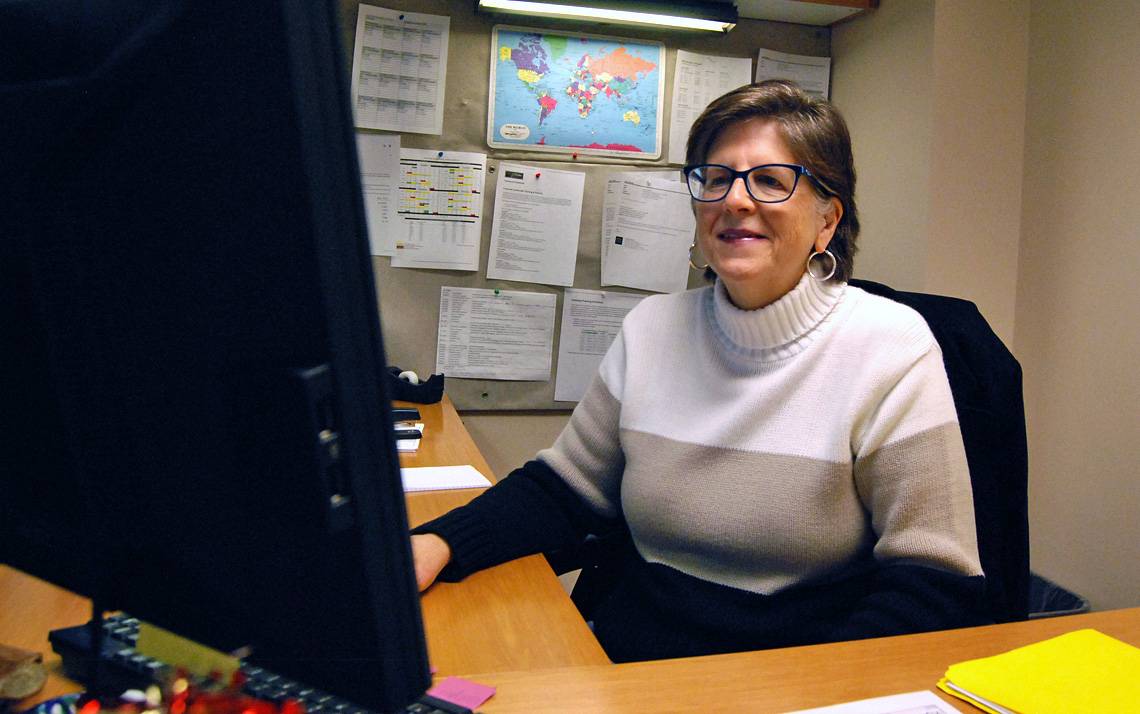 By now, Jane O'Briant expects the reactions she gets when she tells people her email address.
"They'll say, 'That's it?'" said the accounting specialist at the Fuqua School of Business, whose address is simply jo@duke.edu.
Associate Vice President and Dean of Students Sue Wasiolek can relate. At a university where addresses usually stick to a standard name-based template, Wasiolek's dean.sue@duke.edu address sticks out.
"I often get emails from people wondering how I got that," Wasiolek said.
For the vast majority of Duke employees, email is an essential part of how they do their jobs. And the system of having addresses consist of first and last names, followed by the simple @duke.edu suffix, makes Duke's system easy to use.
But addresses like those of O'Briant and Wasiolek break from the norm. As vestiges from the early days of Duke's email system, they help tell the story of how an indispensable part of daily digital life at Duke came to be.
Duke's email service now has around 80,000 active users, including students, faculty, staff, and affiliates. The system often handles around 200 million emails per month.
"It's just like the telephone," said Senior IT Manager Doug Drum, who helps manage the system. "You pick up the telephone and you expect to have a dial tone. You send an email, you expect it to get to someone. There's a lot going on behind that dial tone. There's a lot involved in getting that email from one place to another."
But in 1987, when Rob Carter joined the staff of Duke's Center for Academic Computing – the precursor to Duke's Office of Information Technology – email as we know it didn't exist.
At the time, Carter helped manage Duke's main computer system, which only had about 1,500 faculty members and students using it and was run out of a series of hefty machines in the North Building, located on Research Drive on West Campus.
"Back then, it wasn't uncommon to hear a professor say 'I don't have a computer,'" Carter said.
There were primitive email systems in use. But with byzantine routing codes needed to send messages along what was usually a slow journey, their use wasn't widespread.
But in the early 1990s, as connections between computers became more efficient and graphical interfaces made them easier to use, the pool of users began to grow.
Around that time, Duke started handing out its first wave of email accounts. But with each account taking up precious storage space on Duke's computer system, there weren't many who got them.
And with most departments having their own computer set-up, there was little uniformity. So depending on where a user worked, an address might end with @math.duke.edu or @hr.duke.edu.
Wasiolek was one of the lucky few who got an early email account. At the suggestion of her longtime assistant Gayla Winstead, she chose her now-familiar address, referencing the "Dean Sue" nickname she's had since the early 1980s.
"I don't think I gave it much thought, email was relatively new," Wasiolek said. "This idea of technology and where it was going, it was sort of the unknown. I figured it will work for the time being. I had no idea I'd use it for the next 25 years."
Many of Duke's other early email addresses were based on the first iteration of the NetID system, which identified users by their initials.
So when O'Briant, who's been at Fuqua for 29 years, got her email address, it was simply her initials, followed by the standard suffix. More than 20 years later, she's still using the wonderfully succinct address.
"I just kind of lucked up," she said.
By the late 1990s, Duke was providing students with email accounts and more departments were shuttering their individual email systems in favor of Duke's more reliable, consistent central service.
Around that time, giving faculty and staff email addresses consisting of names followed by the @duke.edu suffix became standard.
Many employees with the older, clumsier addresses opted for the simpler new naming convention, thus erasing some of the early email system's quirks.
But for a few Duke faculty and staff, the old addresses have proven too good to get rid of.
Carter, now a consultant with OIT, still has a version of his first email address. And when he tells people they can reach him at rob@duke.edu, he often gets asked how he got it.
"I say, 'Well, 30 years ago, I set up Duke's first email system, and I never left,'" he said with a laugh.