Behind the Bowl Game
Duke's Football support staff relishes chance to work into December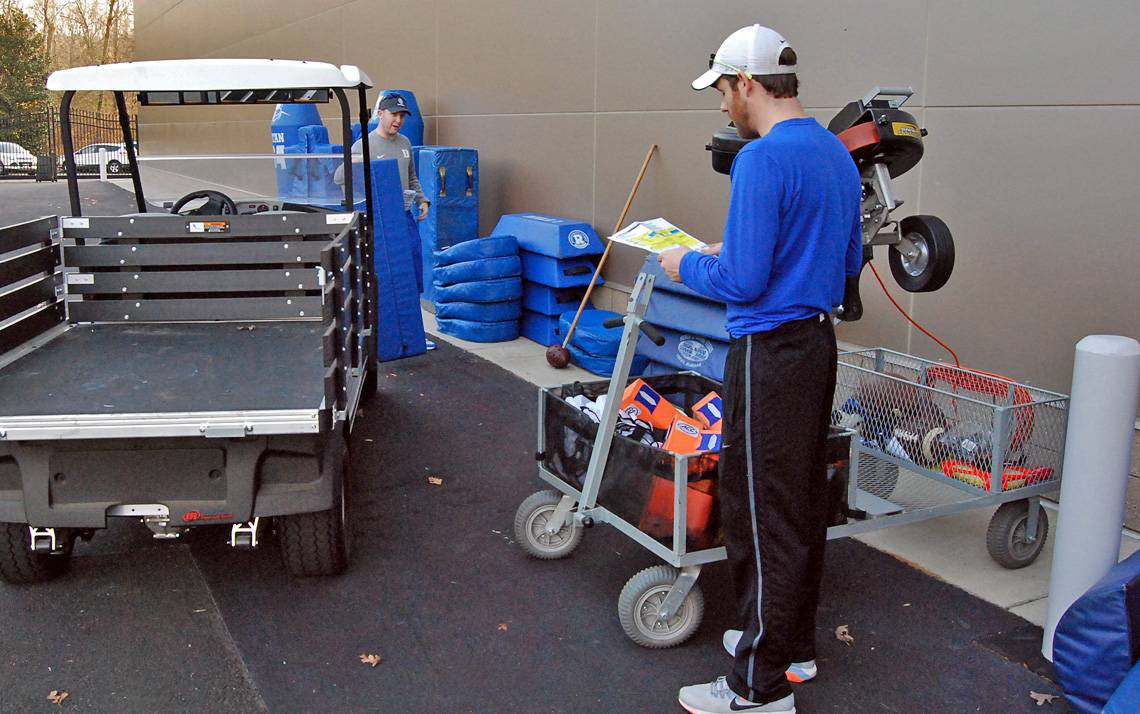 Between the whistles, the popping of pads and blaring Motown music, the noise was unrelenting last Tuesday afternoon inside Pascal Field House, Duke's indoor football practice facility.
Two days before boarding a plane bound for Detroit for the Quick Lane Bowl showdown on Dec. 26 with Northern Illinois, the Blue Devils were in the thick of preparation.
Nearby, Wes Pickell and his colleagues on the team's equipment staff had work of their own to do, too. Tackling dummies, blocking pads and pylons were getting stacked and organized, ready to be loaded onto one of two trucks that would take Duke's gear to Detroit.
The other truck, which carries 16 or so trunks that contain the pads, jerseys and helmets Duke will wear in the bowl game, had been packed earlier that morning.
"This time of year, I'd much rather be working than be bored," said Pickell, Duke's Director of Football Equipment.
When Duke beat Wake Forest in November, the Blue Devils secured their fifth bowl bid in the past six seasons. That meant it would be a busy December for the athletic department staff members who keep the football program running.
There would be another month of practice and preparation for coaches, another road trip for operations staff to coordinate and another month of handling details such as ticket allotments, media requests and equipment.
And for the employees who handle those tasks, that's just fine.
"You're excited to be able to work these weeks instead of getting ready for next season," said Executive Director of Football Administration Kevin Lehman.
Lehman heads the group responsible for handling the logistics of the bowl trip. It's a big job since there are 105 players making the journey along with 225 family and staff members. Lehman's group is in charge of ensuring Duke's traveling party has flight reservations, hotel rooms, tickets to the game, meals and even a police escort from the airport.
"Bowl games are the result of having a degree of success throughout the season," Lehman said. "That's one of the hurdles you have to clear to say that your season was successful. So when you're not getting ready for one, it's not the same."
Last season, Duke missed out on a postseason spot. That meant Pickell and his staff started the multi-week process of cleaning, counting and cataloging everything in the Blue Devils' massive equipment room in early December.
"It was definitely weird," Pickell said. "We'd gone to four in a row. That was the norm. So it was definitely strange."
This season, it will be different. After the game, Duke's equipment trucks should pull into Durham on Dec. 28, at which point Pickell and his staff will unload them. After a few days off, they'll begin their familiar postseason tasks in January.
After its loud and loaded December, that's when Duke's football staff will finally be ready for a little quiet.