PUBLISHED
What to See at Duke This Week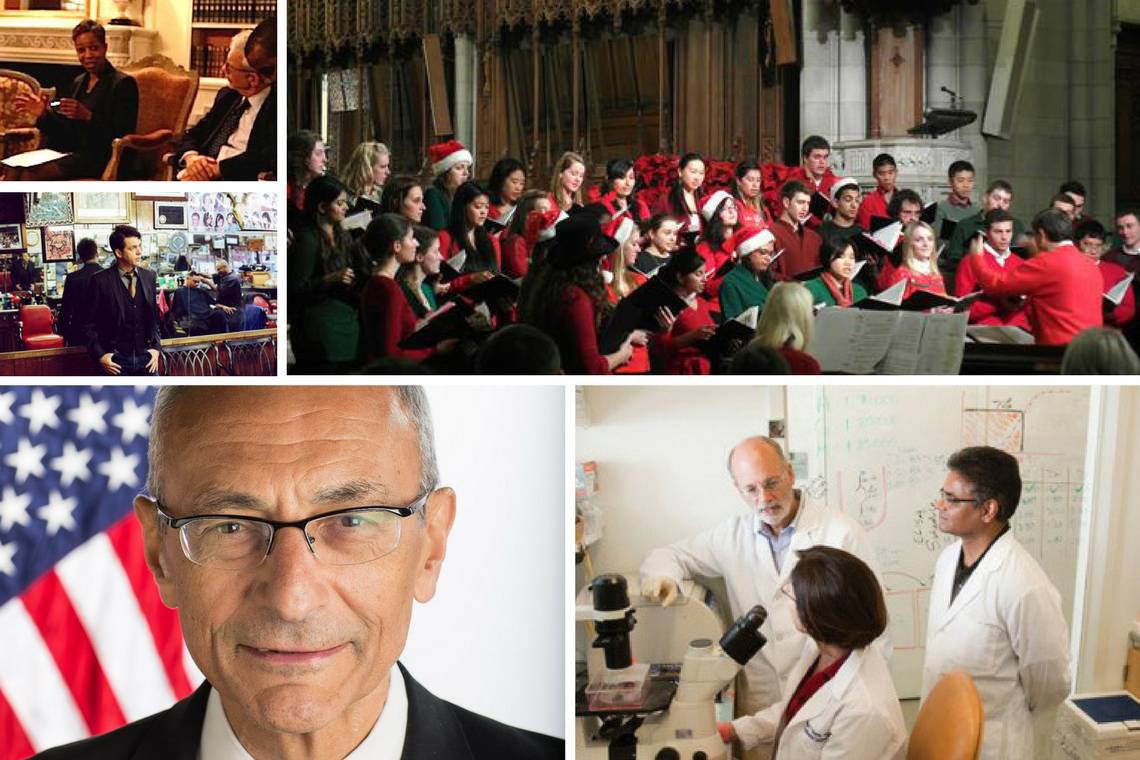 All that is left of Thanksgiving are the leftovers. Time to think about Christmas, and the traditional Duke Chorale Christmas Concert is an ideal place to start. There will be traditional carols, seasonal favorites and stories and treats for the children. The chorale is directed by Rodney Wynkoop, director of university choral music. The concert will be preceded by music on the carillon by Sam Hammond. The cost is free, but families are requested to bring one non-perishable food item for needy families in Durham. 7 p.m. Duke Chapel.

The evidence from social scientists about political polarization in the United States suggests that it is worse that we can imagine. Duke Service-Learning is trying to bridge that divide, starting with a conversation on "Dialogue in Times of Polarization." Trinity College Dean Valerie Ashby, who this past January led a successful dialogue on service-learning titled "The Arrogance of Help," will lead the conversation. 3 p.m. East Duke Parlors, East Duke Building, East Campus.

If you want to relive the 2016 presidential campaign, this is the chance to do so. John Podesta served as President Clinton's chief of staff and as a top adviser to President Obama. But he's in the news these days because he also served as the campaign manager for Hillary Clinton's failed presidential run in 2016. He's coming to Duke to talk about what happened in that election and what lies ahead. He comes to Duke to deliver the Ambassador Dave & Kay Phillips Family Lecture, sponsored by American Grand Strategy Program (AGS), POLIS, the Department of Political Science and the Sanford School of Public Policy. This event is free and open to the public, but tickets are required. Tickets will be available at all AGS events preceding the lecture. 5 p.m. Penn Pavilion.

Basic Science Day is a celebration of the great science going on in the labs across Duke departments. Faculty from all Basic Sciences departments will give short lectures on their work, while others will present poster sessions. But more than straight presentations of research, the scientists will discuss the passion that drives them and the challenges they face in the work. The day-long event will conclude with a keynote talk by Jennifer Doudna of the Howard Hughes Medical Institute and the University of California-Berkeley. She'll speak on "CRISPR Systems: Biology and Application of Gene Editing." 9:30 a.m.-5 p.m. Great Hall, Trent Semans Center.
Encompassing musical influences from America's jazz, blues, folk, rock and country roots, Grammy-Award winner Joe Henry is helping to keeping American popular music rich. The Charlotte native will tap into a century of American music during a three day residency at Duke. It begins with a free, public talk at the Nasher Museum of Art called "Take Me to the River," where he will discuss the strong but strange relationship between musicians and their predecessors. "Past influences are not static imprints, but rather like minerals in the blood," Henry says, "as old as time, and reconfiguring our very personal chemistry, even as you read this." 7 p.m. Nasher Museum of Art.