What to See at Duke This Week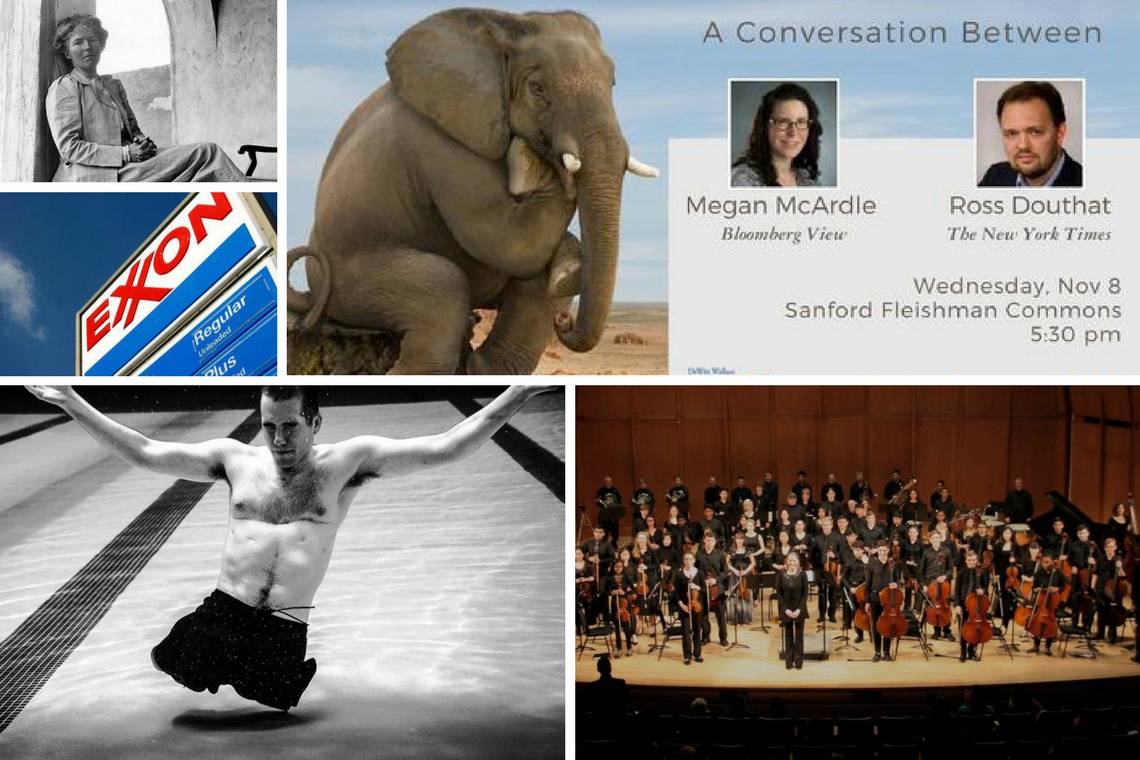 The last time journalist Steve Coll was on Duke's campus was to talk about Exxon-Mobil – the subject of his book "Private Empire: ExxonMobil and American Power," – and how the company ran its own foreign policy independent of the United States. Five years later, former Exxon-Mobil CEO Rex Tillerson is now US Secretary of State directing American foreign policy and strategy. Coll will discuss what that means for Exxon-Mobil and for the country. 5 p.m., Holsti-Anderson Family Assembly Room, Rubenstein Library. RSVP here.

War journalism is usually about battlefronts, but photographer David Jay wanted to tell the story of veterans after they returned home. For his "The Unknown Soldier" series of large photographs, Jay crossed the country to meet with wounded veterans in hospitals, in their homes and amongst their families. The photos are on display at the Fredric Jameson Gallery on Duke's East Campus. Jay will open the exhibit with a panel discussion on the portrayals and expressions of the experiences of war. He will be joined by military veterans/authors/teachers Jerri Bell, Tracy Crow and LeJuane Bowens. 5:30 p.m. Fredric Jameson Gallery, Friedl Building, East Campus.

What is conservatism? To many it stood for small government, balanced budgets and support for traditional social institutions. So where does Donald Trump fit in all of that? Two leading writers – libertarian economist Megan McArdle of Bloomberg Views and New York Times columnist Ross Douthat – will speak from inside the conservative movement and talk the challenges President Trump presents to the movement. McArdle is a new professor at Duke's DeWitt Wallace Center for Media & Democracy. 5:30 p.m. Fleishman Commons, Sanford School of Public Policy.

The history of Iraq can be said to start with Gertrude Bell. This remarkable British diplomat, explorer and spy helped draw Iraq's political boundaries that remain in place today, one of the sources of that country's conflicted history. Bell's story is told in the documentary "Letters from Baghdad," compiled from documents from the Iraq National Library and Archive and Gertrude Bell's own letters. Eerily relevant today, the story is excerpted verbatim from intimate letters, private diaries and secret communiqués. It is an unusual look at both a remarkable woman and the tangled history of Iraq. Nancy Kalow of Documentary Studies will introduce the film and lead a discussion afterwards. Free. 7 p.m. White Lecture Hall, East Campus.

Five decades ago, Dorothy Kitchen and others at Duke organized the first Duke University String School concert. In the 50 years since, thousands of young children (and some adults) have passed through the orchestra, making it a standard for music education in the Triangle and the students' gateway to the best symphonic music of all periods. The school will celebrate its 50 years with its fall concert, and Kitchen, who retired two years ago, will be on hand. She even arranged one piece on the concert schedule. 6:30 p.m. Baldwin Auditorium. Free.