Teamwork and Diversity Award Winners Champion Duke Values
Faculty and staff members honored for making health care more efficient, diverse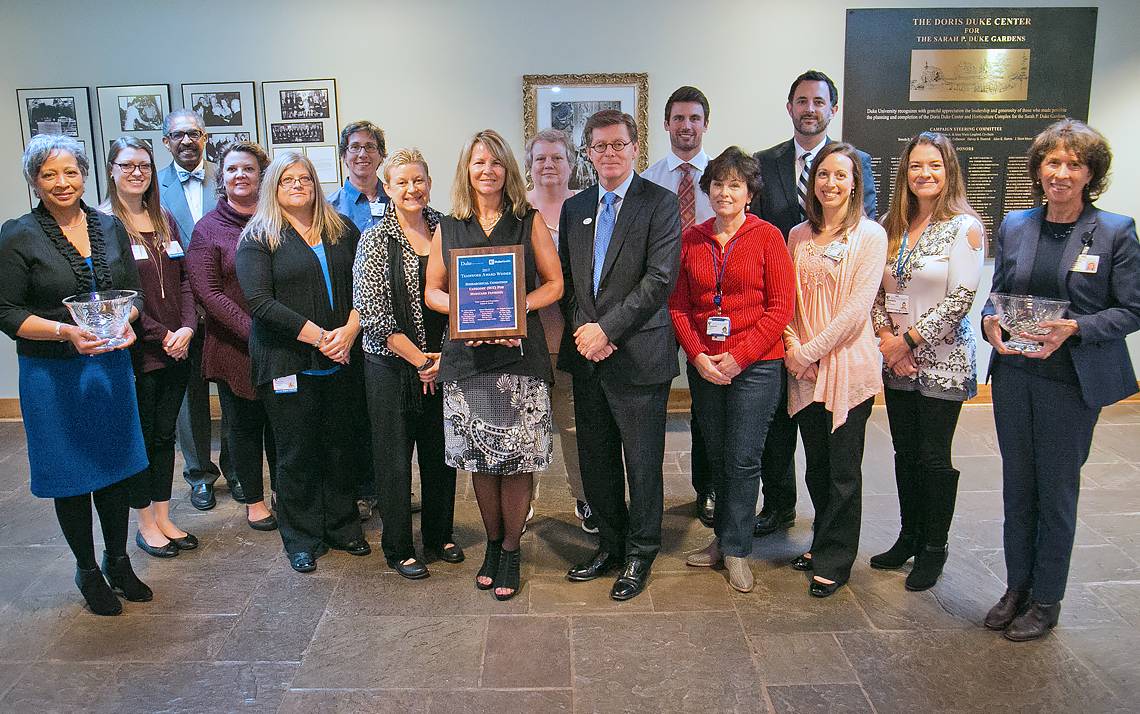 The members of Duke's faculty and staff honored at Tuesday's Teamwork and Diversity Awards have all played a role in making health care – both at Duke and beyond – more diverse and efficient.
Two of Duke's highest honors, the Teamwork and Diversity awards are presented every year to employees who foster collaboration, cooperation and open communication as a team or demonstrate a respect and value for differing backgrounds and points of view.
This year, the Teamwork Awards went to a team from the Center for Advanced Hindsight that brought new ideas to the analysis of health behaviors and also to a multi-department group that created a new, more accurate framework for the coding process for complicated patient cases.
The Diversity Awards went to a pair of professors who have dedicated their careers to championing underrepresented populations in the medical field.
President Vincent E. Price, who spoke to the 2017 winners during the ceremony at the Sarah P. Duke Gardens' Doris Duke Center, said the values displayed by all recipients represent the core principles of Duke itself.
"We will work to continue to recruit a diverse student body, a diverse faculty and staff and celebrate the contributions of every member of this great community," Price said. "I believe very strongly that these efforts will make Duke an even better university in years to come. We will continue to provide leadership – the leadership of those in this room – as that conversation continues to unfold."
Here are the 2017 Teamwork and Diversity Awards from the university and health system:
Diversity Award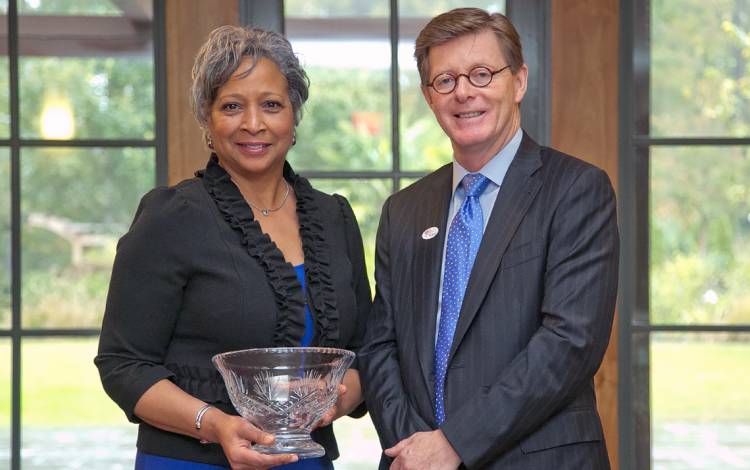 Associate professor Brigit Carter has made Duke University School of Nursing a more inclusive place through her work. She's the academic director of the Health Equity Academy, which increases the educational opportunities for underrepresented individuals in the nursing field. She also created a summer program that allowed minority college students the opportunity to shadow health care professionals. And as the director of the Accelerated Bachelors of Science in Nursing program, she pushed for a more holistic approach to admissions.
But it's the efforts she's made on a personal level that has left a greater impact on many she's met.
During her time as a student in the School of Nursing, clinical nurse Jasmine Alexis remembers Carter, who came to Duke in 1993, hosting students for Sunday dinners, offering them a supportive place where they could get a break from the pressures of school and speak freely about what was on their mind.
"Dr. Carter wears many hats," Alexis wrote. ".... But the one title she wears the best is 'Mama Carter.'"
Diversity Award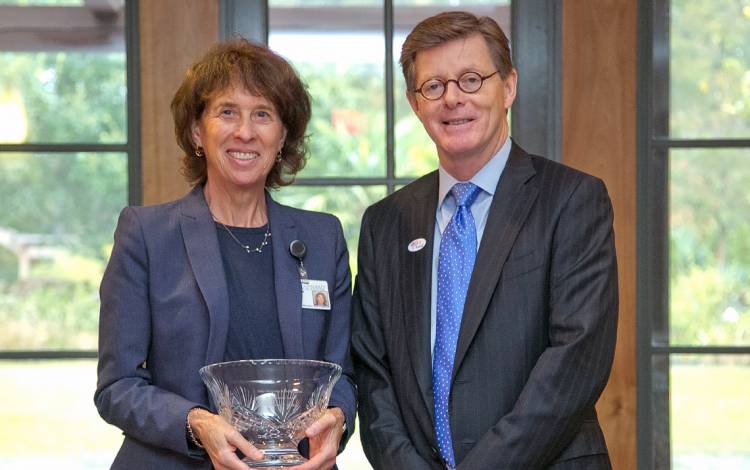 In her research, Laura Svetkey, a professor in the Duke Department of Medicine, has provided valuable insight into how best to treat hypertension and obesity among minorities in the United States. In her role as the Vice Chair for Faculty Development and Diversity, she's spearheaded diversity efforts in the Duke School of Medicine.
At Duke since 1982, she's helped organize the Faculty Development Academy, the Program for Women in Medicine and the Minority Recruitment and Retention Committee. She currently sits on the Dean's Diversity Leadership Group and the Faculty Diversity Council.
"On a large scale, Dr. Svetkey promotes an environment of diversity and inclusion across the institution," wrote Crystal Tyson, medical instructor in the Duke Department of Medicine. "She recognizes that we all come from different backgrounds with varied life experiences and perspectives that can only lead to a stronger, more enriched institution."
Teamwork Award: Hierarchical Condition Category for Medicare Patients
John Anderson, Mickie Bray, Stacey Brown, Michele Casey, David Claxton, Natalie Combs, Christina Crosby, Teresa Fitzsimmons, Susan Greenfield, Jackie Healy, Effie Hondos, Patricia Hoth, Herlydcia Joseph-Andre, Eugenie Komives, Andrea Long, Lisa Nadler, John Paat, Karen Rourk, Dev Sangvai, Dave Smith, Fabian Stone.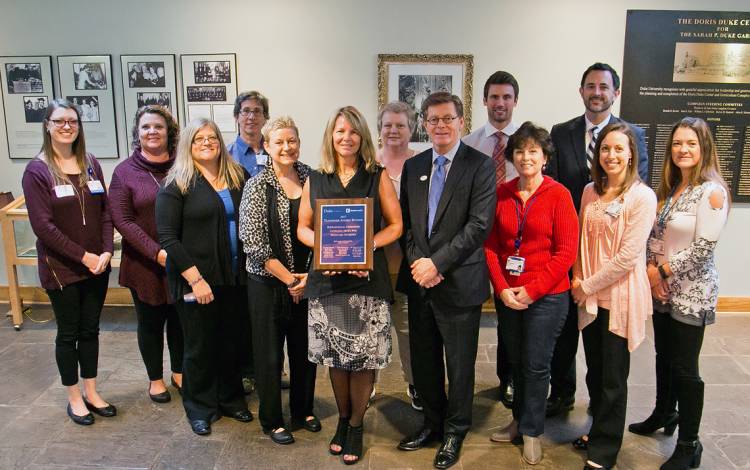 The job of building a system that could better reflect the individual complexities of Duke Health System patients in an evolving billing and coding structure was a big one. And the employees from Duke Health Technology Solutions, the Population Health Management Office, the Patient Revenue Management Organization, Duke Primary Care and Duke Private Diagnostic Clinic that were tasked with doing it had less than a year to pull it together.
But roughly nine months after getting the challenge, the group did it, creating a system that helps identify gaps in care and gives providers, insurers and patients a clearer picture of what needs to happen.
"This effort epitomizes the definition of 'teamwork, in bringing all of these elements together to deliver a finished product," wrote Duke Primary Care Chief Medical Officer John Anderson. "Gaining the necessary knowledge on the front end, incorporating the tool into Maestro, providing training support for all of our providers and reporting the impact once this was in place could not have happened without a coordinated, highly functioning team effort."
Teamwork Award: Center for Advanced Hindsight Digital Health Research
Julie Miller, Aaron Nichols, Conor Artman, Ari Kagan, Zachary Zenko.
While much of the work of the Center for Advanced Hindsight, an affiliate of the Social Science Research Institute, focuses on behavioral economics, the Digital Health Research Team has applied many of its ideas to health care. The five-member team has conducted studies on both patients and general populations on health behaviors such as medication adherence, physical activity and weight tracking. It's also studied hospital readmissions, patient outcomes and the effects of mood on wellbeing.
In order to do this, the team has collaborated with groups from Duke Clinical Research Institute, Duke University School of Nursing, Duke Heart Center, the Same Day Access Heart Failure Clinic and other entities in Duke Health System. It's also worked with large technology companies – and in some cases local ones – to make survey interfaces easier to use.
"The Digital Health Research Team has accomplished (much), not only through collaboration with other groups, but in part due to its strength and cohesion as a team itself," wrote Aline Holzwarth of the Center for Advanced Hindsight. "Through healthy collaborative practices and teamwork, the Digital Health Research Team has actively set itself up to succeed."