Helping for the Holidays
Facilities Management Department spearheads campus-wide toy and canned food drive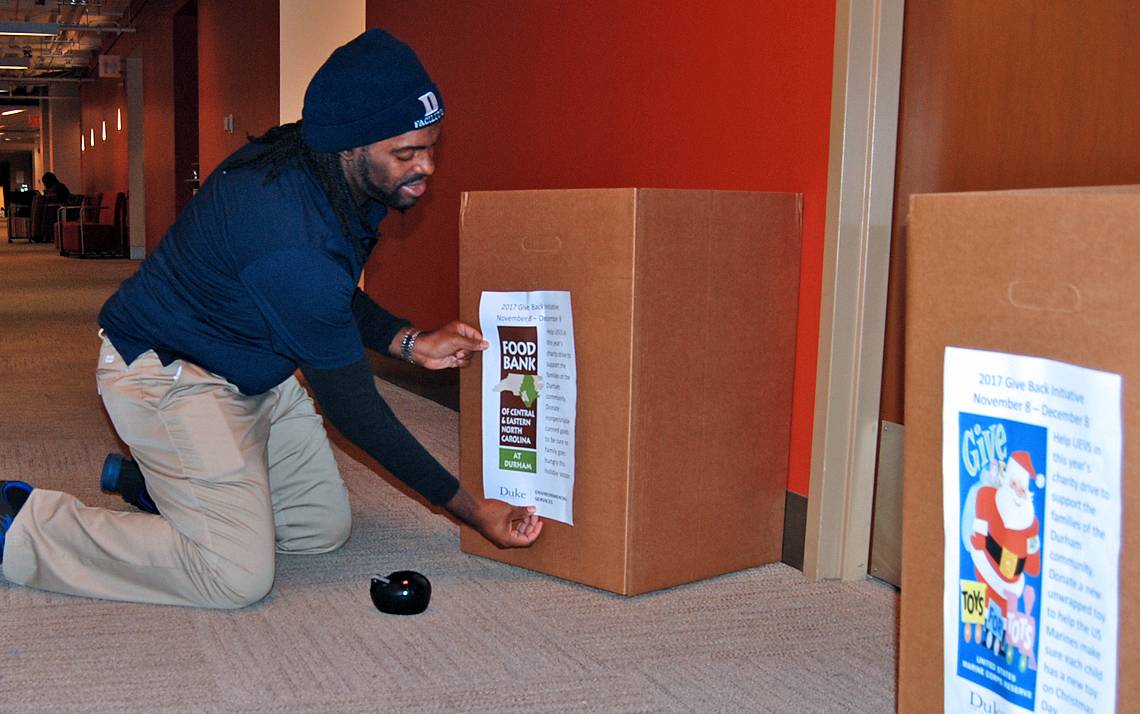 Last December, Wayne Oatis loaded toys collected from the Toys for Tots donation boxes Duke Facilities Management Department staff members set up around campus in his car to run them to the charity's collection point in Raleigh.
"It really didn't fit," said Oatis, senior supervisor for Duke University Environmental Services (UEVS). "I had to clear the trunk, lay the seats down. That was an uncomfortable drive, but I got it there."
With the Facilities Management Department Giveback Initiative heading into its second season, Oatis and his colleagues want to do even better. From now until December 8, you can help their cause by bringing a new, unwrapped toy to one of the six donation boxes on campus. You can also donate canned food items, which will go to the Food Bank of Central and Eastern North Carolina.
Donation boxes can be found at:
Smith Warehouse, Bay 2 lobby
Friedl Building, Room 0031
Fuqua School of Business, Room W03
Intramurals Building, lobby
French Family Science Center, Room 1249
Perkins Library, Room 033
Other Duke entities are also helping the Toys for Tots program. Donation boxes can also be found at:
Duke Faculty Club: 10 Faculty Club Drive
Office of Student Loans and Personal Finance: 2127 Campus Drive
The idea for the Facilities Management Department toy drive had its roots in suggestions from staff members last fall. With little time to make it a reality, last year's drive lasted roughly a week. The drive netted 88 toys, enough to fill Oatis' car.
"I thought that was very impressive for a few days," he said. "But this year, I hope we get enough so they can come pick it up."