Genevieve Rousseliere: Understanding Inequality and Freedom
Educated in Paris and at Princeton, professor combines study of philosophy and political science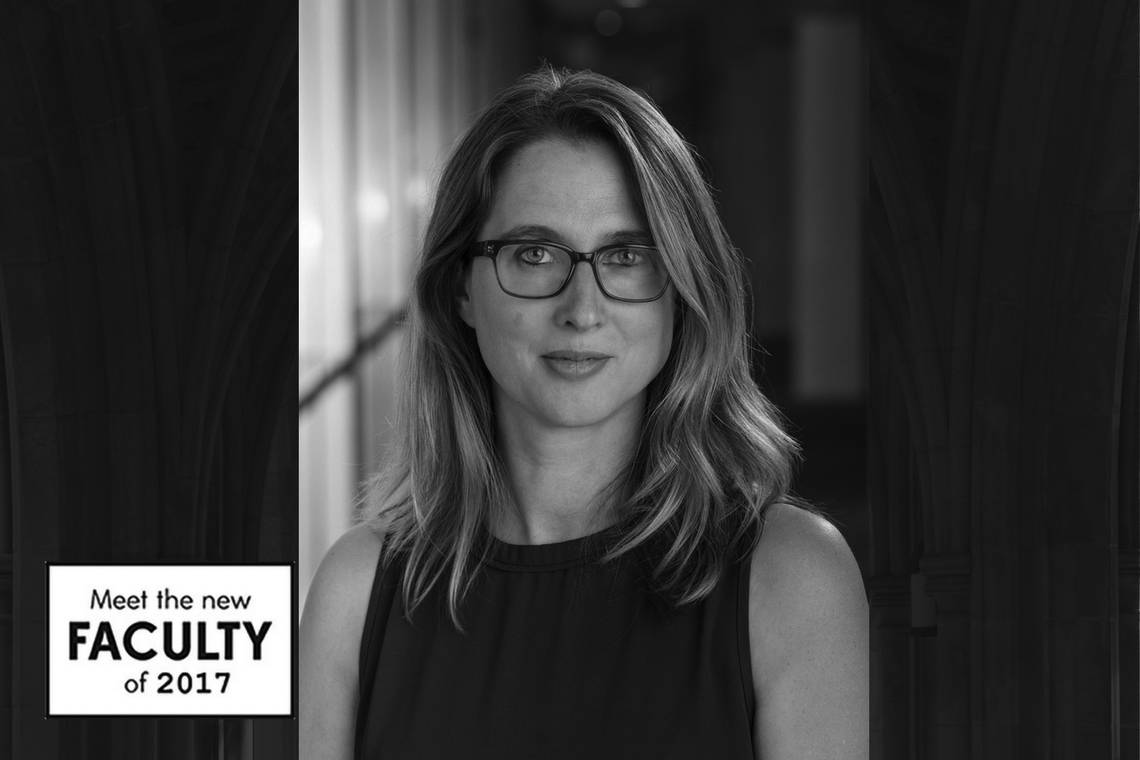 One of the many insights senior Chinmay Pandit has learned this fall is this: "philosophers are not infallible or consistent."
"Revolutionary thinkers have contributed in meaningful ways to the creation of democracies but have simultaneously justified perverse, backwards ideals in their other arguments," says Pandit, a double major in economics and political science.
That's just the sort of critical thinking new political science professor Genevieve Rousseliere hopes to instill in her students.
In her native France, Rousseliere was captivated by the age-old tension in understanding the relation between inequality and freedom. Specifically, how people deal with the struggle to be free.
"If we all aspire not to be dominated, we encounter a variety of obstacles across our lives restraining our fundamental choices -- and some of us feel these restrictions more intensely and earlier than others," says Rousseliere, an assistant professor specializing in political theory.
"Coming from a working-class background, having a family ridden with debts, being from a minority group, for instance, can make it very challenging for individuals to be free, not absolutely perhaps, but certainly relatively to others. I became interested in the relation between inequality and freedom from this fairly basic observation of inequality."
Her previous positions were collegiate assistant professor and Harper-Schmidt Fellow at the University of Chicago and assistant professor at the University of Wisconsin-Madison.
Rousseliere earned her Ph.D. in politics from Princeton. She's an alumna of the Ecole Normale Supérieure in Paris, and holds bachelor's and master's degrees in philosophy from the University of Paris Panthéon-Sorbonne.
She describes her research as part of a scholarly trend in political theory called the "neo-republican" revival. Neo-republicanism, she adds, is a theory centered on the idea of freedom as non-domination, i.e. the idea that being free means not being subject to the arbitrary will of another.
"There is an intense historical debate on what the fight against domination entails in terms of social justice," Rousseliere says. "While, historically, the status of 'free man' was reserved to an elite of wealthy white males in antiquity, the discussion got radically transformed with the struggle of excluded populations -- the poor, women, slaves, non-whites -- to resist domination.
"My work focuses on these debates from the Enlightenment to the end of the 19th century. It asks how it is possible to become free in adverse circumstances."
One of her research interests is Jean-Jacques Rousseau, the Swiss-born French philosopher of the 18th century. In a 2016 paper, "Rousseau on Freedom in Commercial Society," published in The American Journal of Political Science, Rousseliere argues that although Rousseau is widely considered a radical thinker because of the influence his thought is supposed to have had on key actors of the French Revolution, his economic policy should be taken more seriously.
"For Rousseau, it is wrong to take economics to be a sphere outside of political considerations, because our material condition relative to others directly affects our capacity to be free. I wanted to suggest that Rousseau's thought in this regard was very timely," Rousseliere says.
Charles Nathan, a first-year Ph.D. candidate in political science, says Rousseliere, in addition to examining foundational works of republican theory by thinkers such as Rousseau, Constant and Tocqueville, "has introduced us to some more esoteric texts, like the electrifying speeches of Maximilien Robespierre."
He adds that she has helped students trace these different strains of republican thought from the ancient world through the French Revolution, and into contemporary debates about multiculturalism, religious tolerance and collective action.
"In discussions, professor Rousseliere has a high standard for our ideas, which continually pushes us to refine our own thinking and elevate the quality of our research. She has created a class atmosphere that is friendly, focused, and intellectually stimulating."
Rousseliere says if freedom is to be non-dominating, "what kind of social and economic policy should we endorse and how can we justify them philosophically? And what responses were offered to these questions in the history of political theory at the foundational period of the French and American republics?"
She adds: "How is it that free individuals with different religions, beliefs and cultural habits can feel allegiance to their state and be ready to make the sacrifices that may be necessary to live in harmony with their co-citizens?"
She is working on a book that "retraces the history of 'social republicanism,' which holds that equality is conducive to solidarity."
Duke has been a good destination for Rousseliere.
"I am delighted to have joined the community of scholars at Duke and I am very much enjoying teaching students here!"