FEC Commissioner Urges Action to Promote Political Engagement In Young Voters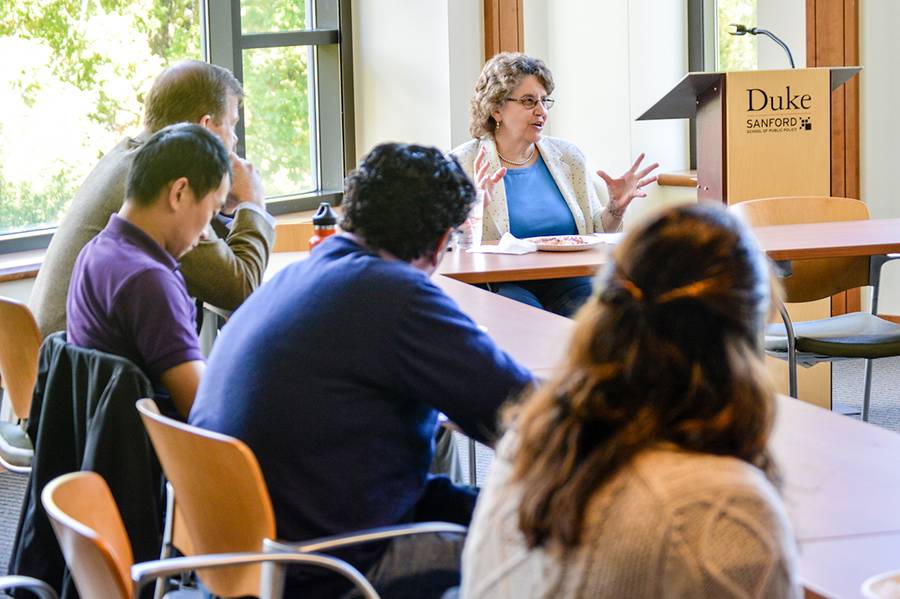 There is a crisis of political apathy in the United States, and it's up to American political leaders to reverse that trend and improve deep engagement with the public, said Ellen Weintraub, a commissioner with the Federal Election Commission on Nov. 2 at the Sanford School of Public Policy.
Speaking at a public forum on U.S. campaign and election policy, Weintraub talked about how our nation's campaign laws—and lack thereof—are being scrutinized at all levels of government. The bipartisan FEC is responsible for enforcing campaign finance laws in federal elections. 
"Some young people throw up their hands and think 'My vote doesn't matter.'  But this is not a time to throw up our hands," said Weintraub, the FEC's longest-serving member, speaking to a collection of Duke students, faculty and staff.  "This is a time to be engaged."
Weintraub's plea is based on statistics over the past three decades showing that less than 50 percent of 18-29-year-olds vote in presidential elections.  Those 65 and older, however, consistently demonstrate roughly 70 percent participation rates.  For mid-term elections, the differences are even starker: about 20 percent for 18-29-year-olds and more than 55 percent among those 65 and older.
"You wouldn't let your grandparents choose your clothing or your music," she said.  "Why would you let them choose your elected officials?"
Her talk came near the end of a week that witnessed the first indictments by Special Counsel Robert Mueller in his 2016 presidential election investigation, as well as two days of Capitol Hill testimony by Internet giants Facebook, Google and Twitter on Russian use of social media in the 2016 U.S. election. Both stories underscored the importance of electoral oversight, including financing and regulation.
"Usually the FEC has been on page A27 of the newspaper," Weintraub quipped.  "But lately we've been on the front page."
On the subject of election regulations governing Internet services, she said that the FEC's most recent actions were in 2006, when YouTube and various social media platforms were in their infancy.  "We focused on payments for ad placements," she said.  "We didn't anticipate the possibility that something could be put on the Internet for free and that it could spread virally.  More than 10 years later, we should re-examine this ruling.
"We need to keep up with technology and use the power of technology to create the transparency Americans deserve," Weintraub said.
Weintraub closed with another personal plea: "There is nothing more satisfying than working every day on behalf of the American people, trying to make this a better democracy.  To all of you, please consider a career in public service.  Your nation, your world needs you."
Weintraub was invited to Duke by Sanford Professor Kristin Goss.  The forum was sponsored by POLIS: Duke's Center for Political Leadership, Innovation and Service.  
Goss thanked Weintraub for spending a few days speaking with students at Duke and at other colleges and universities throughout North Carolina.  "In her inspiring talk, Commissioner Weintraub remarked that our jobs allow us to feed our bodies, but public service allows us to feed our souls at the same time," Goss said. "There is a powerful lesson in those words."
Sanford Professor and POLIS Director Fritz Mayer added, "Campaigns and elections hold a sacred place within our democratic institutions.  It's wonderful when Duke welcomes someone who not only understands this, but also lives it."