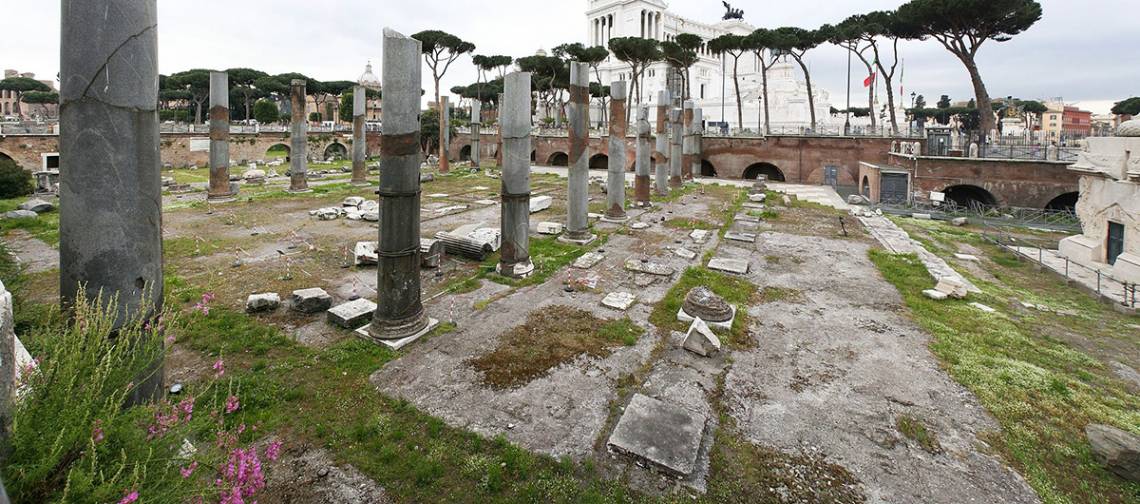 A museum in Rome will welcome four new permanent exhibits today created by a team of Duke scholars and students.
Among them is a 6-foot-long, 3D-printed model of the Basilica Ulpia, one of the most recognizable symbols of the Roman Empire. This model and the other exhibits, the result of two years of collaboration between Duke archaeology scholars and the city of Rome, go on display at the Museum of Imperial Fora – or Museo dei Fori Imperiali.
The exhibits, created using high-tech tools within Duke's Dig@Lab, give today's museum visitors a better idea of what the basilica really looked like 1,900 years ago during the rule of Emperor Trajan.
"What you see now at the site, it's not understandable for 99 percent of people," said Maurizio Forte, a Duke professor who led the project. "You cannot imagine how big it was."
The basilica, the administrative center of the Trajan's Forum at that time, is a ubiquitous visual symbol of the Roman Empire, appearing on coins and written materials from that time,  said Forte, a professor in the departments of classical studies and art, art history and visual studies.
But until now, nobody attempted to reconstruct it with 3D printing tools to create a model. Forte's team did so using scientific data from the site.
"We can be proud that millions of people can see what we did," he said. "They can see the basilica like no one could see before. It's really a very nice opportunity for all of us to show the power of the technologies."
The exhibit will help commemorate the 1,900th anniversary of the death of the Emperor Trajan, who ruled for 19 years and oversaw the empire's greatest era of military expansion.
The Duke team's other contributions include a hologram representing the basilica, a smartphone app that gives a virtual tour of it the facility, and a technology that allows visitors to digitally manipulate fragments of the basilica on display at the museum.